February retail sales growth comes in modestly below expectations
Slower retail sales growth in February was not surprising given January's strong results, but discretionary spending will come under increasing pressure as higher food and gasoline prices weigh on household budgets.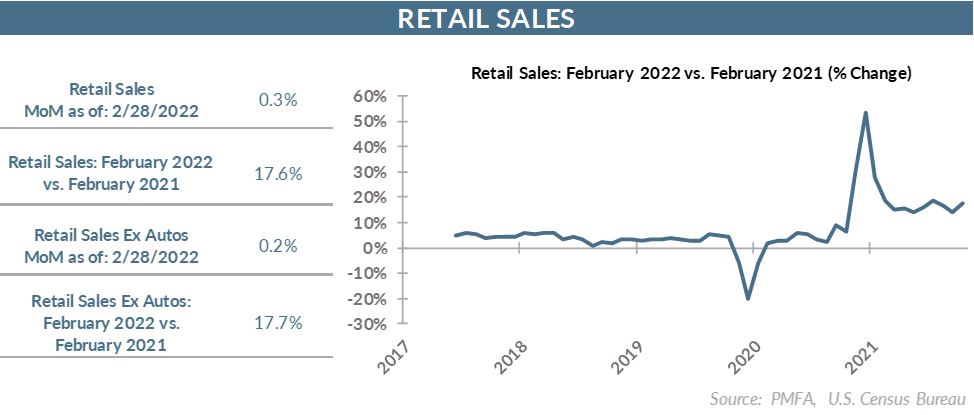 Coming off a big January surge, retail sales rose by a more modest 0.3% in February, a result that was modestly below expectations. Even with that moderation, the year-on-year gain of 17.6% reflects the surge in spending that occurred as the availability of vaccines and reduced restrictions last year both allowed and emboldened more Americans to get out and spend.
On the surface, the weaker February gain would suggest a sharp slowdown in the pace of spending growth, but it comes with a few caveats.
First, it's a one-month number coming off an exceptionally strong result in January, as consumers cashed in gift cards received during the holidays. Because of how those transactions are accounted for, the result of robust gift card sales in Q4 was a delay in the recognition of sales for retailers. January was, to a large extent, the delayed recognition of more robust pre-holiday spending than the November and December retails sales numbers would have indicated. The January increase was revised upward from 3.8 to 4.9%, an outsized gain that raised the bar for February. Averaging the two months still reflects strong consumer spending activity to start the year.
More concerning is the impact of rising prices and the risk to discretionary consumer spending. Adjusting for gas station sales, total retail sales dropped by 0.2% in February. Gas station sales rose by 5.3% last month as energy prices increased sharply, reflecting the growing geopolitical uncertainty created by the Russian invasion of Ukraine and the related economic fallout.
Strong wage growth and a stockpile of excess savings built since early 2020 certainly provide fuel for spending growth, but the corrosive effects of inflation on spending won't fade any time soon. Widening COVID-19-related lockdowns in China are once again crimping manufacturing production, and the war in Ukraine and related economic sanctions have pushed prices higher for a range of commodities. Economists had expected inflation gauges to peak in the near term; those hopes are now fading.
Against a backdrop of surging prices, the recent decline in measures of the collective consumer mood comes as no surprise. Even with stronger wage gains, households are feeling the effect of higher prices chewing into their purchasing power. With more cash going to pay for the basic necessities like food and gas, there's just not as much left to be used for discretionary spending. Retailers are likely to feel the ongoing effects of that in the coming months.
It's a foregone conclusion that the Fed will announce its first interest rate increase later today, with several more hikes expected in the coming months. Economists will pay particular attention to the Fed's forecast revisions, while also parsing FOMC Chair Jay Powell's press conference comments for clues about the path ahead.
The bottom line? Spending growth slowed last month, but the degree of the slowdown was arguably skewed by the outsized January gain. Consumers remain well supported by tight labor market conditions, strong wage gains, and excess savings accumulated over the past few years. Unfortunately, those dollars just aren't going as far as anyone would like, as surging prices weigh on consumer sentiment and take a bite out of real growth.