How has the Ukraine conflict affected the outlook for interest rates?
The Fed is still expected to announce a 0.25% increase rate next week, the first in a string of forecast rate increases to quell inflation.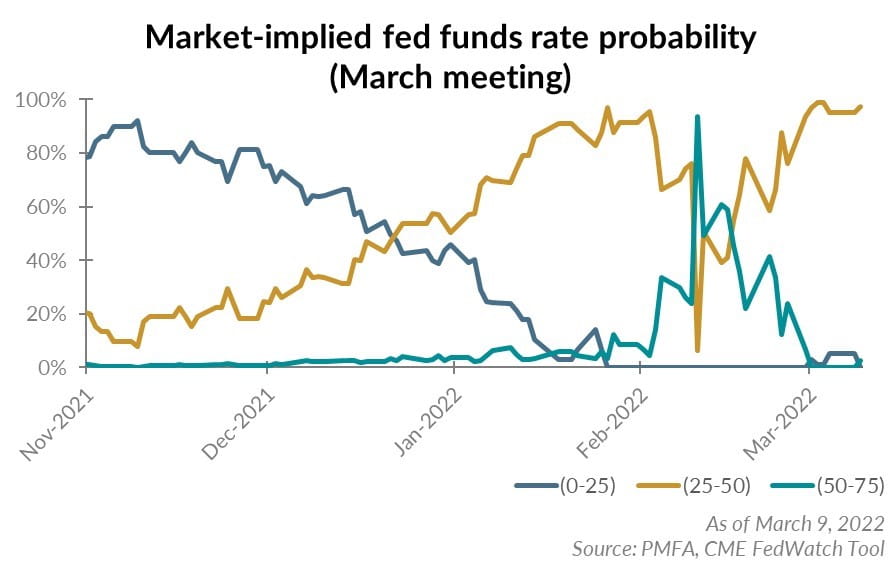 With inflation pressures still building, the Federal Reserve has been very transparent about its intention to tighten monetary policy in 2022. The first step came via the tapering of its bond purchase program over the past several months, a process that now appears to be close to completion. The next step is widely expected to come next week in the form of the announcement of a 0.25% increase in the fed funds rate next Wednesday. The bigger question surrounds how aggressive the Fed will be in continuing to ratchet up rates in the months ahead.
Since December, fed funds rate forecasts have fluctuated notably, with the probability of a March rate hike increasing sharply as inflation showed no signs of easing. Expectations for a 0.5% March increase spiked after the consumer price index (CPI) came in at 7.5% for the 12 months ended in January, which is much higher than anticipated. Consensus economic forecasts and pricing in the futures market shifted quickly in anticipation of a more aggressive Fed and more substantial rate increases over the duration of the year.
The invasion of Ukraine has forced a reassessment of those expectations. A spike in commodity prices is certainly inflationary, but the conflict and resulting sanctions also likely create an additional headwind to global growth, creating a tougher environment for central banks to navigate. In the near term, the Fed is poised to take a measured step, although the futures market is increasingly pricing in the need for the Fed to be more aggressive in the months ahead than the current central bank forecasts indicate.
The bottom line? The war in Ukraine has created additional uncertainty, but there's been no loss of conviction in the need for the Fed to raise policy rates to cool inflation pressures. Today's release of the February CPI report isn't likely to change that.
While rising rates are likely to cause additional volatility in the months ahead, as we discuss in our accompanying piece, monetary policy is still very accommodative and expected to remain so well into 2023. And as we have mentioned in our recent commentary, stocks have generally provided a positive return even as the Fed tightens.