What does the expected start of a Fed rate hike cycle mean for equity investors?
In terms of Fed policy, the difference between "tightening" and "tight" is critical to understand.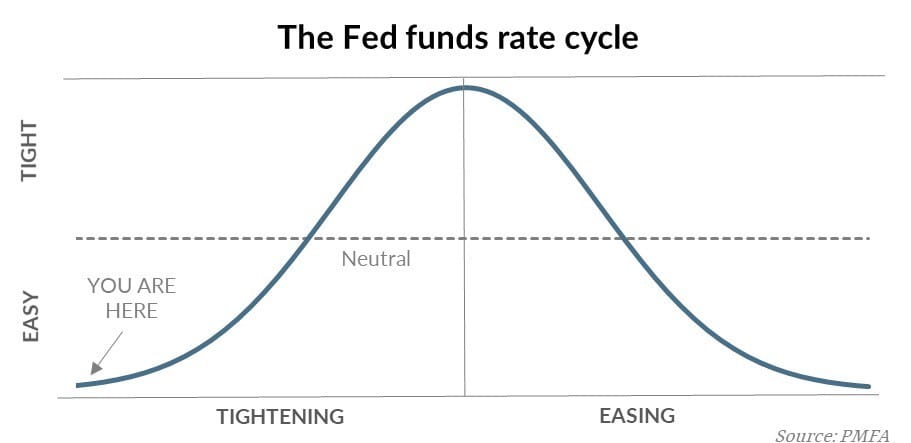 After nearly two years of short-term interest rates near 0%, the Federal Reserve is widely expected to announce a quarter-point increase in their policy rate at the March meeting. Beyond that first step, the futures market is currently pricing in a nearly 50% probability that the Fed will raise its key policy rate to a range of 1.75–2.0% or more by year-end.
Those expectations easily exceed the Fed's December forecasts but reflects recent employment and inflation data that are expected to push policymakers to adopt a more hawkish tone. The recent spike in commodity prices resulting from the outbreak of war in Ukraine and global sanctions against Russia have diminished hopes for inflation pressures to ease in the near term. It's highly likely that the Fed will acknowledge that through upward revisions to its own rate projections next week.
As the economic risk from the pandemic fades, the case for less Fed accommodation is significant. What could be easily overlooked is the fact that "monetary policy tightening" isn't the same as "tight monetary policy." The Fed believes that its long-term neutral policy rate, which is neither stimulative or restrictive, is between 2.0 and 3.0%. As illustrated above, even if the Fed raises rates in the months ahead as expected, monetary policy is projected to remain accommodative in the near term — tighter, but far from tight.
The bottom line? The removal of the proverbial Fed punchbowl signals an end to the maximum accommodation provided in response to the COVID-19 pandemic. All else being equal, stocks and other risk assets often experience some volatility during this phase of the policy cycle, as has been apparent in recent months. Despite that volatility, easy (or accommodative) policy tends to provide a positive backdrop for risk-taking.