Continuing jobless claims reaches lowest point since 1970
50-year low unemployment claims suggest little loss of momentum in the jobs market.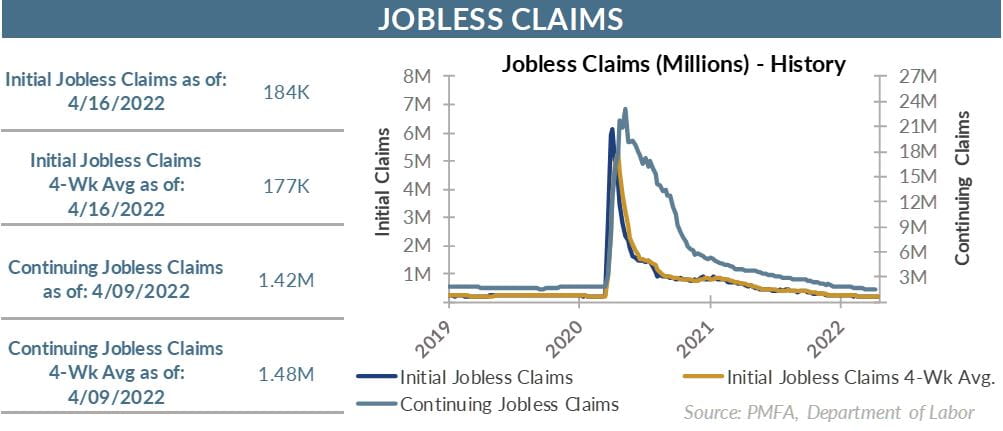 Initial jobless claims came in at 184,000 for the week ended April 16, modestly above the consensus forecast of 180,000 but still marking a decline from last week's revised total of 186,000. The four-week moving average edged moderately higher, although continuing claims moved down from 1.475 to 1.417 million.
Not only are initial claims near half-century lows, but continuing claims have now fallen to their lowest point since 1970. That's an even more noteworthy statistic considering how much larger the U.S. labor market is today.
By virtually any measure, the U.S. economy is starved for workers. Weekly jobless claims have been consistently low, the unemployment rate sits at 3.6%, and current job openings far exceed the pool of available workers. Some of the workers who effectively disappeared in 2020 have begun to return, but a further migration of Americans back into the labor force is required to keep the job creation engine humming.
The report confirmed the ninth consecutive week with first-time claims below 200,000, indicative of a labor market that remains incredibly tight. Broadly, hiring remains a very challenging proposition, and employers are understandably wary of cutting any workers in this environment.
As a high frequency indicator, weekly claims are closely monitored as a relatively real-time pulse of the health of the labor market. As the Fed attempts to walk the narrow path needed to cool inflation and navigate the economy to a soft landing, it's a data point that policymakers will continue to watch closely. A sharp, sustained increase in layoffs would be an early warning sign of recession, but one that isn't even remotely apparent at this point. As the economy starts to feel the effects of cumulative Fed-tightening measures, job creation should slow before a meaningful uptick in layoffs occurs. Still, policymakers will be challenged to navigate the path between not doing enough and doing too much.
The bottom line? Today's claims report provided more data points that confirms the tightness of the labor market. As the Fed moves further down its tightening path, the interplay between labor market conditions, inflation, and the Fed's actions will be closely monitored for any signs of trouble.