Should the recent yield curve inversion and talk of recession worry investors?
The recent yield curve inversion garnered investor attention, but one data point doesn't tell the full story.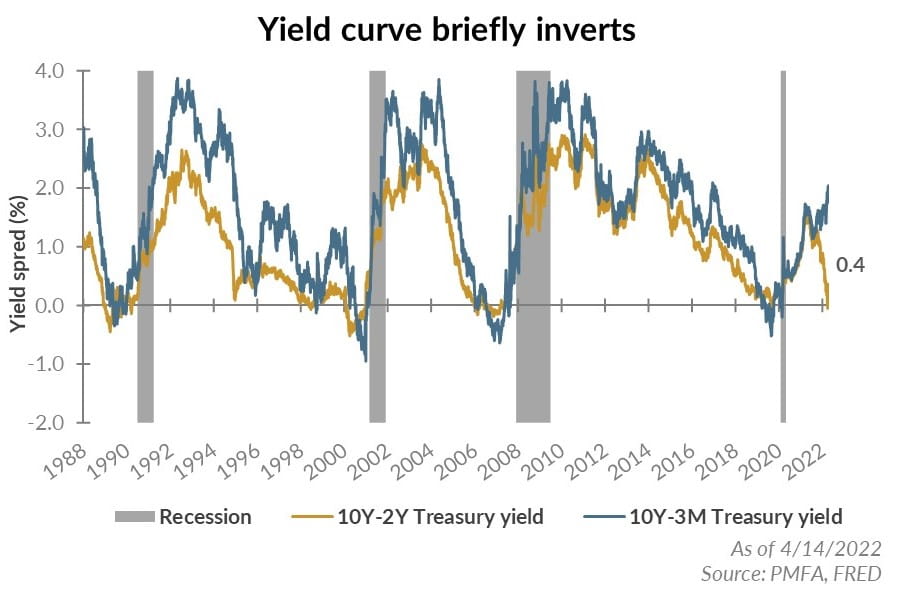 Yields have been climbing over the past year based on expectations that the Federal Reserve would soon be tightening. In response, short-term yields rose sharply in a much more pronounced move than their longer-duration counterparts. As a result, the two-year Treasury yield recently edged above that of the 10-year, creating a brief inversion earlier this month. It didn't last though. The 10-year yield has since surged to near 3% and now exceeds the two-year rate by close to 0.4%. But there are other reasons to be cautious in interpreting what the recent volatility in rates means.
First, prior inversions that portended recessions weren't only apparent in the two-year/10-year spread, but also most notably between three-month and 10-year Treasuries rates. That's far from the case today. As illustrated above, the gap between the three-month and 10-year yields has widened in recent months to over 2%. This stands in stark contrast to prior pre-recession periods in which long-term yields fell below the shortest part of the Treasury curve. As such, the three-month/10-year measure is particularly important to the Fed as a pre-recession indicator. Today, that signal remains quite positive.
In instances where a recession has followed a curve inversion, the time lag has varied from six to 18 months. There have also been periods where the curve inverts and moves back into positive territory for some time before inverting again prior to a recession. Thus, the predictive power of the Treasury curve can vary widely in both timing and accuracy.
The bottom line? Yield-curve flattening is typical when the Fed starts to tighten, but we would caution reading too much into the brief and narrow inversion that recently occurred. Though growth is expected to slow in the months ahead, the near-term risk of recession still appears to be quite low. An inversion of the curve is often seen as an early warning sign of recession, particularly if it's confirmed by other data. In this case, other data suggests that it may be too soon to sound the alarm.