What does the labor market say about the state of the economy and recession risk?
Jobless claims typically provide some significant advance warning of recession. Today, there's no indication of weakness whatsoever.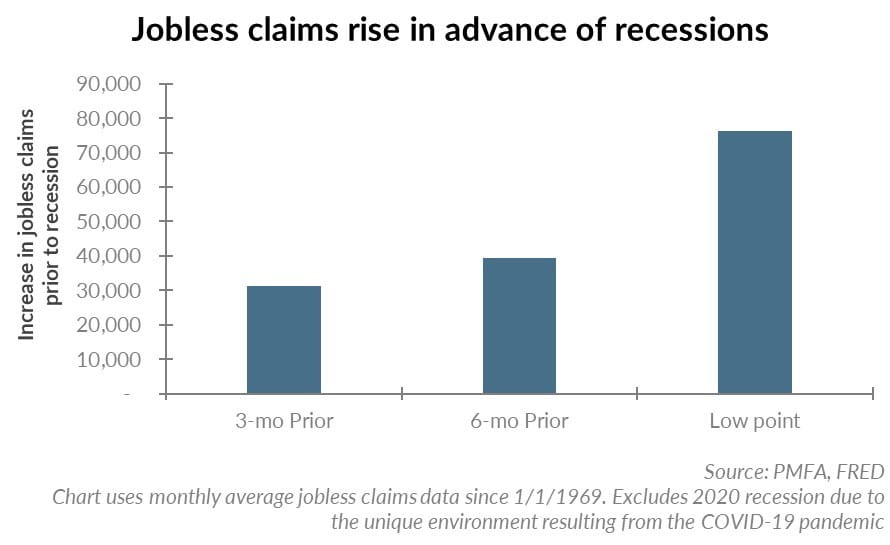 The recent (but short-lived) inversion of the yield curve has prompted some recession chatter. However, assuming one data point can paint a complete picture of the economic landscape is like using just one color to paint a masterpiece. There are a number of leading indicators, beyond the shape of the yield curve, that should be assessed in evaluating the health of the U.S. economy.
Initial claims for unemployment insurance are one example, a frequent and timely indicator of the strength of the labor market. Jobless claims recently hit an all-time low, indicating that layoffs remain extremely modest and that businesses still have a fairly upbeat view on the near-term outlook for the economy and consequently the continued need for employees.
As shown above, the months leading up to a recession are usually characterized in part by a sharp, sustained upward move in unemployment claims, as companies lay off workers in anticipation of slower demand and tougher times ahead. In fact, labor markets usually peak well in advance of recessions, with jobless claims typically reaching cycle lows more than 12 months prior to the onset of an economic contraction. Given strong job creation and exceptionally low layoffs, we find no imminent recession warning beacon here. In fact, today's claims report confirmed that both initial and ongoing unemployment claims are near half-century lows. The far greater challenge today is for employers looking for workers, not workers looking for a job.
Amid slowing growth, elevated inflation, rising interest rates, and tighter financial conditions, there's no question that recession risks have risen. However, most leading economic indicators today point to a generally constructive story for economic growth ahead, suggesting that the near-term risk of recession still appears limited.