Consumers showed their resilience in April as retail sales rose 0.9%
Retail sales posted a solid advance in April, further supported by sizable upward revisions to March sales data.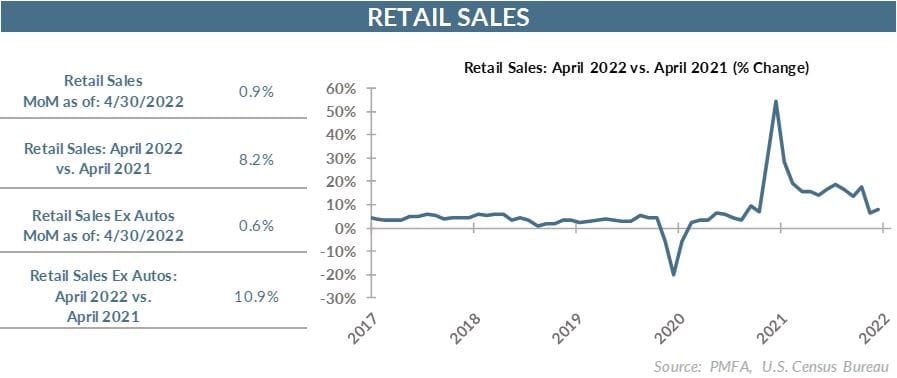 "Don't fight the Fed" is a familiar piece of advice in investing circles. We should add "don't bet against the U.S. consumer" as an important corollary.
Retail sales rose April by 0.9%, in line with expectations, lifted by solid advances for auto dealers, online commerce, and restaurants. Core retail sales, excluding automobile and gasoline sales, posted a very respectable 1.0% gain. Sales rose for the fourth consecutive month, a sign that consumer spending remained resilient despite higher prices and volatility in financial markets. Upward revisions to March sales data suggests that the perceived slowdown in consumer spending wasn't as bad as previously believed.
Despite the solid advance, the underlying story for retailers remains a bit mixed, as top-line growth is lifted by higher prices and solid consumer demand, but rising wage costs and supply chain challenges weigh on profit margins and earnings.
April's retail sales report comes on the heels of a disappointing earnings report for Walmart, which illustrated the range of challenges for retailers and the ways in which consumers are responding to the corrosive effect of inflation on their spending budget. Inflation has been running at its highest levels since the early 1980s, as the combination of a stimulus-fueled spending binge on goods and supply chain challenges have strained inventories and lifted prices.
Despite strong wage increases, consumers are feeling the effects of higher prices. That helps to explain the recent dip in consumer sentiment to its lowest point since 2011. The result is changes in consumer spending habits, as they trade down for lower-cost food options and seeking out value, while paring back discretionary spending. That creates an additional headwind for retailers that are feeling the effects from slower sales of high-margin goods.
At the same time that grocery shoppers are substituting for lower-price alternatives, restaurants are benefiting from the return of patrons, as COVID-19 risks continue to ease and the comfort level with returning to socially oriented activities improves. Sales at restaurants and bars rose by 2.0% in April and rose by nearly 20% over the past year.
Gas station sales fell by 2.7% in April, as gas prices eased moderately but are still nearly 37% higher than a year ago. Rising energy prices were a significant contributor to inflation over the past year. Any sign of easing would be welcomed by consumers and provide a degree of relief in budgets, although rising food costs may remain a challenge for some time.
A resilient consumer base that's willing and able to spend is a critical underpinning to the strength of the economy. Higher prices may be causing consumers to reevaluate how they are spending, but the recent pace of growth in retail sales suggests that they are still finding ways to do so, even if they are working harder to stretch their dollars. Evidence that inflation pressures may be starting to ease should provide some relief to consumers in the months ahead, although higher interest rates could begin to weigh on consumer borrowing to fund big-ticket purchases.
The bottom line: Even after accounting for higher prices, consumers are spending at a pace that suggests that the near-term risk of recession remains relatively low. Tight labor market conditions and strong wage growth should remain supportive of consumer spending. Rising prices remain a major headwind, but signs that inflation pressures may be easing would be welcomed by consumers. Whether that continues will depend not only on the effect of Fed rate hikes but on improvement on the supply side of the global economy. That's likely to be a gradual and uneven healing process that will take time to fully resolve.
Media mention:
Our experts were recently quoted on this topic in the following publication: