What is the near-term outlook for inflation?
While inflation is forecast to roll over in the coming months, a return to the Fed's 2% target is likely to take some time.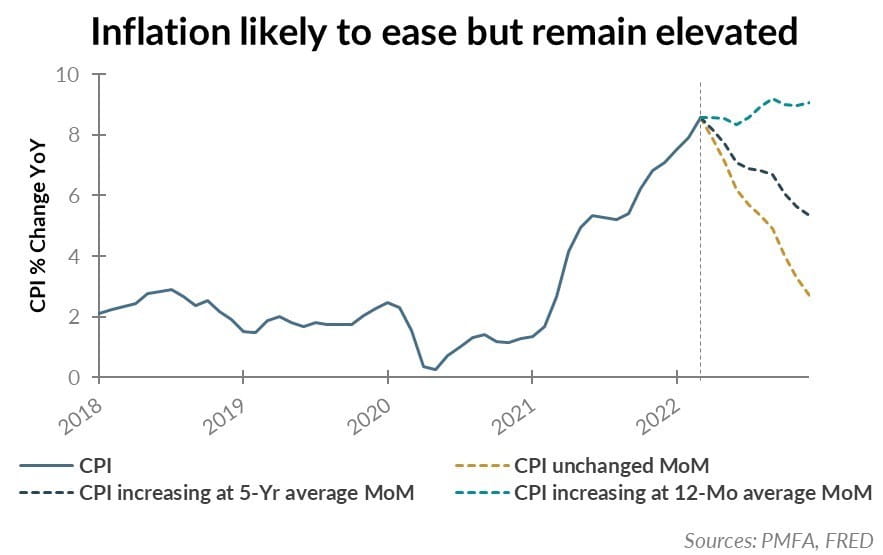 Last month's consumer price index (CPI) reading of 8.5% was the largest since December 1981. Price increases were exacerbated by the Russia/Ukraine conflict, as commodity prices spiked, with higher gas prices accounting for much of the CPI increase last month. The question is, where will inflation head from here?
Forecasts suggest moderation in the months ahead but for inflation to remain above the Fed's desired 2.0% target for some time. Core inflation, which strips out food and energy, actually decelerated to 0.3% in March, as prices for used cars, electronics, and other products increased more slowly or declined outright — a positive development illustrating some improvement in strained supply chains. Future readings should also benefit from a more favorable base effect, which reflects the difference between prices today and one year ago. 2020 price levels reflected price declines for many goods and services as the economy went into lockdown; once the economy reopened and demand surged, so did prices. Looking ahead, year-over-year comparisons will be made relative to those higher post-opening prices. The chart above illustrates this base effect assuming three scenarios: (1) prices remain unchanged over the rest of the year; (2) price increases are in line with average monthly rate over the past five years; and (3) price increases are comparable to the monthly rate over the past 12 months. Scenario 1 (a sharp decline to 2 to 3%) is unlikely; prices will continue to rise in the months ahead. Scenario 3 also appears unlikely, as supply side improvement, tighter monetary policy, and cooling demand should help to ease the imbalance.
Bottom line: Inflation is expected to peak this year, but a return to the Fed's 2% inflation target will take time. For now, the Fed will stay hawkish until inflation returns to a more tolerable range.