What was behind the contraction in GDP last quarter?
The decline in GDP in the first quarter was unexpected, but a look under the hood reveals continued strength in consumer demand.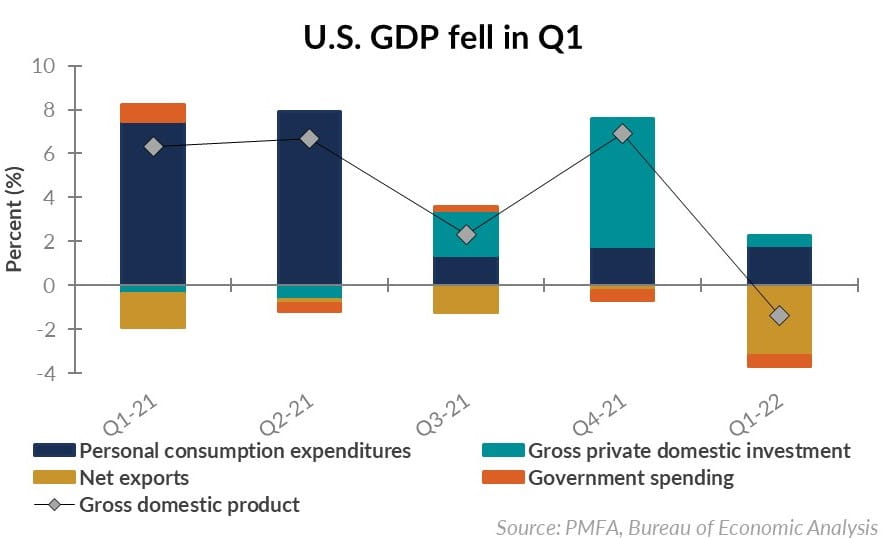 The U.S. economy unexpectedly contracted in Q1, with GDP down about 1.4% on an annualized basis — well below forecasts for a 1.1% increase. On its face, this unexpected negative GDP print seemed like bad news for the economy, but a look under the hood reveals the reasons for the decline were less concerning than the headline number suggests. The fact that equity markets, which don't typically respond well to negative surprises, traded higher on the day of the GDP release is telling.
As illustrated above, the decline was primarily a result of a decrease in net exports, which alone shaved 3.2% off headline GDP. Both sides of the trade equation factored in, as imports surged by nearly 18% while exports slowed. Government spending also fell slightly, shaving about half a percentage point from the headline number.
The reassuring news came in the form of stronger household consumption and solid business investment. Personal consumption growth rose to 2.7% on strong services spending, although rising prices weighed on nondurable goods spending. Rather than focusing on the headline disappointment, economists and investors zeroed in on the positive underlying consumer story. Sales to private domestic purchasers, which strips out the impact trade and inventory adjustments, grew at a healthy 3.7% clip. Business investment was also positive, as companies focus on capital expenditures to expand production and enhance worker productivity in a tough hiring environment.
Significant questions persist around inflation, and Fed tightening should cool the economy over time. Progress in restoring normalcy to the supply side of the economy will be important. As of today, economists are still forecasting growth to moderate in the coming quarters but remain positive. That will depend in part on the Fed's ability to navigate a soft landing. That may be a challenge for policymakers, but the negative GDP print for the first quarter, while disappointing, shouldn't sound the alarm bells.