Inflation reached a multidecade high of 8.6% in May
Growing hopes that inflation may be in the process of peaking weren't completely dashed by the May CPI report, but they were significantly dimmed.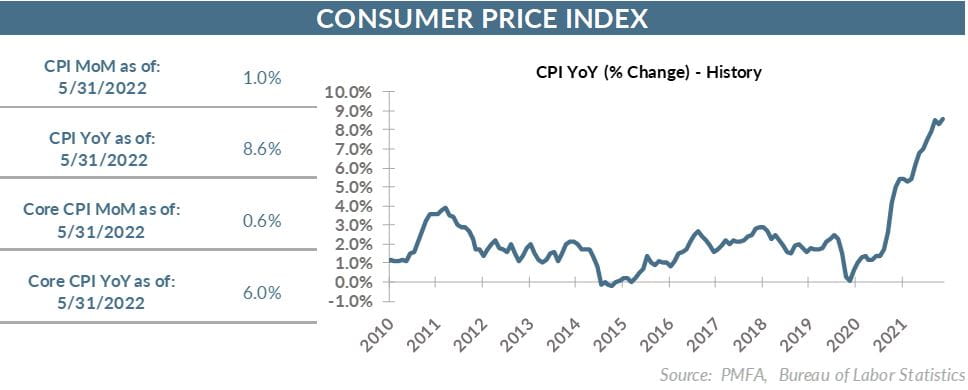 The consumer price index (CPI) increased by 1.0% in May, coming in hotter than expected for the month. Core inflation, which excludes more volatile food and energy prices, rose by 0.6% for the month.
The result was a new multidecade high in the consumer price index, which reached 8.6% in May. The rumor of the peaking of inflation was, it seems, premature.
Another surge in food and energy prices led the way last month, as global supplies remain constrained. Certainly, the impact of the war in Ukraine is apparent, but it's far from the only factor behind the inflationary impulse. As Americans head into the summer travel season, household budgets are feeling the impact of $5 gas.
Low-income households have been hit particularly hard by rising prices, but the effects are becoming increasingly apparent in middle-class behaviors as well. Savings rates have fallen, and consumers are starting to tap into credit to a greater degree. In the short term, that could help to support consumer spending but only to a point.
If there's a silver lining, softer demand for goods and indications that the inventory rebuild process has progressed could lead to some easing in pressure for a range of goods in the coming months. Recent reports from the retail sector suggest that inventory growth could lead to discounting to clear warehouses and move stock.
The Fed was already poised to raise its policy rate meaningfully over the next few months while draining liquidity out of the economy via balance sheet tapering. The question is whether the unexpected strength of the May inflation numbers are enough to push the Fed to move more aggressively next week or in July. Markets have been widely expecting the Fed to announce half-point rate hikes coming out of each of those meetings. Is May's upside surprise enough to prompt them to do even more?
Given their cautious approach to this point, it seems unlikely, but Fed policymakers have to be careful to do whatever is needed to avoid further damage to their credibility. There's already a widely held view that the central bank has fallen behind the curve. With actual inflation still coming in above expectations, a more significant loss of faith in the Fed is a growing risk.
The bottom line? Inflation is proving to be more persistent than was widely believed a year ago, when transitory was the buzzword. These two key questions remain: how far will the Fed go to knock inflation down, and how far can the Fed go without pushing the economy into recession? We should have more clarity around those points when the Fed meets next week.
Media mentions:
Our experts were recently quoted on this topic in the following publications: