Jobless claims fall to 229,000, as labor market conditions remain tight
First-time claims were little changed last week but remain well above their recent lows.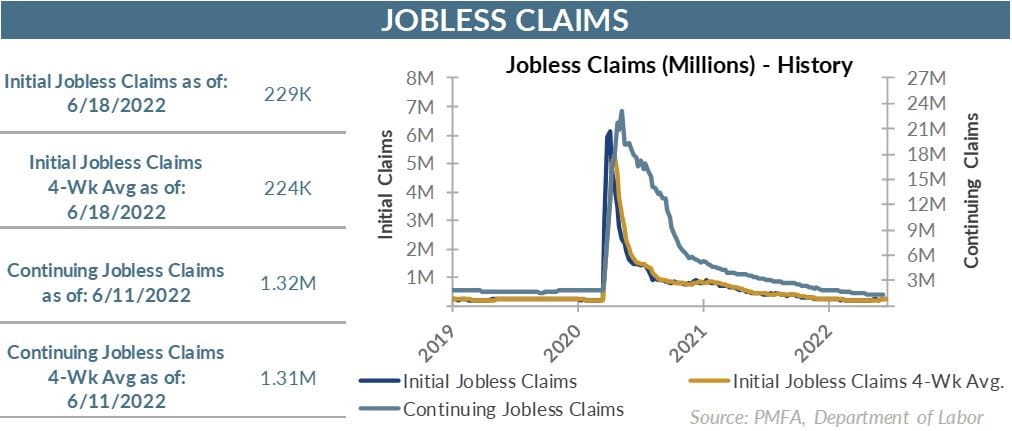 Initial jobless claims edged modestly lower last week to 229,000 from an upwardly revised 231,000 in the preceding week, a slightly softer result than the average economist forecast of 226,000. The four-week moving average moved up by 4,500 to 223,500.
From a historical perspective, initial claims remain quite low, signaling that labor market conditions remain relatively tight. Although the pace of job creation continues to slow, employers on the whole are still showing few signs of a need or desire to trim payrolls. Still, claims have risen considerably in the past several months from unsustainably low levels. The four-week moving average has risen by over 50,000 since early April, consistent with a sustained uptick that can't be attributed solely to periodic noise in the single-week data.
Weekly claims have now remained above 200,000 for the sixth consecutive week — still well below the pre-pandemic long-term average of 350,000 since 1967. Even with the sizable increase in weekly claims since April, they are consistent with other data that points to a labor market that's cooling but is far from cold.
As one of the better real-time indicators of labor market conditions and the ebb and flow of the economy, economists and policymakers will be watching the trend in initial claims closely for signs of a more marked increase in layoffs. Persistent inflation and tight labor conditions have pushed the Fed to adopt an increasingly hawkish policy stance — one that's squarely aimed at knocking down inflation but one that has also raised concerns about the potential that tighter financial conditions and higher interest rates could push the economy into recession.
There are already signs that inflation and higher rates are being felt. Higher prices are taking a toll on consumer sentiment, the housing market, and household spending, despite significant cash stockpiles that accumulated over the past few years as most households saved more and spent less. That should leave many households positioned to tap into those savings to fuel spending for a while, but for many, that just means spending more on the necessities of food, gasoline, and housing.
The Fed has stated that it will remain data-dependent in evaluating and adjusting its policy, looking to the flow of data to evaluate the effect of the steps already taken and what else may be necessary to achieve its inflation and employment mandates. Given the muddiness in recent economic data, initial claims are particularly valuable as a high-frequency, nearly real-time indicator of labor conditions — a key underpinning of the critically important consumer sector.
The bottom line? Labor conditions have softened but are far from soft. The interplay between the labor market, inflation, and the Fed's response have been the dominant story for the economy in recent months. That appears unlikely to change anytime soon.