U.S. retail sales unexpectedly slip in May
Retail sales dip as high inflation takes a bite out of discretionary consumer spending.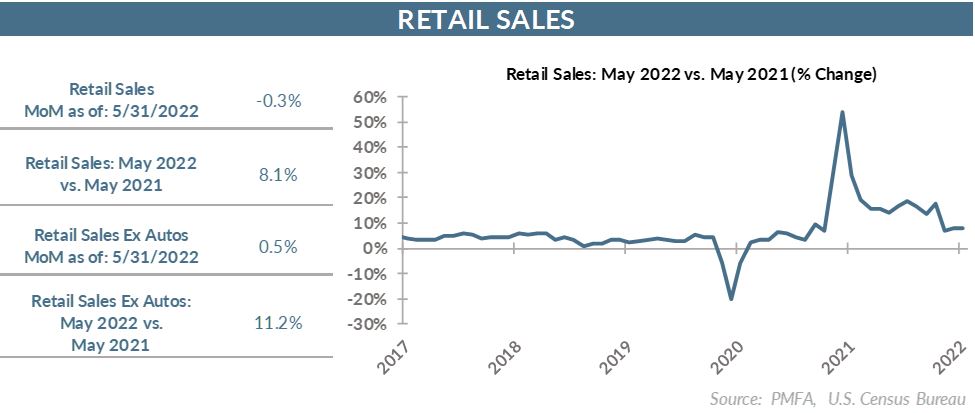 Retail sales declined in May by 0.3%, falling short of expectations for a 0.2% increase for the month. Accompanying the disappointing May result was a modest downward revision to April's gain to 0.7%, suggesting a bit less momentum coming into the month than had been previously reported. The decline brought an end to what had been four consecutive monthly gains. The so-called control group, which most closely reflects what filters through to the GDP report, came in flat.
It's important to note that although the retail sales report provides some indication of the critical personal consumption component of GDP, it's not adjusted for inflation. With inflation running hot, the decline in retail sales becomes even more troublesome.
The report comes on the heels of the May report on consumer prices, which rose at a surprising 1.0% for the month. Recent gauges of the collective consumer mood have been dimming, perhaps most notably illustrated by the University of Michigan Consumer Sentiment index, which declined to a record low in early June.
The recent spate of disappointing consumer-related data confirms that inflation is not only a source of frustration for American households, but it's also starting to have a more pronounced effect on their spending habits.
Lower-income households have been hit hardest by the persistent rise in prices, as the rising cost of necessities, including food and fuel, take a bite out of discretionary spending. Higher-income households can absorb the impact of rising prices to a greater degree but are still feeling the effects.
The bottom line? Retailers are feeling the pinch from consumers starting to pull in the reins on spending. The longer that inflation runs hot, the greater the risk to discretionary spending. All eyes are now on the Fed to take more aggressive action to push back on inflation and provide some reassurance that they're willing to do whatever is necessary to rein it in.