What do leading indicators say about the risk of a recession?
The leading economic index typically provides some advance warning of a recession but remains far removed from contractionary territory today.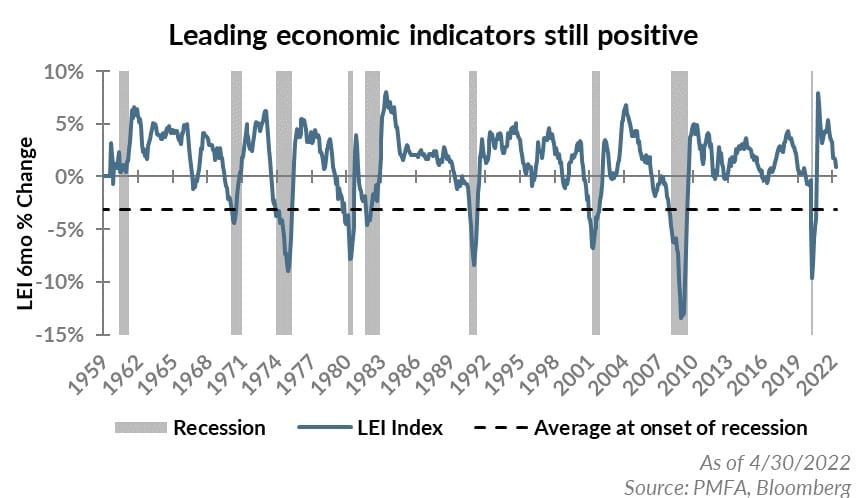 Recession speculation has resurfaced over the last month as persistently high inflation, rising interest rates, elevated geopolitical tensions, and ongoing supply chain bottlenecks have all been cited as risks to U.S. economic growth.
While predicting the timing of a recession with precision is impossible, the Confidence Board's Leading Economic Index (LEI) has typically offered an advanced warning signal of an economic downturn. The index combines individual data points that have historically been among the better leading indicators of turning points in the economic cycle, including average weekly unemployment claims, building permits, inventory changes, and stock prices. These indicators tend to lead economic growth by an average of about seven months and provide an early sign of turning points in the business cycle. In fact, nearly every recession has been preceded by a decline in LEI, making it a fairly reliable advance recession indicator but subject to some variability in actual lead time.
While the length of time that the LEI trended negative before a recession has varied, the average six-month percent change of the LEI has been just below -3% at the onset of a recession. The LEI has softened over the past year, which is normal after the initial growth surge that typically occurs as the economy emerges from recession. Still, its current reading of about 2% provides no clear recession signal for now.
Bottom line? The current LEI signals that economic growth is likely to extend through 2022 despite volatile stock prices and the slowdown in growth in recent months. The U.S. economy is still in expansionary territory with a generally healthy consumer sector, strong job creation, near-record job openings, outsized wage growth to fuel consumer spending, and accommodative monetary policy. The risks that have been noted are real, but don't appear likely to derail a growing U.S. economy in the near term.