What do real interest rates indicate about the outlook for the economy?
Historically, the real fed funds rate has moved sharply higher prior to recession and to a level well above the near record low real rates of today.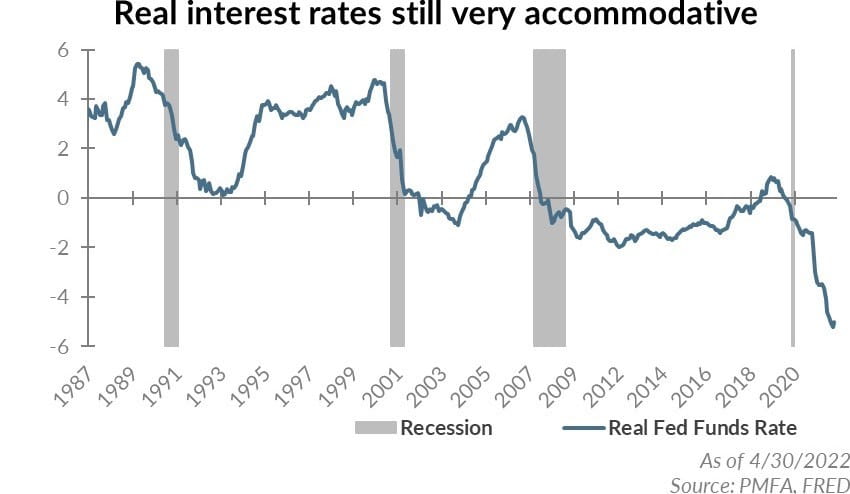 The Fed's notable move toward a more aggressive tightening policy stance has been a major catalyst for market volatility since the beginning of the year. The potential for such tightening to tip the economy into a recession has become increasingly mentioned as a risk, particularly as inflation persists and the Fed reiterates that it will do whatever may be necessary to bring it back under control.
But how tight is monetary policy today? As shown in the chart above, real (adjusted for inflation) interest rates remain deeply negative, indicating a very accommodative interest rate environment. Even as the Fed continues to raise interest rates in the coming months, real rates are likely to remain negative for some time.
Over the last four economic cycles, a material increase in real interest rates has preceded every recession, peaking well above zero and even more notably significantly higher than today's near-record low level. In fact, real short-term interest rates have typically climbed well above 2% before conditions became tight enough to stifle growth and trigger a recession. The only notable exception was the 2020 recession, which took hold in a manner of days as the pandemic brought activities across the United States to a sudden halt.
Certainly, risks have increased and the potential for a policy misstep by the Fed can't be ruled out. Navigating the economy to a soft landing will be a challenge for policymakers. However, the Fed's key policy rate appears to have substantial room to rise before becoming restrictive. As we discuss in our accompanying piece, the economy has softened, but leading indicators suggest that fears of an imminent recession may be overblown.