How does this year's stock market drawdown compare to those during recent recessions?
The last two recessions were both unusually severe in terms of the economic and market impact.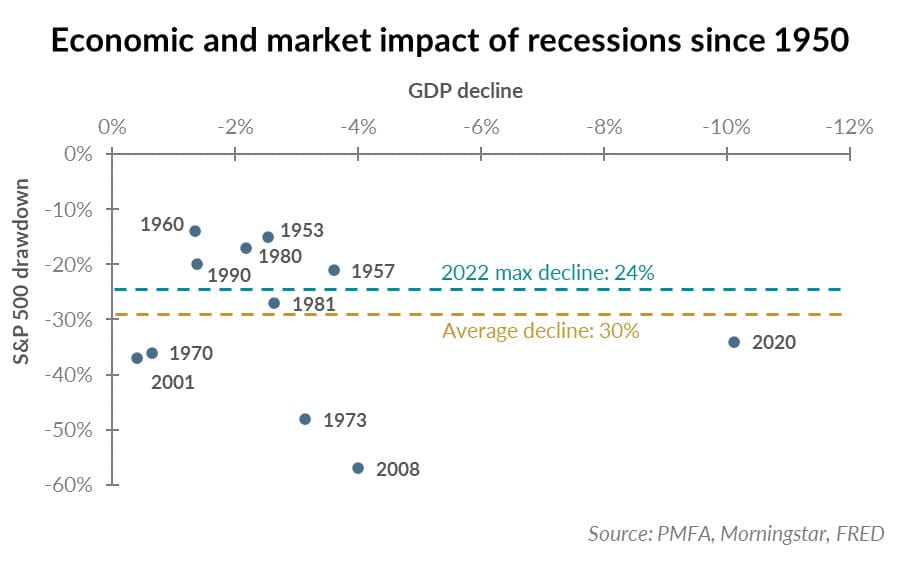 The chart above illustrates the impact on GDP and the equity markets of the 11 recessions in the U.S. since 1950. Clearly, equity market performance is influenced by a range of factors, including the severity of the economic downturn, the underlying cause of the recession, and market valuations at the outset. In those 11 recessions, the average decline in GDP was about 3%, while the S&P 500 experienced an average drawdown of about 30%. Three were more extreme examples, including the deep recession in 2020 caused by the pandemic, as well as the particularly deep bear markets that accompanied the Global Financial Crisis (2008), and the bursting of the tech stock bubble (2001).
As we discussed in a recent commentary, effectively calling the top or bottom of a market cycle is impossible. With two consecutive quarters of negative GDP and the Fed still in tightening mode, the path to a soft landing has narrowed. Of course, a larger unknown risk could emerge, but conditions today still appear to be considerably better than during the Global Financial Crisis in 2008 or in the virtual overnight shutdown of much of the U.S. economy in the early days of the COVID-19 pandemic in 2020. The July equity rally notwithstanding, the peak-to-trough stock market pullback this year (24% in mid-June) was not far from the average bear market accompanying a recession.
That doesn't mean that equity volatility couldn't continue for some time, but it does suggest that a meaningful degree of recession risk may have been priced in. Moreover, the market recovery is likely to begin before the economy bottoms. Whether July's advance signified a turning point in the market cycle or a temporary advance amid a bear market remains to be seen. Still, it's a reminder that the market doesn't wait for all sources of uncertainty to clear for stocks and other risk assets to advance. As in past cycles, we expect that stocks will climb the wall of worry again in the current cycle. If that climb hasn't already started, it will in due time, and it will start through a haze of risk that will keep some investors on the sidelines.