Is the U.S. economy in recession today?
While the economy contracted over the first half of the year, the question as to whether the economy is in recession is much more nuanced.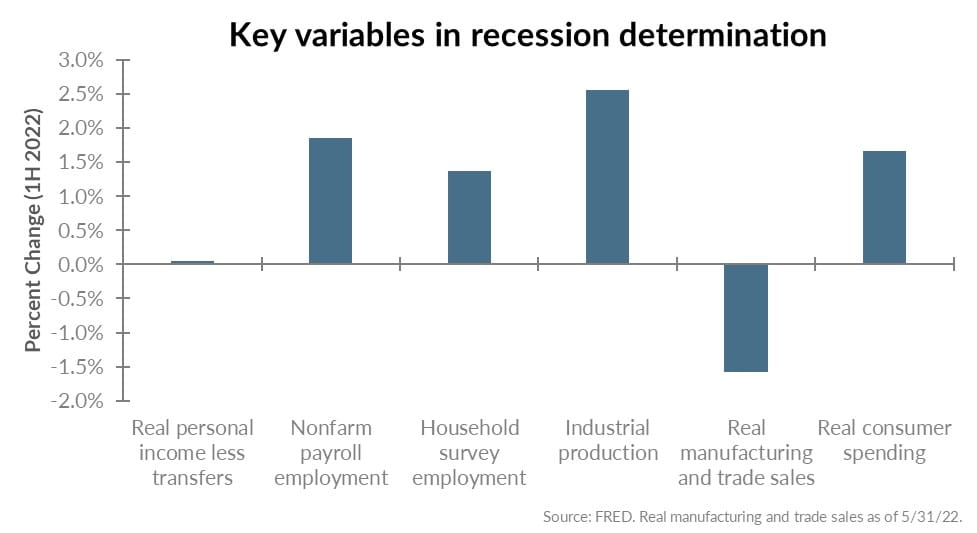 U.S. GDP declined again in the second quarter, marking two consecutive quarters of negative GDP prints — a commonly used rule of thumb to define a recession. And although such an occurrence typically coincides with a recession, there are several other measures that must also be considered in any comprehensive analysis of the state of the business cycle. As such, whether the economy is currently amid a "significant, widespread, and prolonged downturn in economic activity" is open for debate – one that's taking place daily in headlines and opinion pieces.
As a technical matter, the National Bureau of Economic Research (NBER) is charged with the responsibility of determining the timing of both the onset and the end of U.S. recessions. In making those calls, multiple economic indicators are considered, including measures related to the labor market, business production, personal income, consumer spending, and business sales. In aggregate, their direction will typically correlate with the direction of GDP but may not always do so. They also provide a more nuanced view of the state of the economy than GDP alone can. This has been particularly true this year. Notably, four out of the six indicators were solidly positive over the period, while real personal income was essentially flat and real manufacturing and trade sales contracted. Broadly, they don't appear to be consistent with an economic contraction.
More recently, there have been signs that the economy has slowed considerably. Whether or not the economy slips into recession this year remains to be seen, and will depend on a variety of factors, but as of today, much of the economic data appears to point to a slowdown in growth.
We certainly can't say that a recession is out of the question. Risks have risen. But for now, we don't believe that the data indicates that it should be a forgone conclusion.