Retail sales remained unchanged in July
Retail sales were little changed in July, but falling gas prices should provide some respite for consumers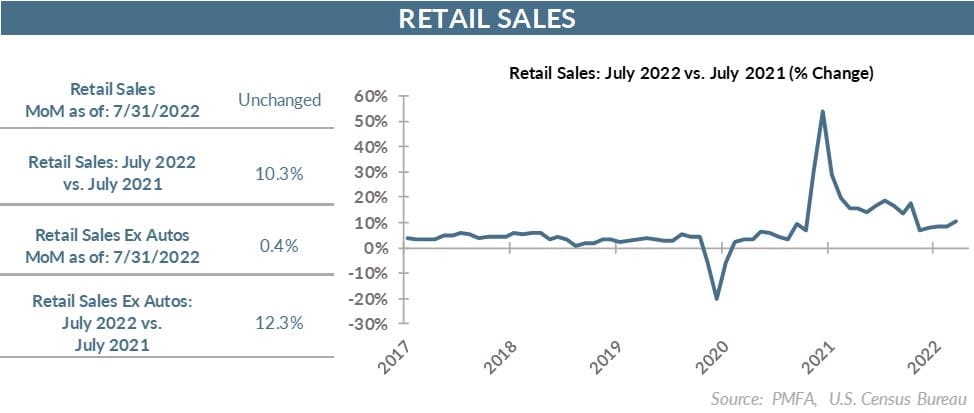 July retail sales were virtually unchanged, as falling gas prices and weaker auto sales offset positive results for other retail sectors. Excluding gas station and auto sales, sales increased by a better-than-expected 0.7%.
Still, there's a muddiness to the data that reflects the impact of the consumer spending binge on goods last year and the normalization of the economy as daily life for most Americans returns to something that more closely resembles pre-pandemic normalcy.
In the past year, retail sales rose by over 10%, indicative of a strong rebound for the sector lifted by consumers that were flush with cash and eager to spend. However, lost in that robust 12-month gain is the sharp reversal and meaningful slowdown in spending growth that has occurred this year. Solid labor market conditions, strong wage growth, and a meaningful savings stockpile provided a tailwind, but the impact of outsized price increases sapped spending power in real terms.
As Americans have become increasingly mobile, much of the service sector, perhaps most notably leisure and hospitality, has caught a tailwind that had been lacking in the early stages of the recovery when Americans were focused on COVID-19 risk mitigation. The result has been a shift in the flow of spending toward services and away from goods.
Beyond shifting spending patterns, the retail slowdown also reflects a loss of economic momentum and stubbornly high inflation that continues to impair discretionary spending. Prices continue to rise, but there are growing signs of a potential easing in the coming months.
The decline in gas station sales is a direct reflection of the sharp drop in fuel prices in the past month, providing good news for consumers who should find a little more breathing room in household spending budgets. Rising gas prices crowd out spending in other areas, but the reverse is also true, providing greater leeway for discretionary spending.
If there's a cautionary note, it's that retail sales are reported in nominal terms. Even with some signs that the pace of inflation could be rolling over, the contribution of the retail sector to real GDP growth remains negative, as was the case in the second quarter.
Inflation remains the greatest near-term threat to the economy, and taming that beast remains the most critical priority for the Fed.
The bottom line? Against a backdrop of a marked slowdown in the economy and heightened recession risk, better-than-expected retail sales are a sign that the consumer sector isn't dead yet. Growth has slowed and risks have clearly risen, but a near-term recession shouldn't be considered a foregone conclusion.
Media mention:
Our experts were recently quoted on this topic in the following publication: