What can we learn from the recent rebound in capital markets?
The recent stock market rebound illustrates just how quickly the returns can turn positive, even when much of the news is bad.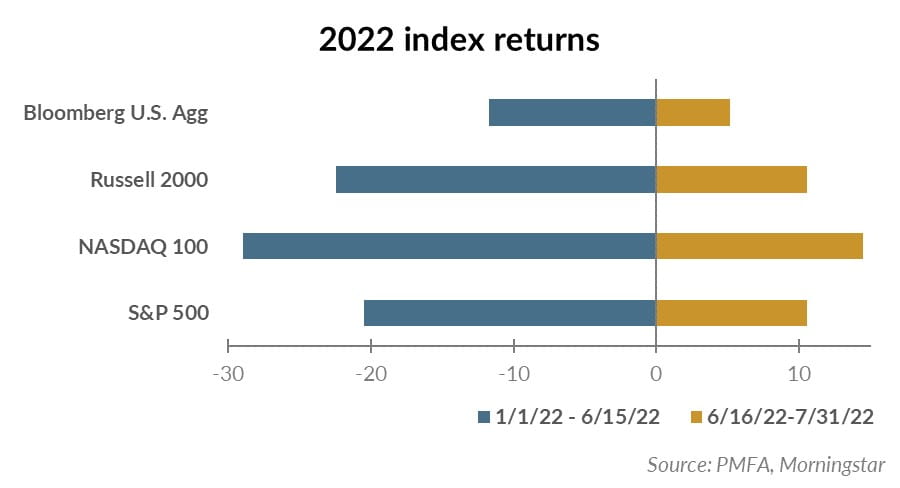 It's been a volatile year for capital markets, with both stocks and bonds seeing significant drawdowns over the first half of the year. Rising interest rates and inflation, geopolitical conflict, and recession concerns all contributed to an environment that was extremely challenging, with very few asset classes posting positive returns. Some of the hardest hit areas included interest rate-sensitive investments such as growth-oriented equities and long-term bonds, which sold off sharply as interest rates rose. Cyclical areas such as small-cap stocks weren't spared, as inflation concerns gave way to rising recession risk, in turn pushing investors to seek out more defensive options.
However, that dynamic shifted abruptly in mid-June, with capital markets broadly rebounding from recent lows since then. As shown in the chart above, many of the asset classes that were hardest hit in the first half have seen the most significant rebound in performance. Notably, the surge in performance wasn't a response to a string of good news but came during a period in which the Fed continued to raise interest rates, inflation came in hotter than expected, the war in Ukraine was no closer to abating, and economic data remained relatively weak. In fact, Citigroup's economic surprise index remained well in negative territory, indicating that economic data was coming in below expectations.
So, what caused this notable reversal in market sentiment? As we have discussed previously, the market is not the economy, and the two often don't move in lockstep. Investors began to look through the current negative news in expectation of improving conditions ahead. Whether or not this recent rally is premature remains to be seen, and further volatility is still possible in the months ahead. Nevertheless, recent performance serves as a timely reminder that market recoveries can be rapid and steep, often starting well before economic data begins to sustainably improve. As an investor, remaining invested through volatility and sticking to a long-term, strategic plan is typically the most effective way to take advantage of unexpected rebounds like this.