Jobless claims edged higher last week
Initial jobless claims edged higher last week a — trend that's likely to continue as the Fed tightens further.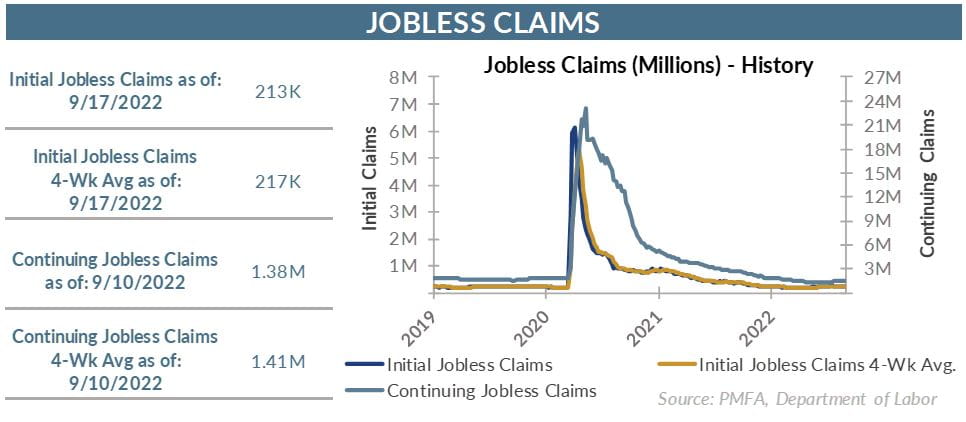 Initial jobless claims came in at 213,000 last week, modestly below the consensus forecast of 217,000. That represented a moderate increase from the prior week's revised total of 208,000.
The weekly pace of claims increased considerably since reaching a low for the cycle of 167,000 in April before climbing up during the summer as cracks in the economy emerged and recession fears grew. However, since peaking in July, initial claims have reversed course, retracing about half of that increase.
Continuing claims have fallen since the beginning of the year, dipping below 1.4 million last week for the first time since mid-July, following the broad path of first-time claims.
Labor market data tells a fairly consistent story: labor market conditions remain solid — inconsistent with what would typically be expected for an economy in recession — but have softened since the start of the year. The message? The rumors of the expansion's demise may have been premature.
The more pressing question is "what's next?" The answer lies within the increasingly firm-jawed message on inflation being delivered by Fed Chair Jay Powell and his colleagues. The ambiguity earlier this year about how aggressively Fed policymakers would attack the inflation problem has dissipated. 
There's no way to know definitively when or at what level the Fed's policy rate will peak, but there should be little doubt that policymakers are firmly focused on bringing inflation back under control, even if it results in outright job losses and a recession. Following yesterday's third consecutive 0.75% hike, another 1.25% still appears to be in the cards by the end of the year.
Although the Fed is understandably reluctant to spell it out so plainly, their updated economic forecasts effectively are calling for a modest recession. Their updated projections call for unemployment to increase to rise to 4.4% next year, which would represent an increase of nearly 1% from the July low of 3.5%. The jobless rate can increase modestly in the context of an expansion, but an increase of that magnitude in the absence of at least a mild recession is without historical precedent.
Financial conditions have tightened materially this year; for now, there's no near-term end in sight. Fed policy clearly reflects what policymakers view as the greater risk to the health of the economy. A failure to arrest inflation now could lead to a much greater challenge in doing so if it were to become more embedded.
Further easing in supply constraints and the flow of goods globally would help, but that has long been the hope. The war in Ukraine and China's Zero Covid policy have been major impediments to greater progress in that regard. That leaves the Fed with little choice but to focus on slowing demand — an objective that's squarely in their wheelhouse.
Bottom line? The recent downtrend in jobless claims, along with other data, point to a jobs market that for now remains constructive for workers. The full impact of the Fed's tightening hasn't been felt in the jobs market; with more tightening ahead and a firm commitment by policymakers to knock inflation down, the recent decline in claims is unlikely to continue for much longer.