U.S. job growth moderates in August while unemployment edges up
Job creation remained solid in August, while a sizable influx of previously sidelined individuals into the workforce lifted the jobless rate.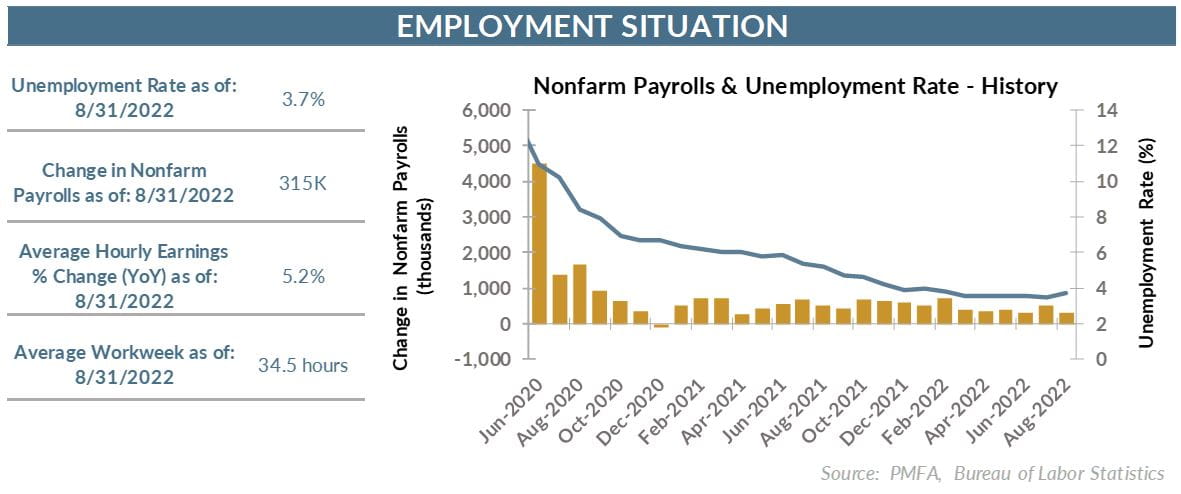 Nonfarm payrolls rose by 315,000 in August, modestly ahead of expectations for a gain of about 300,000 new jobs. Revisions to June and July months shaved 107,000 from prior totals, trimming the net increase to a more pedestrian 208,000.
The overwhelming driver of the increase was private sector job gains, particularly in the service sector, which continues to benefit from a return to greater mobility and a less socially distanced consumer sector. The solid increase in manufacturing jobs is also telling, particularly given the lingering questions about the state of an economy coming off two consecutive quarters of negative GDP. Steady job creation in the cyclically sensitive manufacturing sector isn't what one would expect if the economy was in recession.
Despite those payroll gains, the unemployment rate edged up to 3.7%. Labor force participation increased from 62.1 to 62.4% — a positive sign that a growing number of individuals who were sitting on the sideline are now actively looking for a job.
Also notable was the comparatively tepid increase in average hourly earnings, which rose by 0.3%. The 5.2% increase in hourly wages over the past year is still lofty, but the recent slowdown in the pace of monthly gains provides some indication that the competition for workers is easing.
The August jobs report may have been the best of both worlds, striking a balance that was neither too hot nor too cold. Job creation remained solidly positive, and although it's still subject to revision, it appears to be more consistent with an economy that's modestly expanding than one that's slipping deeper into recession.
Conversely, there is ample evidence in this report that the job market continues to cool. Job creation has slowed, the unemployment rate ticked higher, and wage gains are moderating — good news for a Fed focused on throwing cold water on a stimulus-fueled growth engine that had overheated.
The Federal Reserve has been clear that it's looking for signs of slackening in a very tight labor market. There's more than one way for that to happen, either by growing the pool of available workers at a pace that exceeds job creation or via an outright decline in the number of employed individuals. The latter, of course, is a more painful path. In August, that was accomplished without net job losses thanks to an estimated 786,000 workers joining the labor force — well above the 442,000 increase in the number of employed Americans.
Coming into the report, with the future path of Fed policy front and center for investors, the question was whether this would be a "good news is bad news" or a "bad news is good news" report. What was delivered was perhaps as good as could have been hoped for. Job creation remained positive enough to not further enflame near-term recession concerns but weak enough to suggest that exceptionally tight labor market conditions are meaningfully loosening.
Whether or not the report was enough to push the Fed to moderate their stance and raise by 0.5% rather than another 0.75% hike later this month remains to be seen. The August CPI report will now loom very large as policymakers weigh their options.
The relative strength and composition of job creation provides some evidence that the economy is still finding a narrow path forward. The report also confirmed that the combination of slowing growth, previous Fed tightening, and a return of more Americans to the workforce should provide a bit more breathing room in the labor market.
The bottom line? There are far too many economic worries to describe anything as Goldilocks in the current environment, but the August jobs report was "good enough."