How does housing impact the inflation outlook?
Shelter inflation has been a meaningful contributor to CPI readings this year, but data suggests shelter inflation may soon be peaking.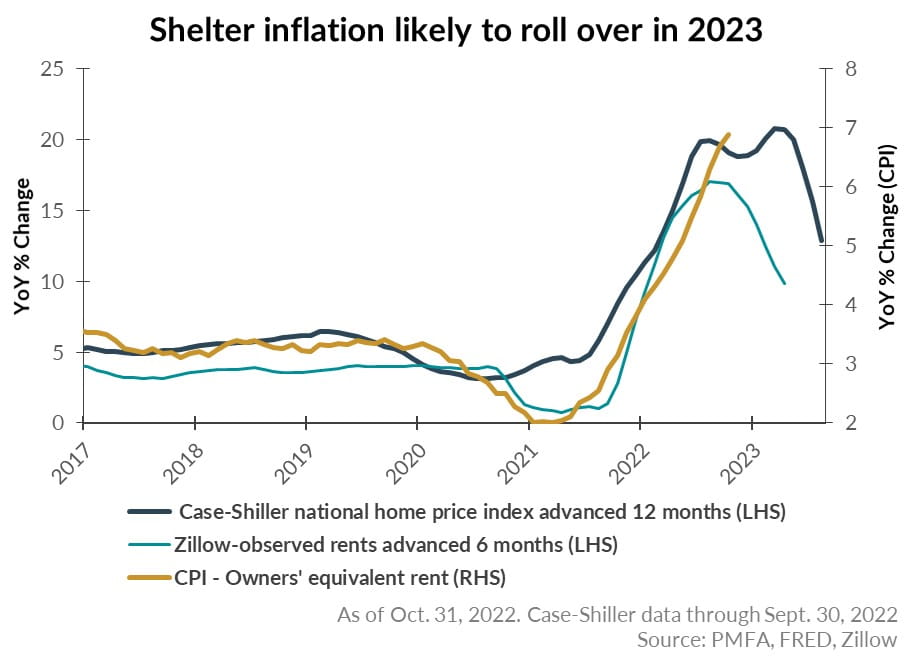 As we discuss in our accompanying piece, inflation appears to have peaked, with headline CPI falling from over 9% in June to 7.7% at the last reading in October and positive base effects likely to continue. However, below the headline number, the story becomes a bit more nuanced. Much of the decline in inflation in recent months has been driven by falling prices in the energy and goods sectors, as slower consumer demand for goods and improving supply chain issues have helped to restore some balance. Services inflation, on the other hand, has shown little evidence of abating as consumer spending therein remains comparatively solid.
Much of the increase in the service sector has been driven by shelter, which makes up nearly a third of the CPI calculation. The CPI shelter inflation calculation is primarily driven by "owners' equivalent rent" (OER), which estimates the rent that homeowners would expect to receive if they were renting out their home. OER is highly correlated with home prices but are typically subject to a lag of more than a year. Consequently, the massive runup in home prices coming out of the pandemic is still feeding into the CPI, despite the notable cooldown in housing since its peak earlier this year. The recent outright decline in home prices will filter into the CPI in due time but are not yet apparent. For now, the lagged effect of the earlier surge in home prices is still contributing meaningfully to elevated inflation prints.
The other component of shelter inflation is rent of primary residences, which measures the actual rent that consumers are paying for housing. However, as most leases have a term of one year, changes in actual rent take an average of about six months to work their way into the rent calculation in the index. That piece will also take time to be fully reflected in the data but should be a source of disinflation in the coming months as well.
The bottom line? Inflation is easing, but the lagged effects of previous housing gains will likely create a practical floor under the CPI well into 2023.