Jobless claims rise but still remain in line with forecasts
Initial jobless claims edged higher last week as evidence of a softer job market builds.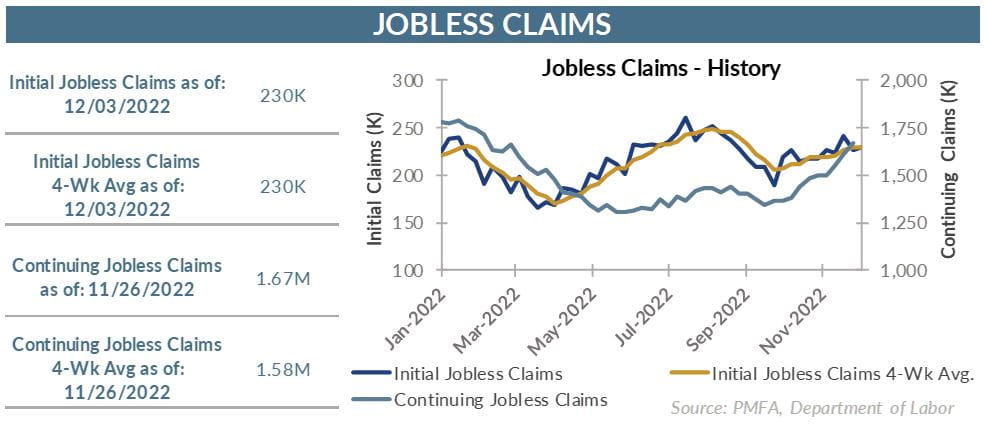 First-time jobless claims rose to 230,000 last week, a modest uptick from the previous week's revised total of 226,000, but in line with the consensus forecast of 230,000.
Anecdotally, it seems that news and rumors of layoffs have picked up in recent months, but the tangible impact on first-time jobless claims has been limited thus far.
That doesn't mean that conditions in labor markets haven't softened. A notable increase in jobless claims is evident compared to the cyclical lows last spring. Jobless claims had dipped to a meager 166,000 last March before edging higher in the following months. The sustained increase since early this year is material, even if the more recent uptick has been limited.
It's possible that many of the individuals who have received pink slips have quickly found other employment, but it doesn't necessarily mean that it has been in the same industry or that it didn't come at a cost. The widespread availability of lower-wage service sector jobs, for example, may allow the suddenly unemployed to quickly find another job, but may offer a wage that's below their prior job.
Other recent data on the jobs market suggests a sustained, moderate slowdown in the pace of job creation continues, but it's important to note the household and employer surveys are sending some mixed signals.
Employers are still adding jobs at a healthy clip for now. Household surveys have recently turned negative, as the number of employed individuals has declined over the past two months, dipping back to around March 2022 level.
Against that softer labor market backdrop and, with evidence that inflation gauges have likely peaked and should continue to ease in the coming months, the Fed appears to be ready to also ease up on the pace of interest rate hikes, while continuing to tighten.
The bottom line? Narrowly speaking, the modest increase in jobless claims last week was expected and relatively insignificant. More broadly, there are growing signs that the once red-hot labor market is softening.
Media mentions:
Our experts were recently quoted on this topic in the following publications: