What does the potential path forward for inflation look like in 2023?
Inflation has likely peaked, but a return to the Fed's 2% target is likely to take some time. The result? More interest rate hikes in 2023.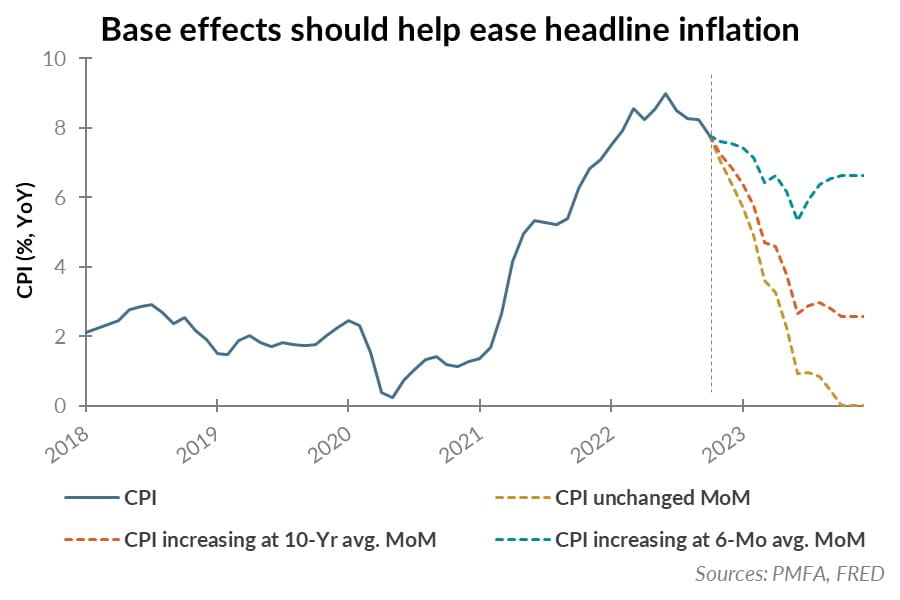 Inflation is still running hot today, but disinflationary forces are becoming increasingly apparent in some underlying measures of prices, allowing the headline CPI figure to drift downward from its June peak. The better-than-expected increase in the October CPI provided a brief boost for equity markets, as investors search for signs that the Fed may be able to ease away from its hawkish stance. Directionally, the likely trend for inflation is lower – but how much lower — and how rapidly the pace of inflation may ease — remain in question.
The near-term outlook for inflation should benefit from normalization in supply chains and declining global demand. It should also benefit from more favorable base effects, which reflects the difference between prices today and one year ago. The chart above illustrates this base effect, assuming three scenarios for month-over-month inflation: future increases are: 1) consistent with the past six-month average; 2) in line with the past 10-year average; or 3) flat (no inflation). If inflation were to return toward its long-term average, headline CPI could decline to near 2.5% by late 2023, holding all other factors constant, as illustrated in scenario 1. However, if inflation continues at a pace comparable to the last six months (scenario 2), inflation readings would retreat but stay stubbornly above the Fed's desired 2% target. Finally, even in the highly unlikely event that prices were unchanged in the coming months (scenario 3), headline inflation would remain above 2% until June 2023.
Bottom line? Inflation is likely to continue to gradually recede in the coming months, but a return to the Fed's target will take time. Elevated inflation is likely to cast a cloud of uncertainty over the economy well into 2023. Lower inflation should allow the Fed to curtail the pace of its rate hikes as soon as this month. Still, the inflation outlook will keep the Fed in a tightening mode heading in 2023.