Could the current fiscal standoff over the debt ceiling have a long-term impact on market performance?
Policymakers continue to debate the terms of an agreement to raise the debt ceiling, but the long-term impact on the stock market are likely to be limited.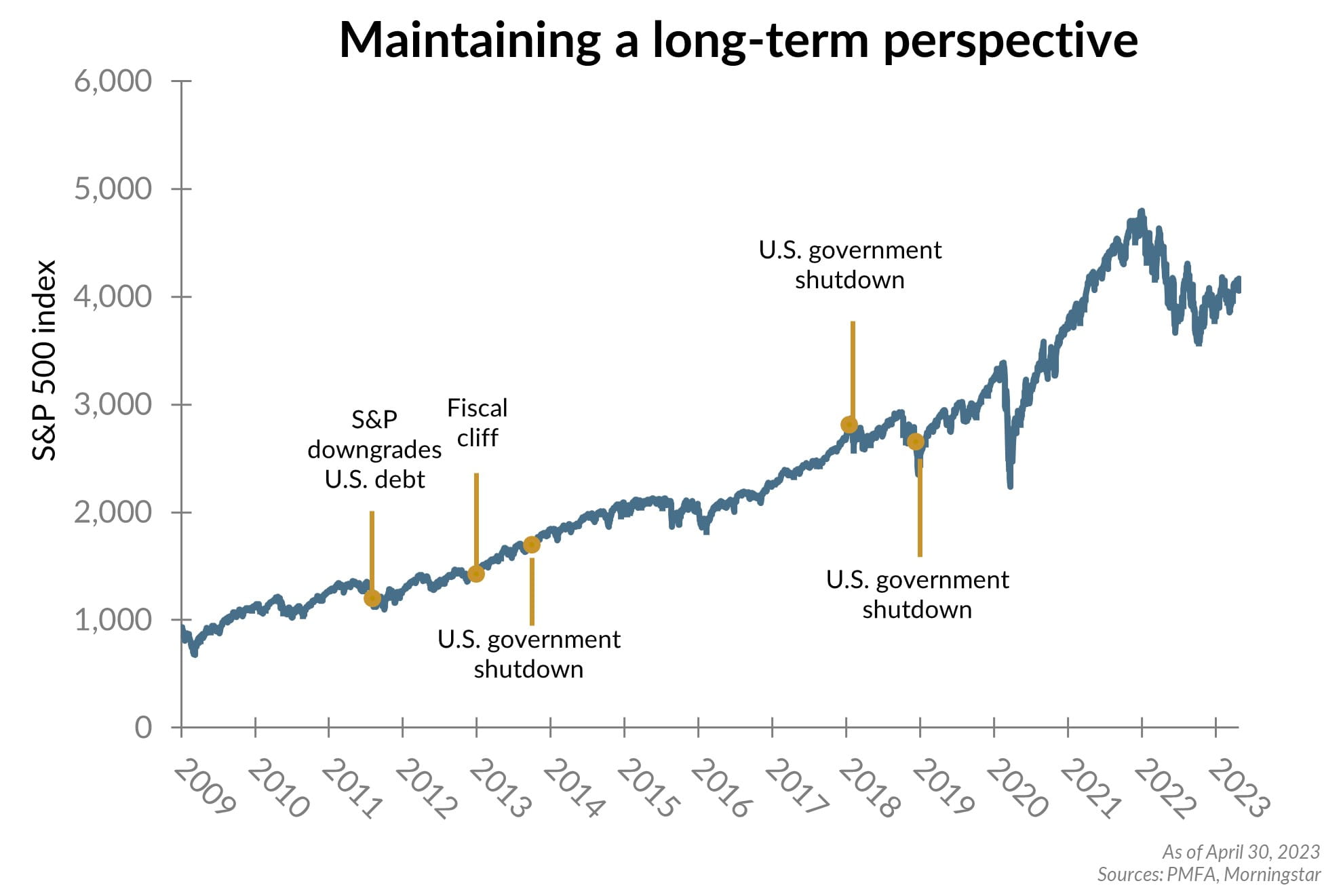 For investors, risks are always present. Some are novel, unanticipated, and exogenous, while others may appear eerily similar to those we've faced in the past. The current debt ceiling impasse in Washington sits firmly in the latter category. In fact, since 1960, the U.S. Congress has addressed the debt limit on 78 distinct occasions, with the current episode being the latest. (For our comments related to the debt-ceiling standoff, see our recent piece.)
The chart above illustrates the performance of the S&P 500 index since 2009. Along that path, we've highlighted multiple events related to fiscal standoffs in DC, including three government shutdowns, the so-called "fiscal cliff" (remember that?), and Standard and Poor's downgrade of U.S. debt in 2011 — arguably the most consequential of the group.
Stepping back from the immediate concern and viewing history in this manner provides a change in perspective. Each seemed like a major risk at the time but seem barely discernable in the chart above. While events like the debt ceiling can create volatility in the short-term, they tend to be relatively insignificant to the markets over the long run. Many other events not specifically called out in the chart, such as a financial crisis or a pandemic, have also not derailed the market's upward climb.
What is the takeaway here? For investors, there will always be the "next" reason to be fearful. Investors who were alarmed enough to sell out of equities during the 2011 standoff and downgrade could have found other reasons to not buy again. Yet, the trajectory of the U.S. equity market over the subsequent decade-plus has been unambiguously positive. Distinguishing between short-term risks and long-term return potential is fundamental to sound investment decision-making. Focus on your long-term plan.