First-time jobless claims edged lower last week
First-time jobless claims remain rangebound, though continuing claims have risen in the past year — a sign that labor market conditions have softened but are still far from soft.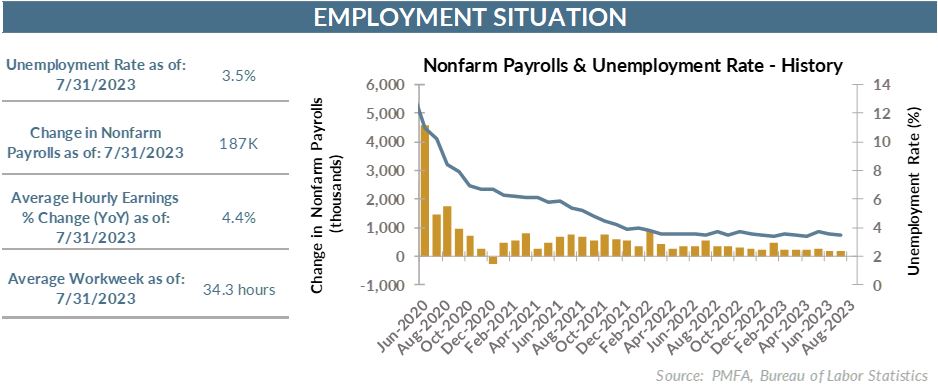 First-time jobless claims eased by 10,000 last week to 230,000, down from a revised 240,000 in the preceding week. The four-week moving average edged higher to 236,750.
As one sign of the relative strength of the labor market, the relative stability in initial claims still suggests that employers have navigated the tightening of financial conditions relatively well. Layoffs surged briefly early this year, but that increase was concentrated in big-cap tech, which had arguably overhired as business boomed and had ample room to trim once growth slowed.
Initial claims have hovered in a relatively narrow range since late 2021, with a few brief deviations. Claims edged below 200,000 for a brief period around the end of September 2021 and surged temporarily above 260,000 last June. Claims have since drifted lower again.
That doesn't mean that the labor market is presenting the same picture of health as it was at the height of the hiring boom.
Payroll growth has slowed considerably over the past year, albeit from an unsustainable pace. As the initial surge of post-COVID-19 shutdown growth eased and the economy returned to a greater semblance of normal, the competition for workers also cooled. With unemployment back to half-century lows, the pool of available workers was exceptionally shallow, making hiring a challenging proposition. A slowdown in growth was inevitable as the push provided by fiscal stimulus waned and the Fed sucked liquidity out of the economy. That also took some pressure off hiring managers as the drive to add workers also diminished.
Evidence of cooling labor conditions isn't limited to the slowdown in job creation. Continuing claims from unemployed individuals receiving state-level benefits has increased from 1.33 million a year ago to 1.7 million last week. That's a sizable uptick over the past 12 months but is still relatively low compared to the level through much of the last expansion. Continuing claims were consistently higher than the current level from the start of the expansion in 2009 until May 2018.
The question for policymakers is what would a "not too hot, not too cold" labor market mean for the Fed and the future path of interest rates? Fed forecasts have outlined a baseline scenario that calls for the unemployment rate to drift higher as a byproduct of monetary tightening. Whether or not policymakers still view that as necessary as inflation gauges recede remains to be seen.
Has enough been done to make sure that inflation will be tamped back down to the Fed's 2% goal? Can a soft landing for the economy be achieved, or is a recession still a more likely outcome? Has the Fed already done too much or will they hike further? And to what degree is the proverbial "long-and-variable lag" in monetary policy masking the full degree of impact from the tightening that has already occurred?
These are a few of the questions that remain front and center for policymakers, investors, businesses, and consumers. Global markets will be watching closely for any hints coming from Fed Chair Jay Powell at his Jackson Hole speech tomorrow.
The bottom line? Labor conditions have softened but are still far from soft. In the context of the Fed's dual mandate, the combination of elevated inflation and full employment continue to justify a bias toward tight monetary policy. How tight is tight enough? All eyes are now on Jackson Hole for greater clarity on that point.