How have economic forecasts evolved in 2023?
Estimates for U.S. GDP growth have moved significantly over the course of this year, providing a cautionary tale for investors who rely too heavily on imprecise short-term forecasts to make investment decisions.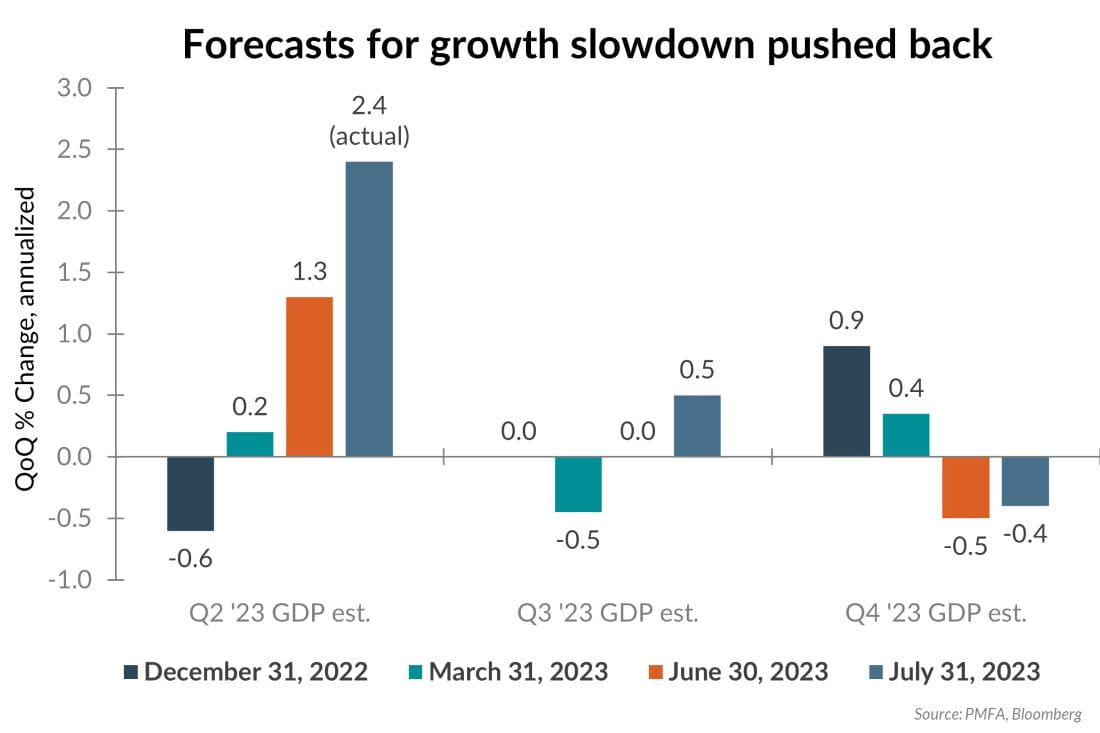 At the start of the year, the consensus forecast was for growth to be negative to flat in Q2 and Q3. The first actual reading for second quarter GDP was released last week, coming in at a surprisingly firm 2.4% — well above those expectations. As shown above, quarterly GDP forecasts have been revised significantly throughout the year. Upside surprises to economic activity have prompted forecasters to lift near-term growth prospects. And while recession risk hasn't completely dissipated, the strength of the labor market and consumer spending have pushed the anticipated slowdown further out on the horizon.
What are the takeaways for investors? First, it's a reminder that the economy is not the market. In this case, the market rallied even as the economic data looked soft, at least partially in anticipation of falling inflation and better-than-expected growth. Second, it illustrates the risk of relying heavily on economic forecasts to guide strategic investment decisions. Forecasting is an imperfect science, and expectations can change rapidly and materially. That's clearly been the case this year, in which stocks have provided strong returns, climbing the proverbial wall of worry even while staring down the so-called "most anticipated recession ever" that has yet to arrive. That doesn't mean that the economy is out of the woods by any means. Still, investors would be wise to not make long-term investment decisions based on the day-to-day flow of economic data, which often paints an inconsistent picture of what's happening, or forecasts that can be very inaccurate, particularly at turning points in the cycle.
Bottom line? Investors should avoid reacting to economic data to make critical investment decisions, but instead remain disciplined and anchored to a long-term investing plan.