How sustainable is this year's equity rally?
Much of this year's strong performance has been driven by valuation expansion rather than improving fundamentals. A soft landing — and stronger earnings growth — could justify the improvement in investor sentiment.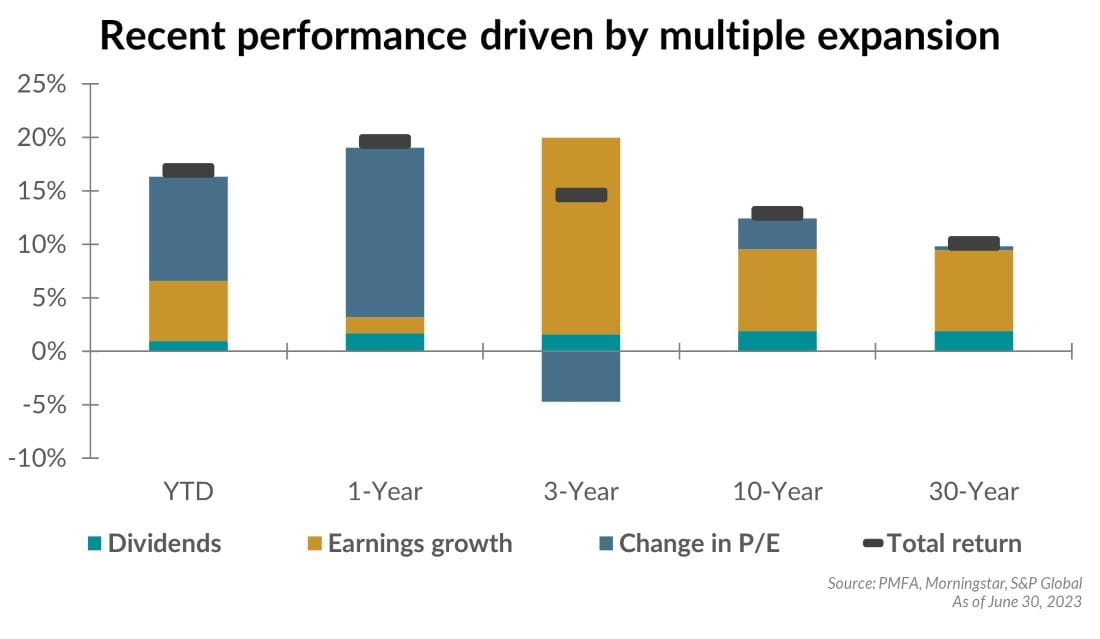 Equity markets have delivered for investors this year, with most indexes serving up double-digit returns thus far. U.S. large-cap performance has been particularly notable, topping 20% through the end of July. Widespread recession expectations coming into 2023 had created a subdued investor mood. As a result, strong equity market returns have been a welcome surprise for many investors, as better than expected economic data and optimism for future earnings potential have provided a lift.
It's important to put the equity rally in perspective and understand what has driven performance over the past year. As shown above, equity returns over that time frame have been almost entirely driven by an increase in valuations, rather than outsized earnings growth. Put differently, it's been an improvement in sentiment rather than stronger underlying fundamentals. An increase in price/earnings multiples can be justified if that expansion occurs in anticipation of a coming surge in earnings growth that ultimately materializes. Still, over the longer-term, valuations tend to revert toward their long-term average, making fundamental factors (earnings growth and dividends) the primary drivers of equity returns over a market cycle and beyond. As the chart also illustrates, performance over the past three decades has been almost entirely driven by those fundamental factors, standing in stark contrast to the past year.
What does this mean for investors? For valuation-driven rallies to be sustained, stronger fundamentals need to follow in the form of stronger earnings, a reduction in the discount rate, or both. With the Fed still committed to tight policy, an improvement in the earnings growth in the coming quarters appears to be the necessary catalyst.