With job creation still positive, what can we discern from the recent revisions in the monthly data?
Recent job creation revisions have been consistently negative — a trend that's typically indicative of a loosening labor market.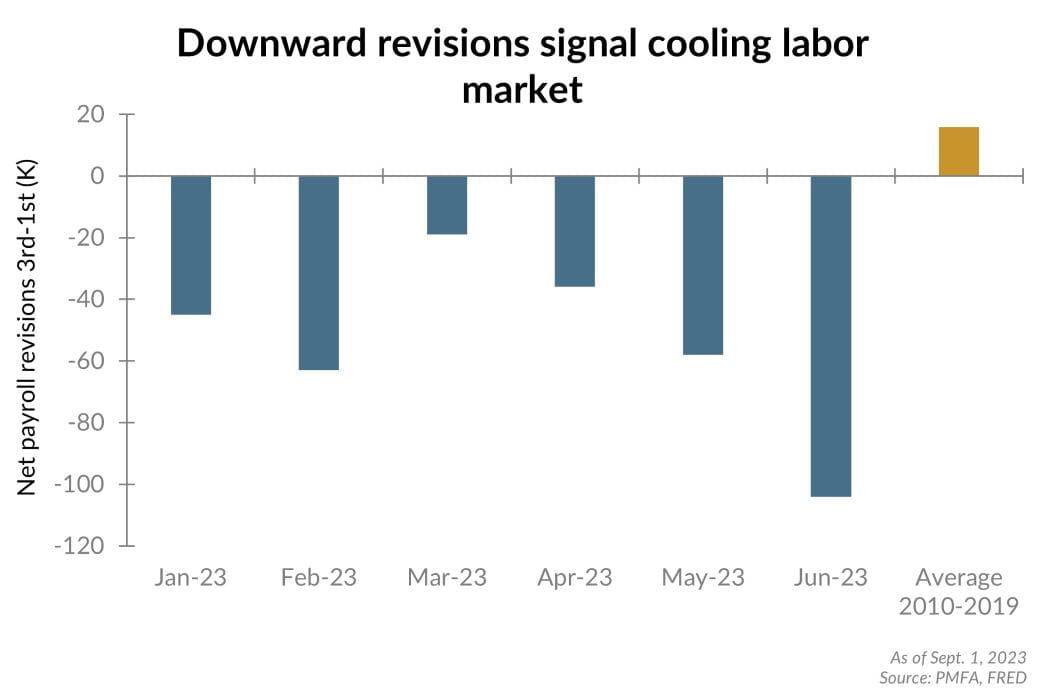 The U.S. Bureau of Labor Statistics publishes the Monthly Employment Situation report, one of the most widely anticipated economic releases for economists. Included in the report is the unemployment rate, which garners the most press, but underlying that is data on the number of net jobs created (or lost) in the economy during the month. Following its initial release, those totals are subject to revisions in the two following months. Those updates may not grab headlines, but they can provide meaningful insights into the relative strength of the labor market.
The chart above illustrates the net change between the first and final estimate of monthly payroll gains through the first half of 2023. As shown, each of those monthly estimates was revised meaningfully lower — cumulatively shaving over 300,000 jobs from the initial estimates. Those consistent downside revisions stand in sharp contrast to the period from 2010–2019, during which the average revision was positive.
Why does this matter? Downward revisions to reported payroll data are typically indicative of a weakening labor market. The current persistence in negative revisions suggests that the labor market is at least cooling from the extremely tight conditions that persisted coming out of the pandemic. And as shown in our accompanying piece, this is not the only data point that suggests a normalization is occurring.
Bottom line? Negative revisions to monthly job creation often indicate the start of a loosening labor market — a significant driver in the Federal Reserve's policy decisions as they seek to achieve their inflation and employment dual mandate.