What would wider credit spreads mean for equity markets?
Credit spreads and equity volatility tend to be highly correlated. Consequently, a spread-widening event would likely be accompanied by some downward pressure on equities.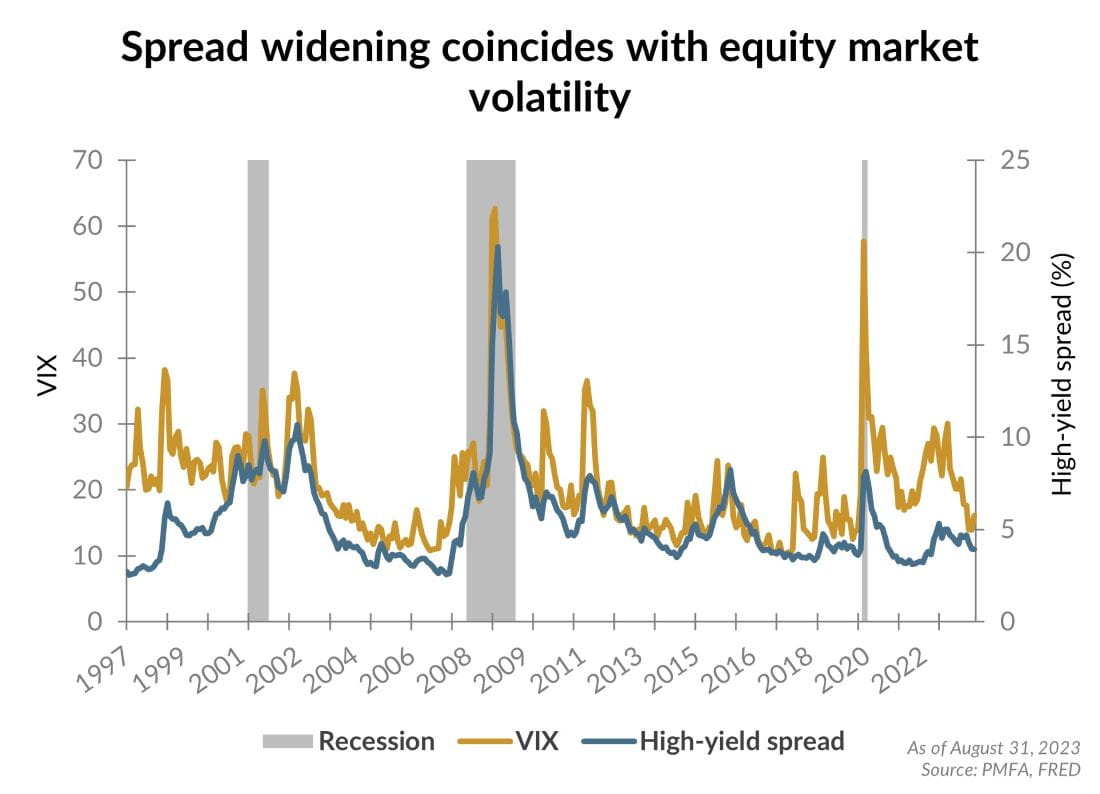 As we discuss in our accompanying piece, credit conditions have tightened considerably this year, which has implications for both credit markets and the broader economy. Tighter credit conditions result in less grease to oil the wheels of the economy, typically creating a drag on growth. For credit markets, it means a higher cost for borrowers across the board, but an even more outsized increase for lower credit-quality borrowers, as an increase in credit spreads further compounds the impact of rising rates. But what would a material widening in credit spreads mean for equity markets?
As shown in the chart above, the level of high-yield credit spreads (the additional yield on high-yield bonds relative to comparable maturity treasuries) is highly correlated to equity market volatility. Risk assets, including stocks and high-yield bonds, are typically positively correlated as the same concerns that may deter investment in low-quality credit may also extend to equity markets. Such risk-off periods can be brief or extend for some time but tend to be characterized by the underperformance of risk assets broadly as investors flock to safe havens like treasuries, high-quality bonds, and cash.
Both equity market volatility and credit spreads have been unusually low in recent months, as better than expected economic data has bolstered hopes that the Fed may succeed in bringing inflation down without precipitating a recession. Even in a soft-landing scenario, the rapid tightening of credit conditions could still lead to some tougher sledding in credit markets, as pricing catches up to the underlying fundamentals. In that scenario, it's unlikely that equities would come through unscathed.