The ISM Manufacturing Index edged higher in September
The manufacturing sector is still contracting but may be approaching a near-term bottom.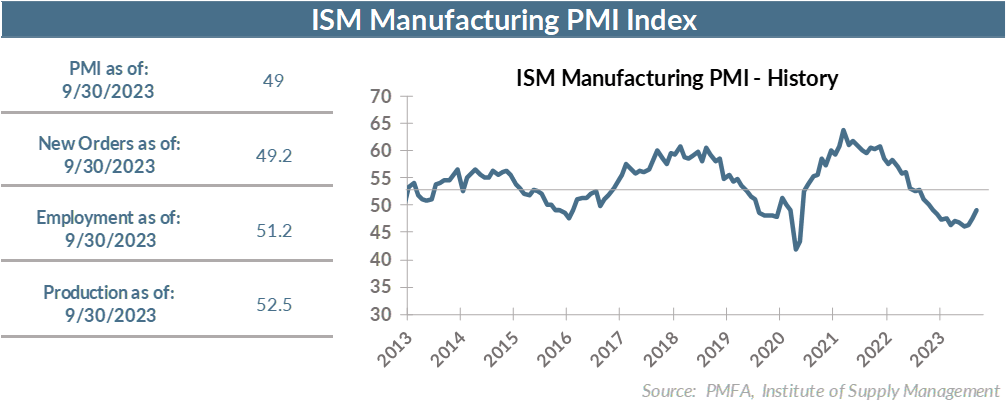 The ISM Manufacturing Index edged higher to 49.0 in September, topping the consensus forecast that called for a much more modest increase to 47.8. A reading above 50 is indicative of expansion in the manufacturing sector, while a reading below 50 is consistent with contraction.
The nation's manufacturing sector has been consistently in a contraction for nearly a year, although there've been signs that the degree of that contraction has eased in recent month. That's created some hope that a bottom may be near; the underlying components of the September data continue to point in that direction.
As a leading indicator for manufacturers, new orders are among the most closely watched components of the ISM index. The bad news is that new orders contracted for the 13th consecutive month in September; the good news is that — similar with the broad index — the degree of decline continues to slow. The subindex reading of 49.2 was the strongest level since October 2022.
There were other glimmers of hope in the September data, as production and employment expanded for the first time in many months. The improvement is at the margins though, concentrated in seven of the 18 industries represented. Still, the modest increase in the percentage of employers that added workers last month and a corresponding decline in the number trimming payrolls points to at least some temporary stabilization in the hiring cycle.
Whether or not employers will look to add to their production workforce in the coming months will likely hinge on production requirements. Falling input costs could create some room for producers to reduce prices, providing some incentive to consumers to open their wallets. Hopes for an economic soft landing have grown in recent months, and business investment has perked up since spring, although price changes may account for a good chunk of that apparent improvement.
The fact that manufacturing has been contracting for nearly a year without a recession is noteworthy. Economic growth has been asynchronous since the recovery began in 2020, led by explosive growth in consumer spending on goods. That demand faded once social distancing measures abated, and consequently replaced by a delayed recovery in spending on services. Now, with manufacturing showing signs of finding its footing, spending on services has also rolled over.
The risk is that consumer spending across both goods and services will feel the growing weight of higher interest rates. Cooler labor market conditions are likely to also weigh on consumer sentiment and, in turn, household spending. Cash stockpiles have been eroded and credit card debt has surged in the past year, suggesting that consumers will also have less fuel to fund spending.
The bottom line? Coming off a tough year, there's growing evidence of stability in the manufacturing sector. The overarching headwinds to the economy haven't been fully absorbed though, so it's too early to call a bottom, just as it's too soon to conclude whether the economy will glide to a soft landing in the coming quarters. Recession risk hasn't dissipated, so a double dip for the manufacturing sector is still a possibility that shouldn't be overlooked.