Manufacturing sector activity softened in October
While manufacturing slipped last month, the degree of weakness was exacerbated by the impact of the UAW strike.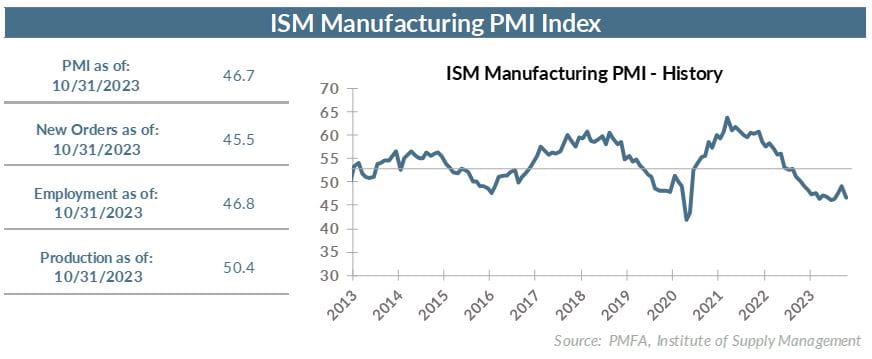 The ISM Manufacturing Index unexpectedly softened in October, dropping to 46.7 from 49.0 in the previous month. A reading above 50 is indicative of an expansion in the manufacturing sector, while a reading below 50 is consistent with contraction. The negative October reading capped 12 consecutive months of contraction in the manufacturing sector, despite having shown some signs of improvement in recent months.
Of particular note was the pronounced slippage in incoming orders, an important leading indicator of future manufacturing activity. The new orders subindex dipped from 49.2 to 45.5, its weakest monthly reading since May.
The more pronounced slowdown in new orders growth is a bit surprising given the recent strength of consumer spending on goods. The pullback in the employment index was even more pronounced, shifting the tone from moderate payroll expansion to outright cuts. The weakness isn't a consumer-driven story though.
Without question, the report reflects the impact of the UAW strike throughout the automotive industry, in which suppliers have been affected by reduced production that's rippled downstream. The recent agreements with the Detroit Three automakers raise the question of what those terms will mean for other employers, who will undoubtedly feel pressure to raise wages. The competition for skilled workers also appears likely to ripple down through the supply chain and seep into other industries as well.
As striking workers return, production and employment are well positioned to reverse course in November, and new orders growth should improve.
The report wasn't uniformly negative, as material prices continue to ease on reduced global demand as pandemic-era supply chain issues fade. That will be welcomed by the Fed, which continues to evaluate progress in bringing inflation back toward the central bank's 2% target.
The recent resurgence in the economy bodes well for near-term momentum, although questions remain about how much longer consumers can spend at a brisk pace as higher interest rates will continue to challenge the affordability of high-ticket items in particular.
The bottom line? The surprisingly soft manufacturing reading for October appears to have been skewed by the impact of the UAW strike rather than broad economic weakness. The recent agreement between the UAW and the Detroit Three should position the sector for a bounce back in November.