It takes a sustained commitment and deliberate, intentional focus to ensure more women leaders in the accounting profession. Here are some key aspects of our initiative — and the encouraging results.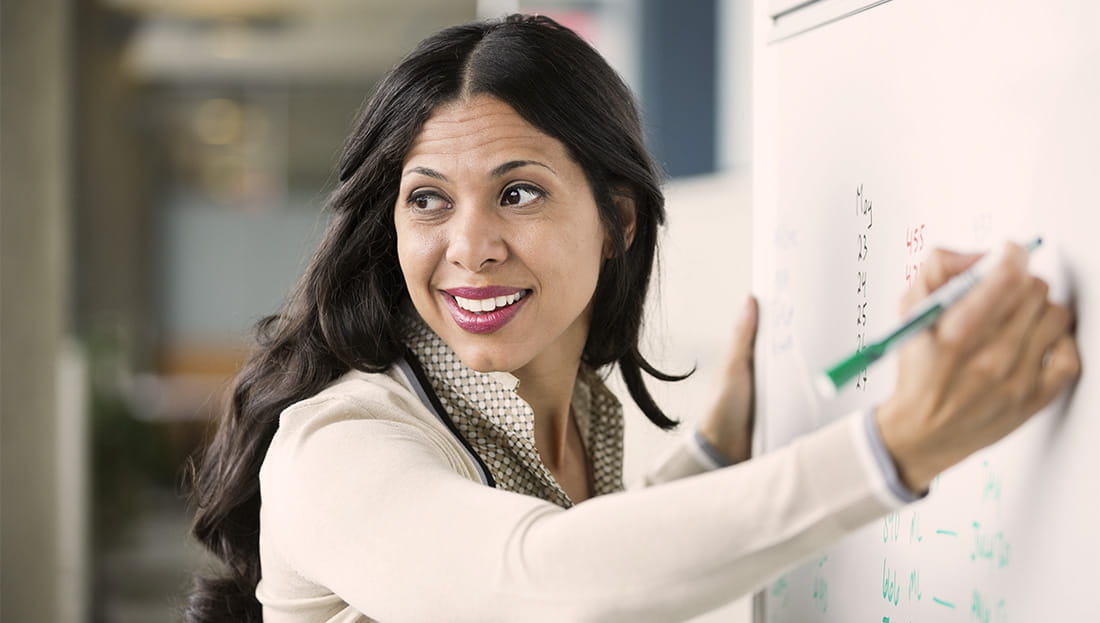 When you think about women leaders in the accounting profession, it's a tale of two realities.
Reality #1:
For the last 25 years, more than 50 percent of accounting major college graduates have been women. Yet when you look at the percentage of female partners at accounting firms, it's typically less than 20 percent.
Reality #2:
This past year we saw female CEOs named at two of the largest accounting firms in the United States. Not only are these women role models for the young people in their respective firms, they're an inspiration for all of us in the profession.
These realities sit in stark contrast with one another. We cheer the progress being made by women leaders and welcome the lessons we can learn from their stories of success. In order to ensure sustained progress however, we have to stay focused on the reasons women's career progress is stalled to the point where they drop off or decide to leave the profession altogether.
Progress is being made, but there's much to be done.
There are numerous reasons for the alarming lack of women in the partner ranks at professional service firms. Many organizations haven't made developing women leaders a priority by offering training, mentoring, or work-life supports. On the other hand, as Facebook COO Sheryl Sandberg has written, some women choose not to "lean in." Rather than ask for the support they need or push for developmental opportunities, they leave.
Some female leadership traits aren't recognized and rewarded because they don't correspond with what traditional leadership qualities look like.
Other reasons include unconscious biases in our business culture that favor the masculine perspective — not because of intentional efforts to marginalize women but because our business culture has been largely designed by men. Some female leadership traits aren't recognized and rewarded because they don't correspond with what traditional leadership qualities look like. This can result in unintended consequences as well-meaning people inadvertently perpetuate the status quo.
Despite the causes, one thing we know is true: it takes deliberate and intentional leadership to move the agenda forward.
Moving forward with intentionality
Five years ago, our firm developed a Women in Leadership (WIL) initiative. Its purpose was to have best in class attraction, retention, development and advancement of women leaders at the firm. During that time, we've developed training for female staff that acknowledges there's no one-size-fits-all path to success and encourages them to make their careers their own. We've focused on increasing the visibility of women leaders in the firm, internally and externally. Finally, we've identified targeted developmental career opportunities to retain and advance women leaders, and developed customized career and life integration strategies that complemented the successful work-life programs that we'd been implementing for years.
We also paid attention to how mentors and sponsors can kick-start career progress. When you ask most successful people about their achievements, male or female, they typically bring up their mentors or sponsors. Mentors can be a role model or someone to help open doors that will further your career, whereas sponsors influence promotions. To progress in your career, you need both. We've implemented a formal mentoring program that pairs high-potential female staff with partners (male and female) who often work in different disciplines at the firm. These partners provide an additional, objective perspective to emerging female leaders as they prepare for new leadership opportunities.
And it's working: In 2017, six of the 21 new partners at Plante Moran were women. In addition, two women were named to our seven-member firm management team. These promotions opened doors for other staff at the firm, as well, with five women filling seven new leadership roles across Plante Moran. We find these statistics encouraging and indicative of the commitment we're bringing to this initiative.
It's also heartening to see the number of professional accounting firms that are working so hard to address this issue. Each year Plante Moran participates in the MOVE project, which evaluates the progress being made by financial and accounting firms. Joanne Cleaver, who's president of Wilson-Taylor Associates and designs and manages the annual MOVE project, notes: "Progress is accelerating at MOVE firms," she says. "Leading MOVE firms have figured what works, and they are reinvesting in proven strategies. "