Plante Moran Financial Advisors Consumer Privacy Notice
CONSUMER PRIVACY NOTICE
Protecting your privacy is important to us. We want our customers to understand what information we collect and how we use it. We will continue to adhere to the privacy policies and practices described in this notice even after your account is closed or becomes inactive. We may amend our policy at any time, and will inform you of any changes as required by law.
FACTS
Why?
Financial companies choose how they share your personal information. Federal law gives consumers the right to limit some but not all sharing. Federal law also requires us to tell you how we collect, share, and protect your personal information. Please read this notice carefully to understand what we do.
What?
The types of personal information we collect and share depend on the services you receive from us. This information can include:
Your Social Security number and investment experience
Account balances and assets
Account transactions and transaction history
How?
All financial companies need to share customer personal information to run their everyday business. In the section on the next page, we list the reasons financial companies can share their customers' personal information, the reasons Plante Moran Financial Advisors, LLC chooses to share, and whether you can limit this sharing.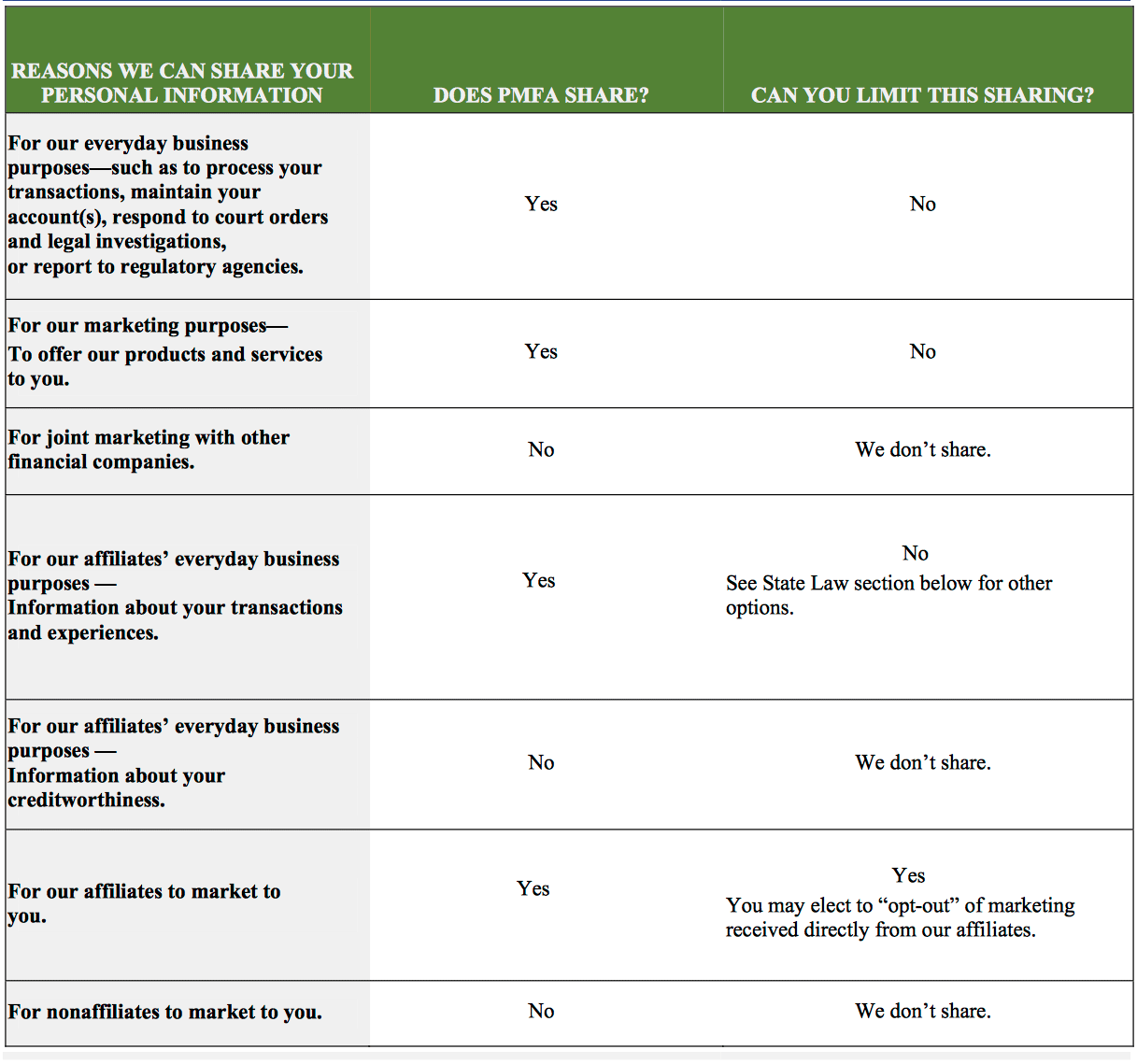 WHAT WE DO
How does PMFA protect my personal information?
To protect your personal information from unauthorized access and use, we use security measures that comply with federal law. These measures include computer safeguards and secured files and buildings. Third parties that provide support services on our behalf may also receive personal information about you, and we require that they adhere to confidentiality standards with respect to any such information.
How does PMFA collect my personal information?
We collect your personal information, for example, when:
You enter into an investment advisory contract
We assist you with opening an account at a qualified custodian/brokerage firm
We prepare financial independence projections
You direct us to buy securities or direct us to sell your securities
You seek advice about your investments
Why can't I limit all sharing?
Federal law gives you the right to limit only:
Sharing for affiliates' everyday business purposes, information about your creditworthiness
Affiliates from using your information to market to you
Sharing for nonaffiliates to market to you
State laws and individual companies may give you additional rights to limit sharing. (See below for more on your rights under state law.)

What happens when I limit sharing for an account I hold jointly with someone else?
Unless specified otherwise, an opt-out request will extend to all accounts in your client relationship. Examples include accounts owned jointly with your spouse, related revocable trust accounts, and minor children's UTMA accounts. Related accounts with other owners or signatories will not be affected, for example, an irrevocable trust with a trustee other than you.
DEFINITIONS
Affiliates: Companies related by common ownership or control. They can be financial and nonfinancial companies.
Our affiliates include financial companies with a Plante & Moran name and other financial companies such as P&M Corporate Finance.
Nonaffiliates: Companies not related by common ownership or control. They can be financial and nonfinancial companies.
PMFA does not share with nonaffiliates so they can market to you. PMFA may share information with nonaffiliates that assist us with servicing your accounts, such as securities broker-dealers, custodians, and service providers that assist us with information transfers. PMFA may share information with joint account holders and those with whom you have consented to our sharing your information, such as tax advisers, attorneys, and bank officers.
Joint marketing: A formal agreement between nonaffiliated financial companies that together market financial products or services to you.
PMFA doesn't jointly market.
STATE LAW
You may have other privacy protections under state law. Our information sharing procedures will comply with all applicable state laws. Residents of certain states may receive additional information concerning use and sharing of information.
California: In accordance with California law, we will not share information we collect about you with companies outside of PMFA, unless the law allows. We will limit sharing among our affiliated entities to the extent required by California law.
QUESTIONS?
If you have any questions regarding this notice or how to opt out of any information sharing with our affiliates, please contact either your Relationship Manager or our compliance department at 248.223.3756 or 248.223.3720.
SOLICITATION AND MARKETING BY AFFILIATES
Plante Moran Financial Advisors is providing you with this notice regarding solicitation and marketing by entities affiliated with us.
Federal law provides you the right to limit marketing from our affiliates. As such, we are providing you with this notice to inform you about your choice to limit marketing from our affiliates.
You may limit our affiliates in P&M Holding Group, LLP (Plante & Moran), such as our insurance services, trust company, and investment banking affiliates, from marketing their products or services to you based on your personal information that we collect and share with them ("opt-out"). This information includes your personal contact information such as telephone number and address. It may also include your e-mail address.
Your choice to limit marketing offers from our affiliates will remain effective until you instruct us in writing to the contrary. After consultation with you, should it be determined that an affiliate can provide services you require, your decision to opt-out will not restrict us from recommending an affiliate entity to you. If you have multiple account relationships with PMFA and elect to "opt-out," this election will extend to all your account relationships with PMFA unless you specify differently.
To limit marketing offers or to "opt out," please contact us:
By telephone: Compliance Department 248.223.3756 or 248.223.3720
On the Web: wealth.plantemoran.com
By mail: Check the box, print your name, and send to:
Plante Moran Financial Advisors, LLC
Attn: Compliance Department
27400 Northwestern Highway
P.O. Box 307
Southfield, MI 48037‐0307
Name: _______________________________________________ (please print)
Relationship Manager: _______________________________________________