Converting to open offices? Do it the right way
An "office of the future" format usually means leveraging an open office design to save money on real estate costs and improve staff collaboration. But before you convert, here are a few pros and cons to consider.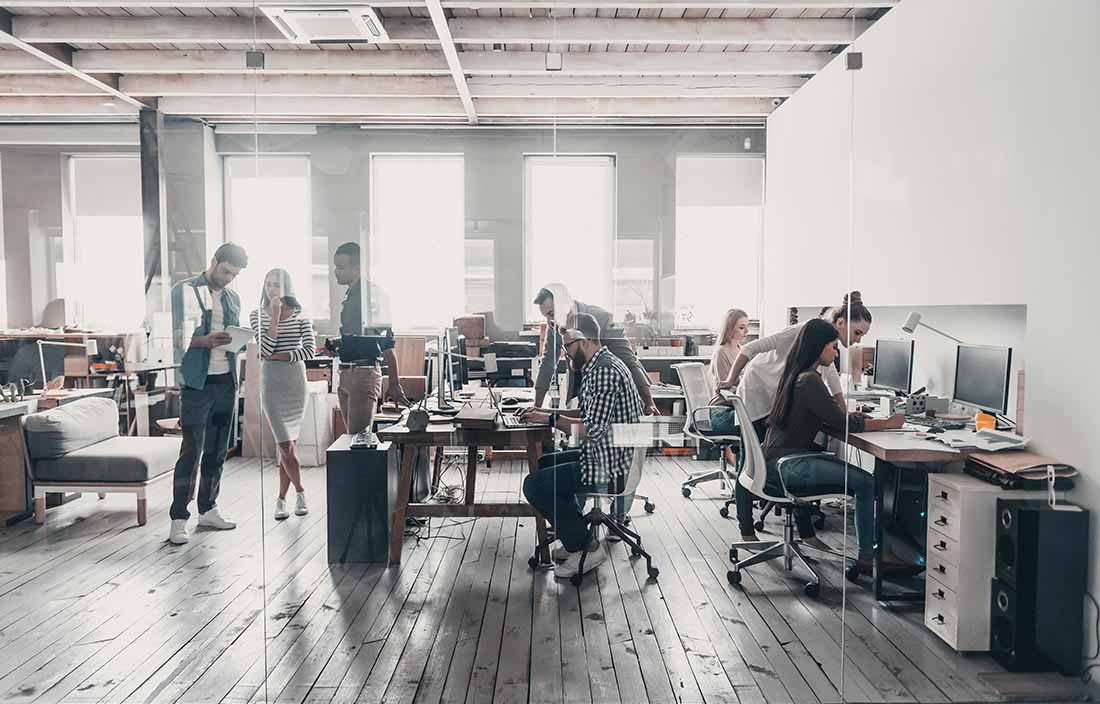 As you consider your next corporate lease renewal or building purchase, you might be asking yourself, "Should we move to an open office environment?"
If you are, you're not alone. Companies all over the country are attempting to leverage an "office of the future" mentality to reap the possible cost and human resource benefits.
But before we consider whether an open, modern office of the future is right for your organization, it's important we first define what "office of the future" really means and how it relates to the movement toward open offices.
What's the difference between "open office" and "office of the future"?
A few decades ago, offices had a generic design: walled offices along the building perimeter glass, administrative and support staff in the interior. Although many offices today still follow this trend, we've found that companies in those traditional spaces are shifting how they think about their offices — from the size to the layout to the brand message it conveys. Office of the future is the shorthand for expressing all of these changing ideas and the theoretical benefits that go with it.
We can characterize office of the future with four key elements:
Integration of technology
Reduction of the workspace square footage per worker
Some degree of open office design and shared workspaces: desk-sharing, free-desking or free-addressing, and workstations or benching
More modern and "designed" façade, interior structural features, and décor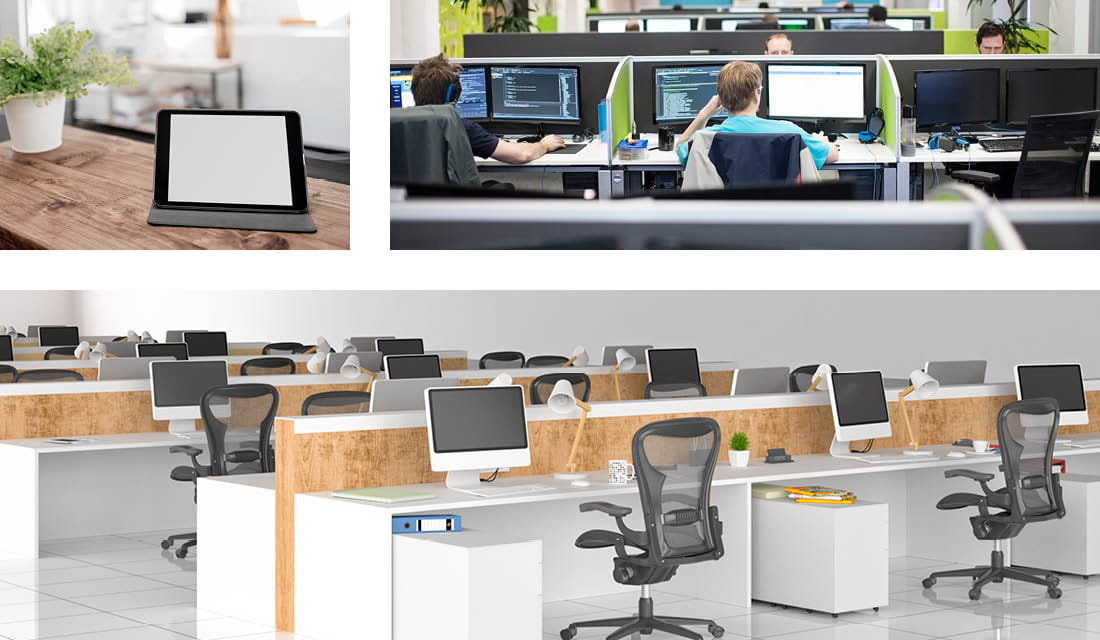 Many people consider "office of the future" to be synonymous with "open offices." But open office design is merely one piece of the office of the future movement.
As it turns out, it's a contentious piece as well.
The pros and cons of an open office design
We don't need a research study to tell us that our workforce relies heavily on technology — we're living that reality every day. Furthermore, technology has allowed us to reduce the amount of space needed per worker, since we have less need for paper files and storage spaces.
For example, CoreNet Global office reports that space users averaged 225 square feet in 2010. Current benchmarks, according to the Workplace Standards Benchmarking report Gensler developed for U.S. General Services Administration, average approximately 192 square feet per person. Averages can vary widely depending on the industry, as seen in the table below. Technology companies tend to trend lower, while biotech and legal offices trend higher.

In addition to technology reducing our space needs, much of this reduction also comes from consolidating workspaces. Open offices are a popular trend because they capitalize on our reduced storage needs, smaller and more powerful office technologies, and innovative office designs that bring workspaces together into an airy, trendy environment.
What's less clear is whether the open office design is a purely positive trend. Before you convert to an open office design, you must weigh the potential benefits against the pragmatic concerns.
Four benefits of an open office
Within the dozens of online resources that expound the pros of open offices, most generally agree that open offices could help organizations:
Save money on real estate costs by shrinking the square footage needed per worker. If your office square footage footprint is above the benchmark for your industry, you may be missing out on the opportunity to reduce occupancy costs.
Improve productivity and interdepartmental collaboration. Some sources say staff become up to 1.3 times more engaged at work.
Reduce electricity costs and improve staff mood through daylighting. Workplace studies show daylight-sensing controls can reduce energy costs by as much as 60 percent.
Attract and retain staff. According to research, an engaging office design, such as those employing an open office concept, can significantly increase how attractive workers find an employer.
Three concerns about open offices
There are several concerns with open offices. We'll highlight three of the most prevalent:
Loss of personal space means staff could feel disconnected from their work.
Distractions, both acoustical and visual, can interrupt work that requires quietness. This can drive staff to their homes or a nearby coffee shop.
Office politics could become a concern without buy-in from staff at all levels of the organization, especially if you're significantly reducing office sizes or eliminating private offices.
It's possible to get all the benefits of the office of the future with none of the drawbacks from an open office design.
How to convert to an office of the future the right way
It's possible to get all the benefits of the office of the future with none of the drawbacks from an open office design. We recommend you keep these tenets in mind as you convert to an open office:
Tailor the open office concept to your organization.
The open office trend is just that — a trend. Some of its components may work for your organization and some may not. When we work with clients who are considering changing their office design, we help them understand the ramifications of any change and develop an open-office-inspired concept that strikes a happy medium between private, collaborative, and flexible space.
Customize your workspaces to support the work your staff do.
Buy-in will come easier if your space configurations make sense to your staff. Technology companies may find benching has no downside because of their largely millennial workforce and intense need for cross-departmental collaboration. Law firms, on the other hand, may need a larger percentage of private offices to support confidential client interactions. Before you commit to a complete open design, carefully think through your business needs, your culture and brand, and your staff's needs to determine how changes to the space might support them.
Offer flexible spaces to support multiple working styles.
Staff have different space needs depending on whether they're doing collaborative, learning, social, or focused work. The right mix of benches, cubicles, huddle rooms, and large conference areas will provide options for staff to collaborate in the office without letting distractions drive them crazy — or to the nearest cozy coffee shop.

Help your staff understand the benefits of the open office.
Staff are going to have concerns about an open office layout. Building a mock-up of the new desk layout so staff can test it out beforehand can address many of their concerns as well as provide insight into potential modifications that can go a long way to earning staff buy-in. You might also provide in advance clear guidelines and feedback channels so staff see you mitigating the known disadvantages of open office environments.
What office of the future means for you
It's easy to show the benefits of square footage reduction and daylighting in an office-of-the future environment — a simple spreadsheet will prove you saved money on real estate costs and overhead. Productivity and collaboration are a little harder to quantify, but with time and staff support, you'll notice a change.
A recent client had been in a more traditional office space for eight years, and despite working regularly with a local university, the new CEO felt the company was struggling to attract younger talent. Her vision for the future was to inspire a different culture, and she thought to do this by changing the physical space where staff worked every day. We worked with her and the staff to implement this vision.
The company's new space features an open concept with various collaborative spaces, workstations against the glass line to take advantage of natural light, exposed ceilings to give the space airiness, and an in-office café. Both staff and management love the new space and feel it was a successful transition with a huge impact on their culture and staff.
If you're considering an office of the future design, Plante Moran Realpoint (PMR), formerly Plante Moran Cresa can guide you through all of the considerations that matter to you and your workforce to help you determine if a new office design will work for your organization. If you'd like to reduce costs and increase collaboration in your office, reach out to us today.
If you'd like more thought leadership like this delivered right to your inbox, sign up for our Perspectives e-newsletters: