Detroit Motown Museum unveils new renderings for final phase of expansion project
Plante Moran Realpoint client Detroit Motown Museum unveils renderings for the third and final phase of its $55 million expansion project.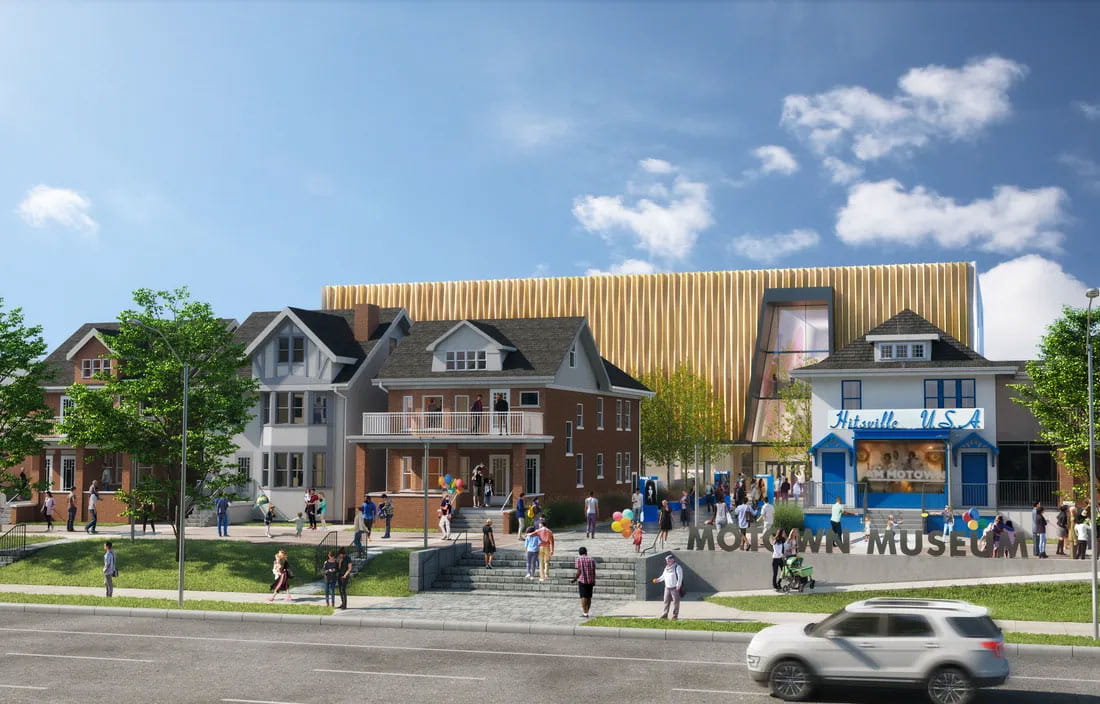 The spirit of Hitsville is alive and well as Motown Museum in Detroit, Mich., announces that phase three of the $55 million expansion program is underway. New renderings released earlier this month reveal an updated design for the 40,000 square-foot building, which is home to a new exhibit space and a theater. The building will stand tall behind Hitsville U.S.A.
Early renderings had shown an exterior made up of multicolored fins, replicating the look of vertically stacked record albums. This has been modified to a plethora of gold ridges. The building now also features a glass atrium and a large window above the entrance to the Ford Motor Company Theater. Phase III of the expansion project also includes restoration work on the Hitsville House, home to Motown's famous Studio A.
"This new space will create jobs in our local community and drive additional tourism to Detroit and the State of Michigan as Motown fans from around the globe can interact with the Motown story through one-of-a-kind interactive experiences," Robin Terry, Motown Museum chairwoman and CEO stated in the Detroit Free Press. "The expansion will allow us to share the often-untold stories of those who helped build the Motown legacy and create memorable opportunities for fans to interact with their favorite artists in new ways."
As owner's representative, Plante Moran Realpoint (PMR), formerly Plante Moran Cresa is assisting Motown Museum with bringing each phase of this monumental program to life. Our team of capital project experts will continue to serve Motown Museum throughout the remainder of the expansion. We are honored to be involved in the bold new future of such a historic staple in the Detroit community.
For more information regarding future plans for the expansion, watch the Motown Museum's video: