Economic development activates this Michigan city's downtown within a year of completion
While the City of Royal Oak was thriving, city leaders felt the downtown lacked substantial open space to compliment and connect the city's day-time amenities. After completing a $100 million public-private development, the downtown has been fully activated.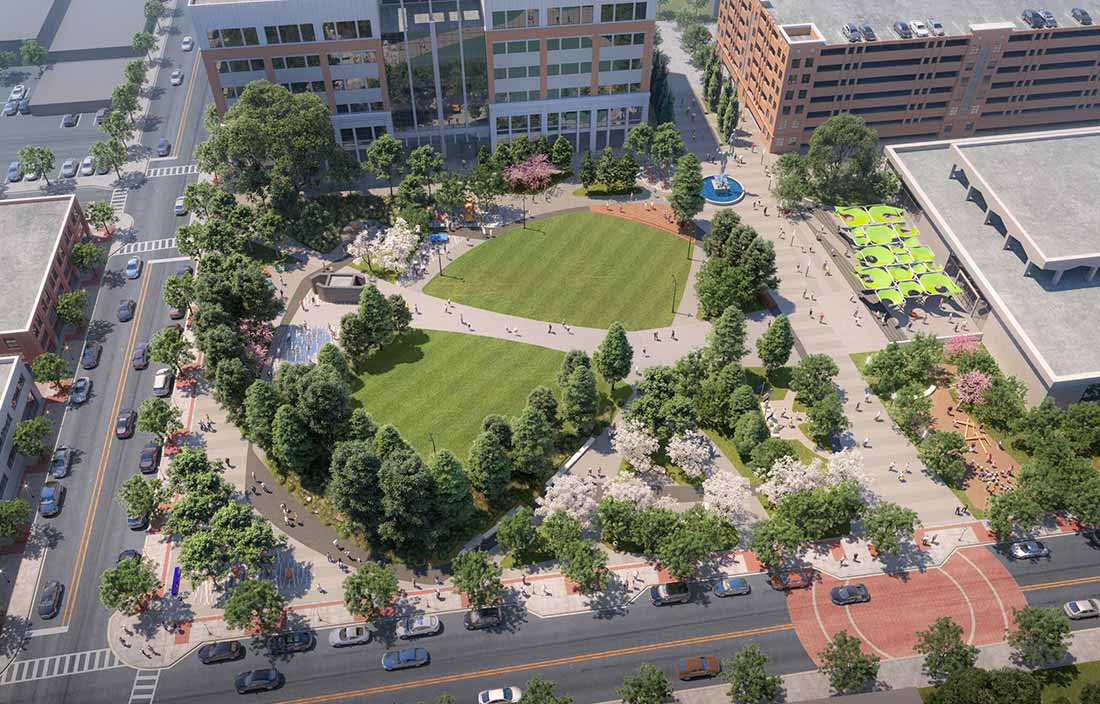 When a city begins a new development project, it hopes to support the city's health, safety, and cultural opportunities through strategic investment into the community.
With similar goals in mind, the City of Royal Oak in Michigan engaged Plante Moran Realpoint (PMR), formerly Plante Moran Cresa, as development advisor in 2015. We were tasked with planning and coordinating the $100 million development that would revitalize the city's aging municipal buildings and bring new life to its downtown area through a public-private partnership (P3).
Prior to the completion of the development, downtown Royal Oak only saw foot-traffic at night, when visitors flocked to experience Royal Oak's famous entertainment venues. A year after completion, Royal Oak's Downtown City Center is fully activated, now bustling with daytime activity.
Creating a "live, work, play" experience
The new Downtown City Center was completed in 2021 and offers a state-of-the-art police station, city hall, parking deck, and a public-private development that houses Henry Ford Medical Center. At the center of the downtown, Centennial Commons, a 2.2-acre park, compliments and connects these new amenities.
The development has brought more than 200 workers to the city and hundreds of visitors daily from the hours of 9 a.m. to 5 p.m. Pedestrians flock the streets of downtown Royal Oak to explore local restaurants and shops that populate Main Street, the regionally known Farmer's Market draws crowds from miles away, and live music and festivals activate the space throughout the seasons. Tying together the Main Street corridor, Farmer's Market, and the library, Centennial Commons now serves as the primary venue for downtown community events. It features a performance stage, water fountain features, rock climbing feature, multipurpose field, and more.
Exceeding expectations for development
The new downtown park and surrounding development presented a space that has exceeded the city's expectations and provides a world-class resilient landscape that effectively brings together the community. Plante Moran Realpoint is humbled to have worked with the City of Royal Oak and extends congratulations to our client on the project's incredible success, especially we celebrate the project winning a 2022 CREW Detroit Impact award.
Through the city and PMR's collective efforts, we were able to align the program with the financial goals and objectives of Royal Oak's "Live, Work, Play" initiative. Read the full case study to learn more about this project.