Five strategies for construction risk mitigation in today's market
Construction costs are rising. Material shortages and supply chain disruptions are straining construction schedules. Given the current market conditions, how can owners mitigate risk and set their projects on the path to success?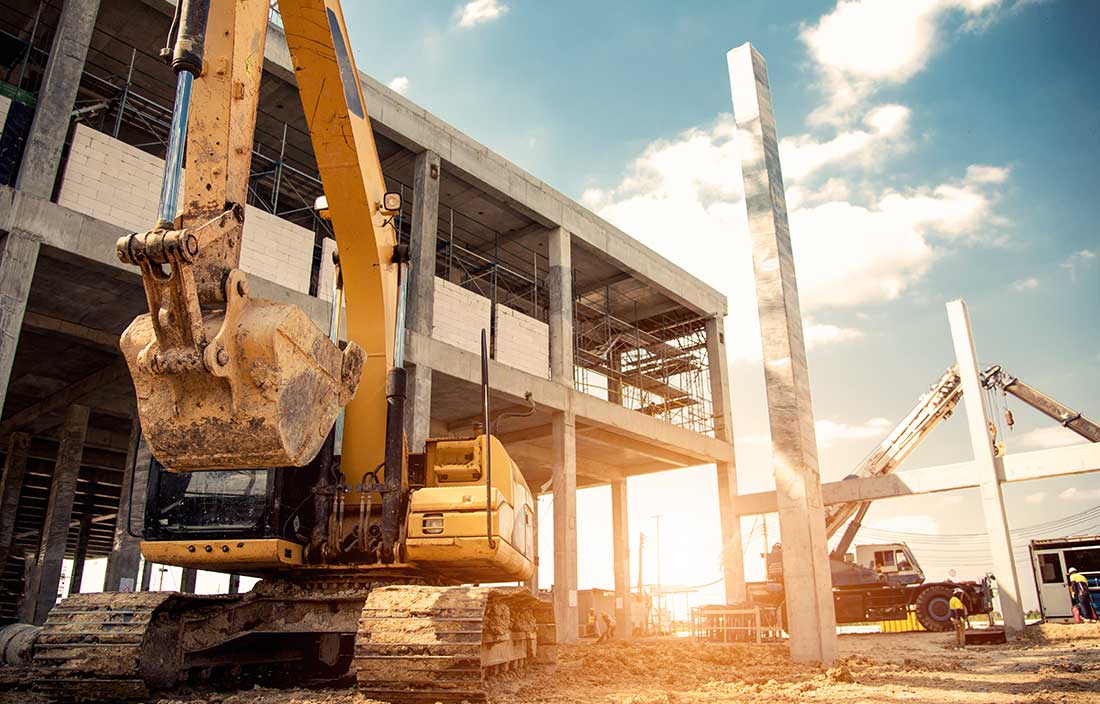 Construction material prices, labor disruption, and supply chain challenges have spared few industries. Experts believe these issues are likely to impact construction and development for the foreseeable future.
As a business owner, navigating these challenges for ground-up construction, additions, and renovations will require a new approach and extra diligence to reduce risk and deliver successful projects.
Our owner's representation and program management experts offer five risk mitigation strategies to put your construction projects on a path of success.
#1 Goal setting with "the pyramid of success"
The most influence you can have over a construction project's success is early in the planning phase. That's why the first step in planning your construction project is identifying your priority — time, cost, or quality — in what we call the "pyramid of success."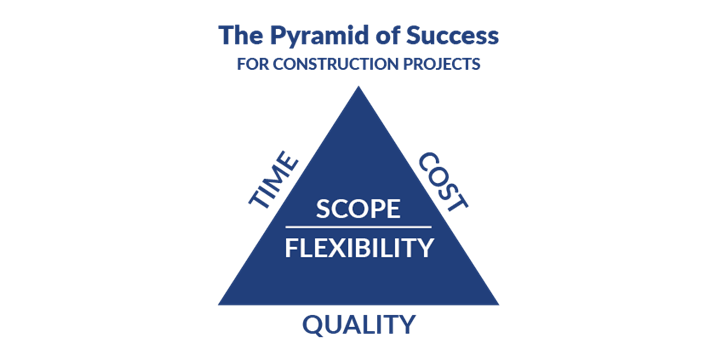 While all three sides of the pyramid are important to a project's goals, emphasis on one side may impact the other two sides:
If your goal is speed to market, compressing the schedule may be necessary to hit your target delivery date. However, that pressure will likely come at a higher cost to build or limit the variety or quality of materials available for procurement within your timeline.
If cost is at the top of your priority list, you may have to sacrifice quality to keep material prices down, and more consideration may need to be given to phasing the project over time.
If quality is the primary focus, there could be schedule and cost impacts associated with materials procurement.
Key takeaway: Regardless of which side of the pyramid takes the lead, identify your priority early in the process, communicate that priority clearly to the project team, and set guard rails in place to best accomplish your goal while minimizing impacts from the lower-priority sides of the pyramid.
#2 Assessing market risk factors
Construction is typically a localized effort in that most labor and materials come from local markets. Because of this, your next critical task is to research the market factors that may influence your project:
Labor shortages — Labor shortages are a major factor in why construction across the nation is experiencing delays. There are labor shortages at the manufacturing level that produces supplies, labor shortages with truck drivers to get materials to the site, and labor shortages in the field to install the materials. All of these have a compounding impact on a project.
Location of your project — Project costs can significantly increase if the local work force cannot support the needs for your project. A workforce premium (travel, lodging, transportation, meals, etc.) could be added to a project if out-of-area trades are deployed.Local work force partnerships — In an effort to avoid major project impacts and delays, it might be necessary to inform subcontractors and material suppliers about your project early to lock in pricing, labor, or other resources needed for your project.
Existing construction or development projects — Major construction projects in your area may tie up larger subcontractors for several months, which could limit workforce availability for other projects — like yours.
Authority having jurisdiction (AHJ) — Many state and local approval agencies are overwhelmed with plan reviews, permitting, and inspections. This can cause significant project delays.
Availability of materials and resources — Materials are generally sourced locally as much as possible to reduce exposure on delayed deliveries. In today's market, delays are common when teams are outsourcing their materials on a national level.
Key takeaway: Early in the planning process, identify pertinent market variables, understand their potential risks, and create a strategy to mitigate their effects.
#3 Addressing construction material shortages and lead times
Like many goods and resources, construction materials are in high demand and short supply due to pandemic-influenced supply chain disruptions. Windows can take up to six months to procure, HVAC can take up to eight months, and steel frame is more than a year out. Lead time on appliances is also significantly longer than previous years.
If time is inconsequential to your project, your project team will be able to source a wider assortment of materials. Conversely, to build to a more aggressive schedule in this climate, your strategy should be to design with more readily available materials. For example, you may choose to use precast walls instead of poured concrete, or build using wood-frame instead of steel-frame construction. You may also be limited to a supplier's standard sizes, colors, and styles or settle for items that are in stock. Procurement issues can impact everything from exterior materials to light fixtures to pavers and more. Discussing factors like these with the designer at the beginning of a project will yield a better outcome than redesigning later in the project.
Architects aren't the only ones to talk to early. In the design phase, contractors and trades can offer firsthand knowledge about equipment and materials availability and where the supply chain constraints are on items such as HVAC, plumbing, mechanical, and electrical.
But remember: Even if you plan ahead, make sure you have a plan B for nearly everything. It's not a matter of if you will have to pivot, but when. Having a backup plan ready to launch can significantly cut down on schedule delays.
Key takeaway: Being proactive and designing with contractor participation helps to bring procurement and schedule issues to the forefront right away, allowing your team to preorder key components, manage a list for critical items with long lead times, and follow up with suppliers.
Even if you plan ahead, make sure you have a plan B for nearly everything. It's not a matter of if you will have to pivot, but when.
#4 Budgeting for construction material price increases
Construction material prices have been steadily rising since 2015, and in the last several months, the market has seen a spike in prices for key materials.
According to the Construction Inflation Alert by Associated General Contractors of America (AGC), the United States' producer price indexes (PPI) for new nonresidential construction materials rose by a record 24.1% from June 2020 to June 2021. Overall, the increase to the PPI for commercial structures rose 20.7% throughout 2021.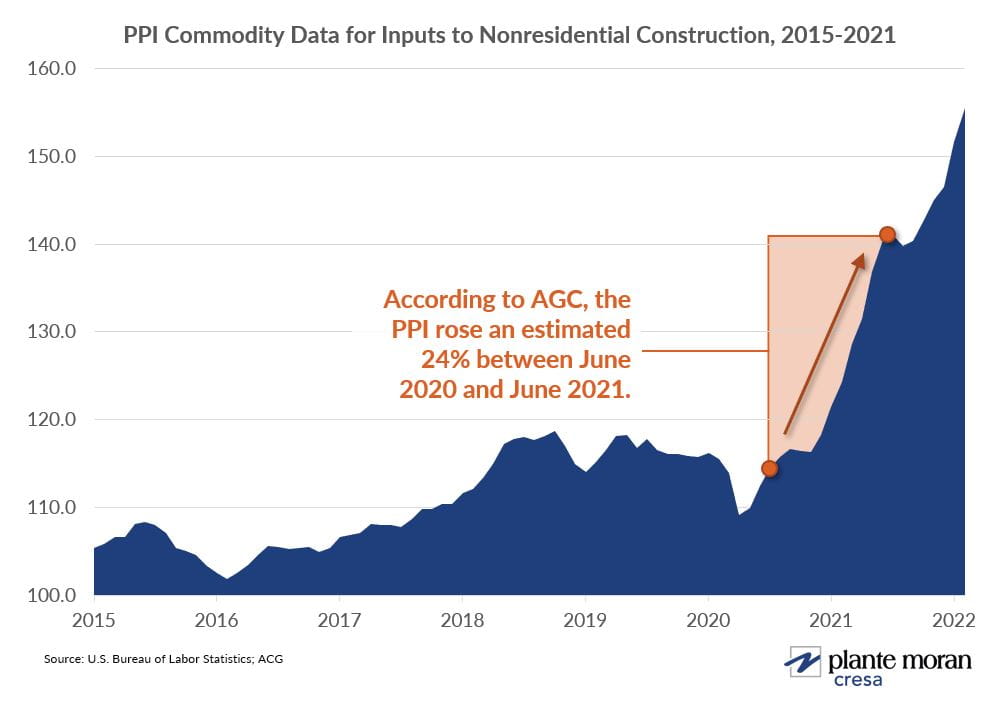 Many of the same value engineering strategies for addressing building material shortages apply when controlling the budget of your project. Quality may be a trade off when you are working to a tighter budget. Other times, you'll find it just as rewarding to explore off-the-shelf pieces as opposed to custom designs and high-tier components. Value engineering is most effective at the beginning of the project, as a collaboration with your owner's representative, internal stakeholders, architect/engineer, and construction team.
Even with value engineering, however, hard costs can only be controlled so much, especially given the volatility of today's market. Owners should work with their project teams to understand the right amount of escalation contingency for their projects based on identified market risk factors. Prior to the pandemic, contingency for design and construction was generally 10% of the construction budget. In this environment, some projects may carry over 20%.
Key takeaway: The best way to stay within your budget constraints is to set the project up for success from the beginning of planning. Work with your team to evaluate the variety of material options that will optimize the available funds for hard costs, but also set aside an appropriate escalation contingency to account for the unexpected.
#5 Creating processes for consistent follow up and communication
Construction projects have hundreds of moving parts, all of which are critical to a successful delivery. As you work with your project team, understand who has which role in the process and establish open lines of constant communication with your lender, design team, contractor, subcontractors, material suppliers, and AHJ at the local and state levels. These lines of communication should be established early on and consistently managed throughout the project to make sure that everyone is rowing in the same direction.
The key: Trust, but verify! There needs to be follow up, confirmation, and then further follow up on every issue. Your critical items list — those under shortages especially — will require someone to constantly follow up with vendors to check and double-check items will be available when expected and problems are being addressed.
Importantly, no communication should be punitive when bad news is shared; again, it's not a matter of if you will have to pivot because of an unforeseen issue, but when. Open lines of communication will prevent teams from keeping issues to themselves. The sooner an issue is identified, the sooner it can be resolved before compounding into a bigger headache. Set up a process for how information flows to and from the project teams, with workflows to notify the appropriate stakeholders and decision-makers to improve transparency and efficiency when resolving issues.
Key takeaway: Proactivity, communication across all vendors, and continuous validation of key items are the foundation of a solid project in today's construction environment. To create an open line of communication among the project team members, consider engaging an experienced project manager or owner's representative to oversee the hundreds of details that occur at every stage of the project.
The key: Trust, but verify! There needs to be follow up, confirmation, and the further follow up on every issue.
Executing these construction risk mitigation strategies
When a solid construction risk mitigation plan is put in place early in the planning phase, and managed effectively throughout the project, constructing a commercial building in this environment does not require longer lead times or risk of budget overruns.
Planning should highlight your ultimate goal from the "pyramid of success," mitigate relevant market risks, account for procurement challenges, establish a budget and contingency that will account for unexpected costs, and set up communication channels that will allow the team to stay abreast of important lead times and sudden issues. But even with perfect project management, you'll still need a plan B and C to account for ever-changing market dynamics. Be ready to pivot when news of possible delays or cost impacts arise.
Even without a pandemic, construction projects can be taxing on internal resources. Now more than ever, organizations find tremendous value and ROI having an experienced owner's representative to assist in implementing these construction risk mitigation strategies.
Give our experts a call for a consultation on your next project or check out these related articles to learn more:
If you liked this article, consider subscribing to our email blasts to get more articles delivered right to your inbox.