Plante Moran Living Forward: The story behind our "why"
Although often not expressed, our "why" is our driving purpose, the motivator that inspires staff and clients alike. It's integral to how we do business as a development advisor and what services we offer.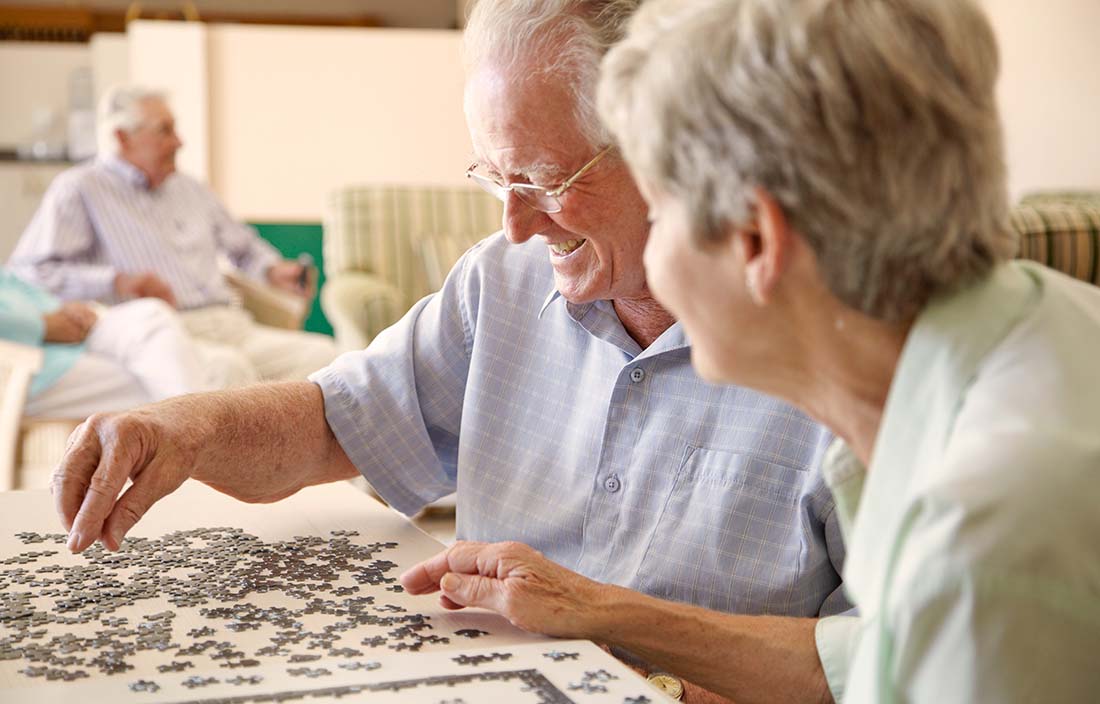 If you've poked around our website and social media, you'll notice we — like many businesses — talk a lot about what we do here at Plante Moran Living Forward. We describe our development advisory and real estate services. We showcase case studies of successful client projects. We even publish articles about market demand trends, how to avoid pitfalls when planning construction projects, and other business topics that help senior living communities plan for the future.
One thing we don't talk about enough is why we do what we do — our purpose, our motivation, the reason we go to work in the morning.
And that's a shame, because our team is very passionate about our "why." It drives our business plan. It drives our approach to client service. It drives our involvement in important industry forums such as LeadingAge, Association for Jewish Aging Services, and United Methodist Association. And it's integral to how we do business and what services we offer.
Today, let's talk about our "why."
The Golden Circle
In the TEDx Talk, "How Great Leaders Inspire Action," Simon Sinek states that leaders who can articulate the "why" of their organization are able to inspire others and make a lasting impact on both their organization and their clients.
To explain, he begins with the idea of the "Golden Circle," the pattern in which people generally think, act, and communicate. The Golden Circle is broken into three parts — what, how, and why — as illustrated in a series of concentric circles.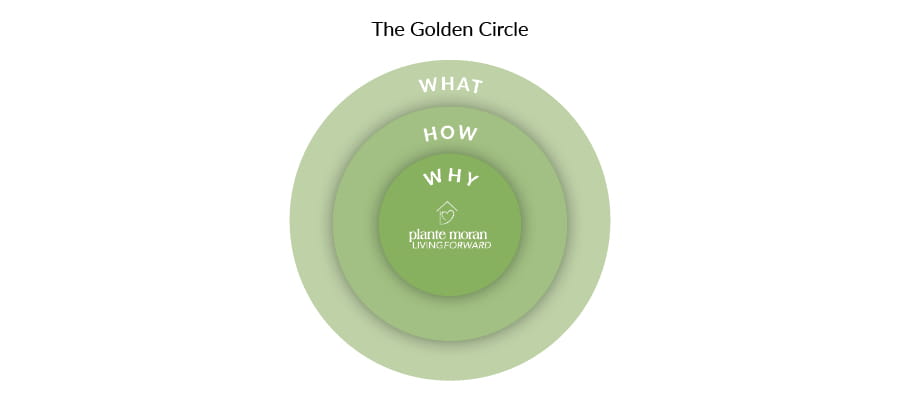 According to Sinek, most leaders work from the outside in when describing their organizations: what, then how, and then why. "Every single person, every single organization on the planet knows what they do, 100 percent. Some know how they do it, whether you call it your differentiated value proposition or your proprietary process or your USP. But very, very few people or organizations know why they do what they do."
However, Sinek says most inspiring and impactful leaders and organizations think in the opposite order, starting with the "why" of their service or product. Why is "why" so inspirational? "People don't buy what you do; they buy why you do it, and what you do simply serves as the proof of what you believe," Sinek concludes. "The goal is not to do business with everybody who needs what you have. The goal is to do business with people who believe what you believe."
Our Golden Circle
So what do we believe here at Plante Moran Living Forward?
Our "why": To increase the quality and places of care for seniors.
A quality senior living community provides a home, a place for seniors to live full, rich, and engaging lives. While you might say our development advisors simply help communities build seniors housing, we know that our work ultimately culminates into measurable value to the seniors and their families beyond the physical building the residents live in. Our services also have a direct impact on the sustainability of our clients' business and mission, as we help them make the right decisions around their growth and future capital improvements to enhance the resident experience.
Our "how": By bringing the most impactful, cost-effective solutions for our clients to stay competitive, grow, and provide quality services.
Our "how" focuses on the way we serve our clients as they strive toward their goals. We have a robust development advisory team with decades of senior living experience. We have the added resources of Plante Moran's senior living management consulting, tax, and audit practice; Plante Moran Realpoint's (PMR), formerly Plante Moran Cresa's, real estate expertise; and PMRIA's investment team. And most importantly, we have a culture of caring — of doing the right thing; committing to quality, integrity, and professionalism; and putting our clients' interests ahead of our own. We accomplish this by becoming an extension of our clients' teams, providing the real estate and construction expertise they need to plan and complete their projects while remaining focused on serving their residents.
Our "what": Unbiased, value-driven development consulting services for senior living communities across the Unites States.
The easiest to explain, our "what" are our services. Whether the client needs strategic planning, capital planning, market research, development advisory, or owner's representation, we offer unparalleled expertise through a holistic set of consulting services. As a great number of Baby Boomers consider moving into seniors housing over the next two decades, our industry will need to continue to make improvements to meet the needs of current and future residents. We are dedicated to creating communities that both enhance the senior living experience and align with mission and long-term business needs.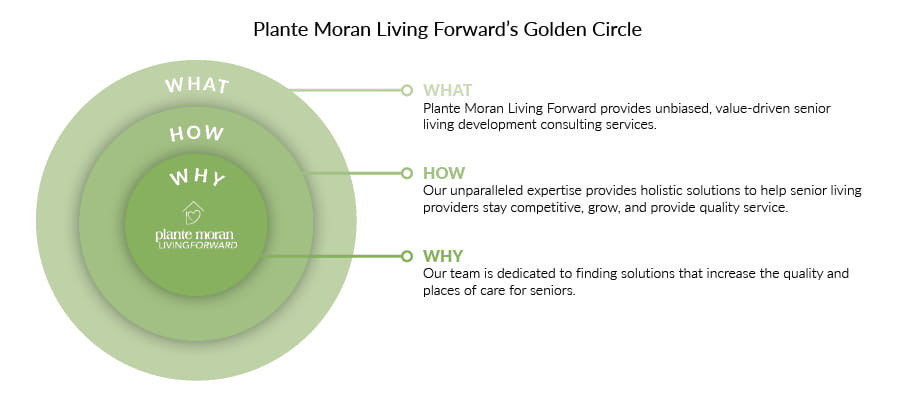 Living our "why"
At Plante Moran Living Forward, we credit our success to a commitment to our "why" of increasing the quality and places of care for seniors. Just as Sinek predicted, we are regularly engaged with clients who share this commitment to serving seniors and their families.
To highlight one example, National Church Residences (NCR) showcased in a video a couple describing their life at the Water's Edge of Bradenton. The couple painted the picture of an enjoyable life of retirement, complementing the amenities and the friendly staff as they told stories about their family and travels.
It is a tremendous privilege — and a serious responsibility — we have to serve residents who depend on our clients for home and care. Our shared "why" motivates our team every day to improve the industry by serving, and inspiring, our clients just as they inspire us. The couple's positive experience at NCR's Water's Edge Community serves as an encouraging reminder of the impact our work has to provide homes, services, and resources that allow seniors to live life to the fullest.