Plante Moran affiliates announce expansion of real estate consulting practice with launch of Plante Moran Realpoint
Plante Moran Realpoint brings together the end-to-end, comprehensive real estate expertise of Plante Moran Cresa and Plante Moran Real Estate Investment Advisors (REIA) into one entity.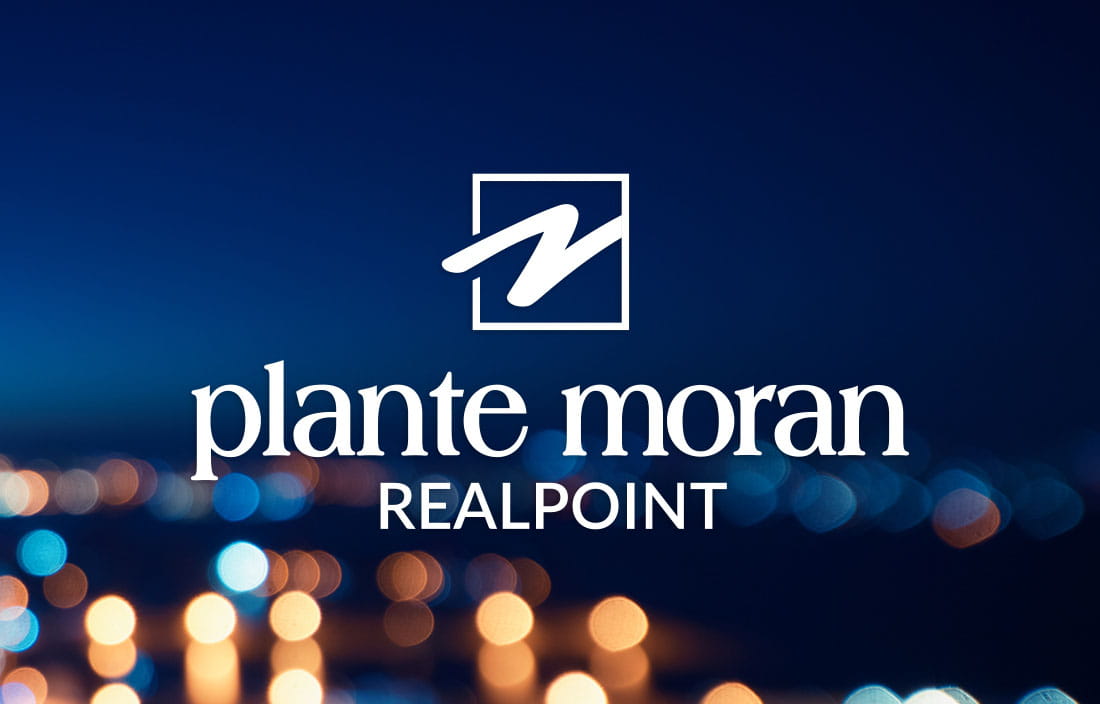 Southfield, Mich., September 18, 2023 — Plante Moran, one of the nation's largest certified public accounting, tax, consulting and wealth management firms, has joined together its two real-estate-related affiliated entities with the launch of Plante Moran Realpoint. This new entity brings together more than 125 multidisciplinary real estate professionals in eight states from Plante Moran Cresa and Plante Moran Real Estate Investment Advisors (REIA), while also extending all of its real estate advisory and transaction services to the firm's clients.
"Plante Moran Realpoint combines the expertise of our two great real estate advisory teams and allows clients across the country to experience our full range of services through one entity," said Bill Lichwalla, president and CEO of Plante Moran Realpoint. "Amicably decoupling from our former partner Cresa and moving forward as Plante Moran Realpoint supports our expansion goals by aligning with Plante Moran's footprint, industry specialization and client service strategy. We are grateful for the relationships developed over the last 25 years with our many friends at Cresa and wish them well."
Plante Moran Realpoint brings together comprehensive, end-to-end services and deep industry specialization in corporate, public sector, healthcare, religious institutes and senior living spaces as well as in development and mixed-use projects. This expansion provides an opportunity for the two commercial real estate teams to reorganize internally, bringing Plante Moran REIA's development consulting, transaction management and religious institute services under the Plante Moran Realpoint name. Plante Moran REIA's asset management services will remain in a separate entity named Plante Moran Realpoint Investment Advisors. The Plante Moran Living Forward brand will still be the face of Plante Moran Realpoint's senior living development advisory practice.
"Given the expanding client need for construction, investment real estate and real estate consulting services, we are excited for Plante Moran Realpoint to expand its reach across our firm's footprint," said Jim Proppe, managing partner at Plante Moran. "This expansion supports our full-service approach to client solutions through affiliates focusing on wealth management, employee benefits, corporate finance, insurance and more."
###
About Plante Moran
Plante Moran is among the nation's largest accounting, tax, consulting and wealth management firms and provides a full line of services to organizations in the following industries: manufacturing and distribution, financial services, service, healthcare, private equity, public sector, real estate, construction and energy. Plante Moran has a staff of more than 3,500 professionals throughout the United States with international offices in Shanghai, China; Monterrey, Mexico; Mumbai, India; and Tokyo, Japan. Plante Moran has been recognized by a number of organizations as one of the country's best places to work. For more information, visit plantemoran.com.
About Plante Moran Realpoint
As a full-service real estate advisor, Plante Moran Realpoint is built different. The firm's comprehensive, end-to-end, industry-specific specialization spans clients' real estate needs, from consulting and transactions to capital projects and development advisory. Its team has guided clients across the public and private sectors through millions of square feet of real estate transactions and $1 billion in investment real estate transactions. It is currently acting as an owner's representative for more than $5 billion in active construction projects. With Plante Moran Realpoint, clients make well-informed real estate decisions, achieve their milestones and flourish in great spaces. Realize what it means to be built different at pmrealpoint.com.