The best way to handle relocating residents during a renovation
Sorry to add another worry to the long list of decisions you're facing with your upcoming renovation, but we need to push "Resident Relocation Strategy" to the top of your to-do list.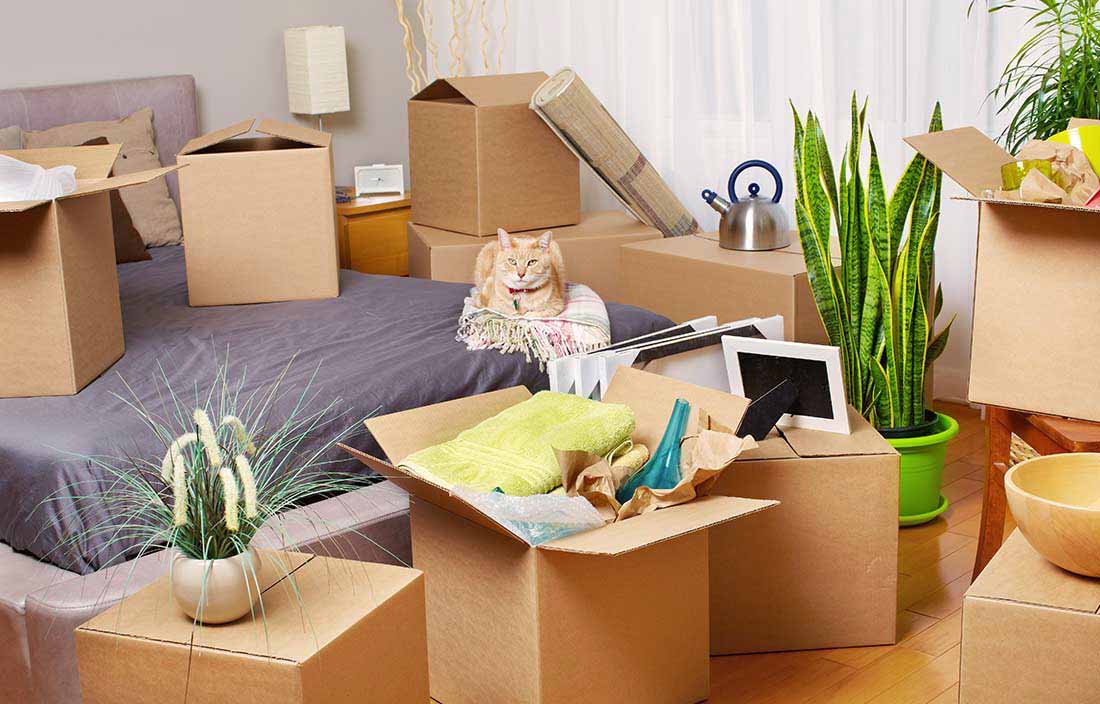 For senior living owners and operators, moving new residents in, or current residents within, their communities is part of a daily routine. Yet even a task as routine as moving residents can turn into a complex ordeal when scaled exponentially and complicated by the financial, logistical, and operational factors inherent in a large construction project.
So while I hate to add another worry to the long list of decisions you're facing with your upcoming renovation, we need to push "Resident Relocation Strategy" to the top of your to-do list.
How a resident relocation strategy complicates your renovation planning
A renovation spurs a whole new level of logistical complexity as you factor in the cost burden and disruptive force created by even the most carefully planned resident unit or room transfer.
Failure to account for these factors during your predevelopment planning could have a significant impact on your project budget and daily operations. To make matters even more complex, a hidden issue lurks beneath the surface that may impact your residents' well-being.
The true cost of moving residents
Some costs are relatively simple to calculate, but it's hard to account for a cost you're unaware of — an unfortunate occurrence we see all too often. When totaling the cost of moving residents during a renovation, operators and owners often overlook the following:
Lost revenue from holding admissions to create vacancies to house your displaced residents during the construction.
Accurate pricing all of the costs for services and items associated with resident relocations, such as fees for outside contractors, a budget for moving supplies, storage costs, and costs associated with damaged or lost resident belongings.
Increase in overhead costs because of additional staff time required for the construction project and less productive operations. If this isn't budgeted for, you may not have the resources needed to make each relocation a smooth transition.

For skilled nursing facilities, there are further considerations: When planning for a skilled nursing relocation of residents, such as from an old facility to a new building, operators must prepare a comprehensive plan to be submitted and approved by the state health department. Additionally, there are limits on the total number of residents that can be moved at one time, requiring the functionality and operation of two facilities at one time.
Moving costs could total to thousands of dollars per resident, so it's important to get bids for every contracted service you need. An owner's representative can help you plan for these and other hidden costs that crop up as you relocate residents during a renovation.
Did you know, a knowledgeable owner's representative can also help you avoid a variety of other pitfalls that can jeopardize your renovation? Download our e-book to learn more.
The effect of disruptions to staff and operations
Staff often find themselves in a difficult position when their organization is undergoing a major construction project.
Many administration and operations staff spend their regular workdays focused on construction- and relocation-related activities, which pushes their everyday duties to a second shift later in the evening. Balancing extra responsibilities is also a challenge for staff providing direct care for the residents, like the RNs, home health aides, therapists, and others, all of whom must try to create a sense of normalcy for residents even as the facility's operation is turned on its head.
Depending on the size and scope of your renovation, every service and activity each department does for your organize will need to be rethought — and you can expect productivity to take a hit as well. Especially if parts of the facility are closed off, staff are asked to go out of their way to do routine tasks that otherwise would have been simple.
During one renovation, the commercial kitchen was down for six months. Dietary staff cooked the residents' meals at a church across the street and orchestrated a complex routine to serve 11 separate floors hot meals three times a day. This was a lot of extra work, extra planning, and extra staff time just because one room was offline.
Given the environment, stress and burn-out is not uncommon. Providers need to pay special attention to the details related to adjusting staff workloads as they take on more responsibilities or adjust their care regimens and accounting for these operational disruptions that put more work on your staff.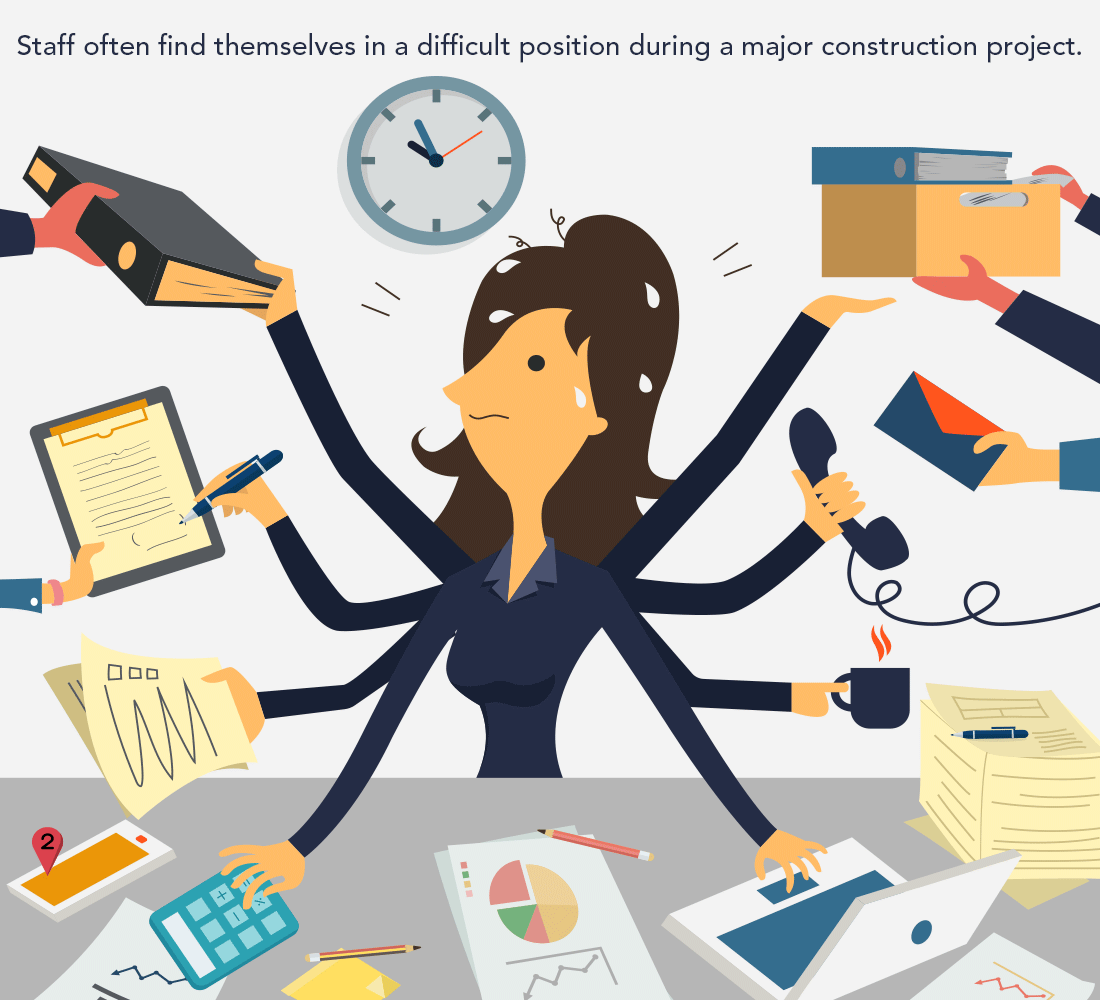 The hidden issue impacting your room transfer strategy
Moving may be routine for senior living owners and operators, but it isn't routine for residents, whose worries, stress levels, and well-being may suffer as they face major disruptions to their lifestyles. Regrettably, disruptions caused by moving can sometimes lead to residents developing transfer trauma, physical and psychological problems that range from sleep disturbances and disorientation to anxiety and depression.
Transfer trauma, formally known as relocation stress syndrome, is often associated with residents that move into a facility from their own homes. However, it can surface any time a person changes environments, especially when the move is sudden or unwelcome. That makes it a huge concern for operators and owners looking to have major renovations done to their facilities. Construction projects that require campus-wide reshuffling can trigger this health issue on a large scale if the planning team fails to thoughtfully plan every resident's move down to the smallest detail.
The emotional considerations don't stop with transfer trauma — residents may also have concerns about their possessions or pets during the move. They may be disoriented when the routines they've established with their neighbors and staff are disrupted. Disruption to care schedules and a separation from familiar places could also negatively affect your residents, especially those who suffer from Alzheimer's disease and other forms of dementia.
Want to learn more about the impact transfer trauma has on residents with Alzheimer's disease and other forms of dementia? Click here to read an in-depth article featured in Social Work Today.
The two keys to a successful resident relocation strategy
There are only two things you can actively do to make your resident relocation strategy a success.
#1 Rely on a solid team of experts who have experience moving seniors.
#2 Plan meticulously for hidden issues that crop up because of a move.
Number 1 is the key to executing Number 2 effectively.
I've been an integral player, in varying capacities, during hundreds of resident unit/bed transfers or relocations over the past 20 years, yet I can't stress enough how important it is to bring in a team of experts with experience relocating seniors. An experienced, knowledgeable team can reduce the stress put on your residents and staff during the renovation, mitigate unexpected costs, and prepare you for unexpected issues. Your team should be a part of the conversation as early as the financing and design stages.
The right team for your project may include staff from admissions, marketing, dietary, and maintenance in addition to key executives, social workers, and developers. We also recommend hiring a move manager (like an owner's representative or relocation consultant) who can offer the advantage of experience, scale, and unhampered resources. Firms like these can dig into the details of your resident relocation plan to the degree necessary to ensure each of your resident's specific set of needs are addressed. Also consider looking for moving companies that have experience relocating seniors, as they'll understand the concerns your residents have about moving.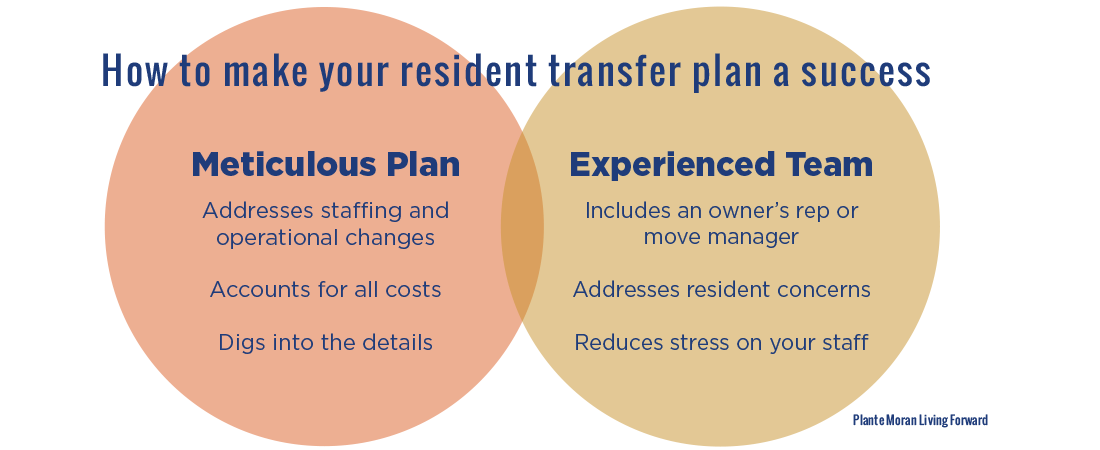 How a plan and a team came together for 400 successful room transfers
I'd like to share an example of an organization that spent the time and resources needed to account for the details during their major renovation. With a meticulous plan and an experienced team offering detail-focused care, this organization was able to accomplish more than 400 successful relocations:
It was 1997 and the building was more than 35 years old. At 11 stories, with two towers, it held 280 apartments. Although a majority of the apartments was rent subsidized, a full one-third of the building was vacant because the rooms were just little bigger than your average kitchen: 320 square feet.

When the operator secured the funding to renovate and modernize the building, there was a huge emphasis on planning the residents' transfers. Operators and a dedicated team of movers spent a full week of coordination per floor (10 units), as each resident had to be moved twice: once out of his or her old apartment to the floor above and then back into the newly renovated one when the floor was finished. The work progressed from the ground up as the floor was gutted to the studs and rebuilt into larger, updated units.

Two moving management companies, one of which specialized in moving seniors, dedicated four professionals each to coordinating everything from packing to transferring addresses to hanging pictures on the walls. They even met with the resident and resident's family to address concerns and help the resident adjust to the move. Additionally, one dedicated social service coordinator was assigned to resident relocations as a direct facility liaison.
Bringing in an experienced team of moving experts was critical to reducing the disruption for the hundreds of residents shuffled around throughout the 14-month renovation. That all-star team also allowed staff to focus on the day-to-day operations, which didn't — and couldn't — slow down to wait for construction.
Ensure the well-being of your residents during construction
Your world is already chaotic enough as you handle running your day-to-day business. We recommend having a strong team there to help you dig into the logistical and emotional details so you can plan for the smoothest transition for each of your residents.
There is no other way to make it a positive experience for your residents.
Plante Moran Living Forward understands the dangers of underestimating the complexity of any resident relocation plan. Our team of experts have dozens of tips and best practices that can ensure your renovation is successful from the planning stages to resident move-in. If you're considering a large capital project or renovation, give Dana a call at 847.628.8903.
If you'd like more thought leadership like this delivered right to your inbox, sign up for our emails: