Four preopening tasks you should not postpone during senior living development
While every construction project is different, you can safely assume that these four tasks should not be pushed down on your to do list. Postponing them could affect the success of your opening.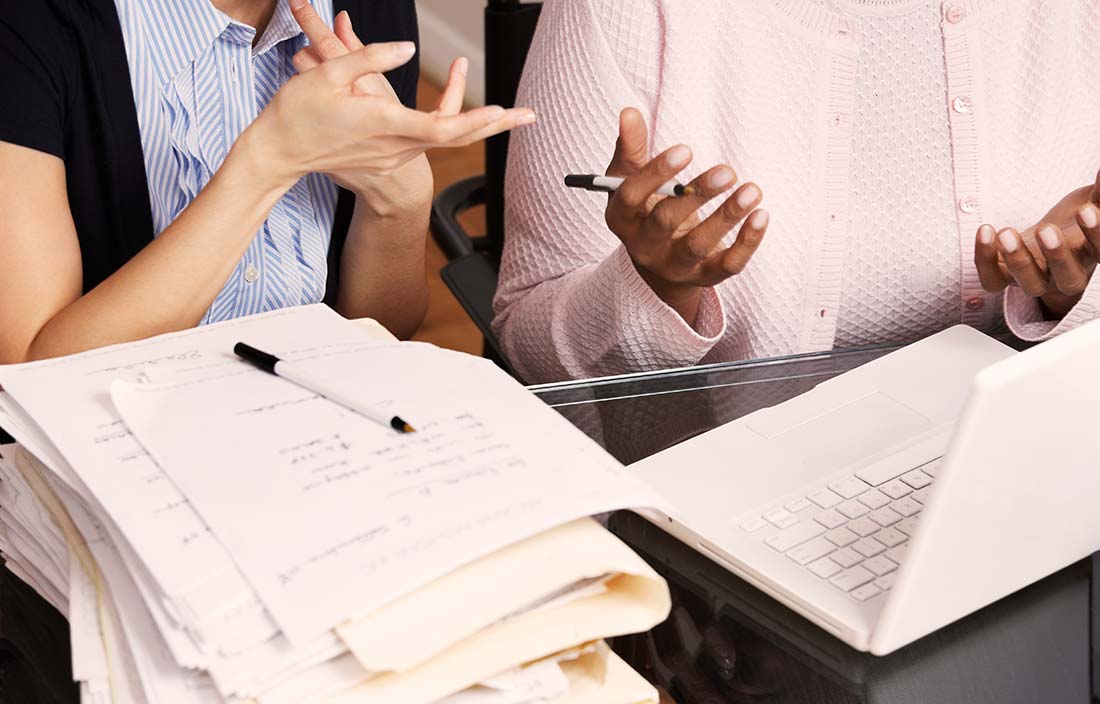 Constructing a new senior living building or space is just the beginning of your adventure. From the moment the site is staked for groundbreaking to the day you open your doors, there is a lot to do to prepare to operate your new space.
While you might be tempted to hold off on certain operations-focused activities until construction is nearing completion, postponing some of them could affect the success of day 1. Every project is different, but you can safely assume that these four preopening tasks should not be pushed down on your to do list.
Priority #1: Recruitment of senior living leadership
Recruiting the right people for top leadership roles is a must-do first step. They will handle assembling and training the rest of the operations team. With many markets facing staffing challenges, it pays to give significant lead-time for the hiring process — at least a year or more.
But remember: Unless you're starting day 1 with every room filled, you may need to adjust the level of staff to be appropriate for the ramp-up period.
Priority #2: Descriptions of positions, policies, and procedures
While some job descriptions will be straight forward, unique programming will call for a bit more finesse. To make sure your job descriptions are effectively highlighting responsibilities, allot extra time to create customized position descriptions for these specialized roles.
In addition, all new hires will need a policies and procedures playbook for the day-to-day timeline and schedule of work before move-in day. How long creating this takes — and how many people need to be involved — depends on your programming needs. A word of advice: always factor more time than you think you'll need.
Priority #3: Consistent marketing and sales initiatives
Marketing and sales are the life force of your community. They have the task of filling the new beds you've commissioned with this construction project. Marketing will drive the process, hopefully with a focus on digital content, but sales and other departments need to align with marketing's messaging.
In addition to marketing, sales should also make sure they have a clear process that hits all the checkmarks for effective lead generation. We've conducted many marketing and sales audits, and our clients are amazed at how frequently we come back to tell them their sales team offered an engaging tour of the building but never ask for contact information for following up!
If you think senior living community's marketing plan and sales process might need improvement before you open your new building, read about these 10 must-do marketing and sales tactics.
Priority #4: Certificate of occupancy and licensing
While independent living requires certificate of occupancy (C of O) from the city, assisted living, memory care, and skilled nursing buildings will need a C of O and a license from the state before residents can move in. This is usually a two-step process. The city reviews the building from a constructability and livability standpoint, then the state scrutinizes the buildings from a healthcare service and life safety perspective.
It's important to have an experienced advisor help interpret state requirements for licensing.
Early in the design phase, owners should make sure their architect and construction manager are accounting for any additional requirements for state licensing, not just the local codes. Some states are transparent about requirements, while others say to follow local guidelines. It's important to have an experienced advisor help interpret state requirements for licensing.
Planning with the end in mind
To give you an idea of when these preopening decisions need to happen, here's a sample timeline that highlights these key tasks within the framework of a senior living construction project: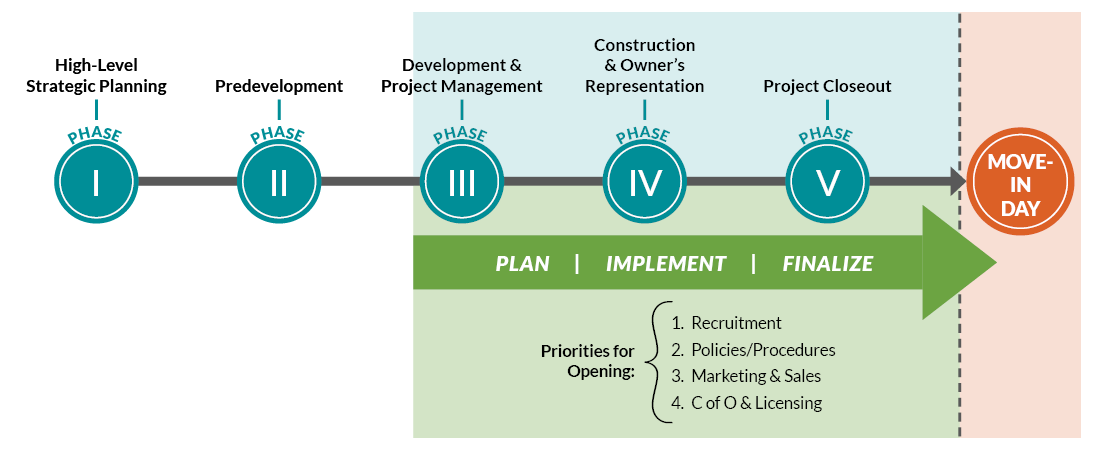 The first two phases of any project involve gathering data and information to understand the scope of the project as it relates to programming, market need, and cost. Phase III, before construction starts, is when the project team is assembled, designs are refined, and all the necessary t's and i's are crossed and dotted. Phase III will find you neck-deep in construction-prep activities, but this is the point when you should prioritize planning around the four important preopening tasks of recruiting, creating position descriptions and procedures, marketing, and licensing.
The final two phases are the construction phase and the closeout phase. Construction projects can range from eight to 14 months (depending on the size), and closeout usually takes no more than one to three months, including addressing final punch list items, training staff on all of the equipment, finalizing the pay applications, and collecting final lien waivers. It is during this time that you will implement your plans and complete all your preopening operational coordination responsibilities for the new building or community.
Stay ahead of preopening tasks with our checklist
With your senior living development's groundbreaking around the corner, it's hard to unbury yourself from the minutia of construction. But to ensure a successful move-in day, we recommend prioritizing these four operational tasks as early in the development process as you can.
In addition to our must-do list, there are still many other preopening decisions to handle. Owners and operators must take an "all hands on deck" approach to the preopening coordination, making sure that every team member, from accounting and finance to dietary and marketing, is involved every step of the way. This will ensure that, when your project is complete, your new building runs as effectively and efficiently as possible so you can meet not only the needs of your customers but also your covenants and other financial obligations.