Seven senior living facility improvements arising from the pandemic
Senior living communities continue to raise the bar with innovations that address key needs for residents. Consider these seven facility improvements during your capital planning process.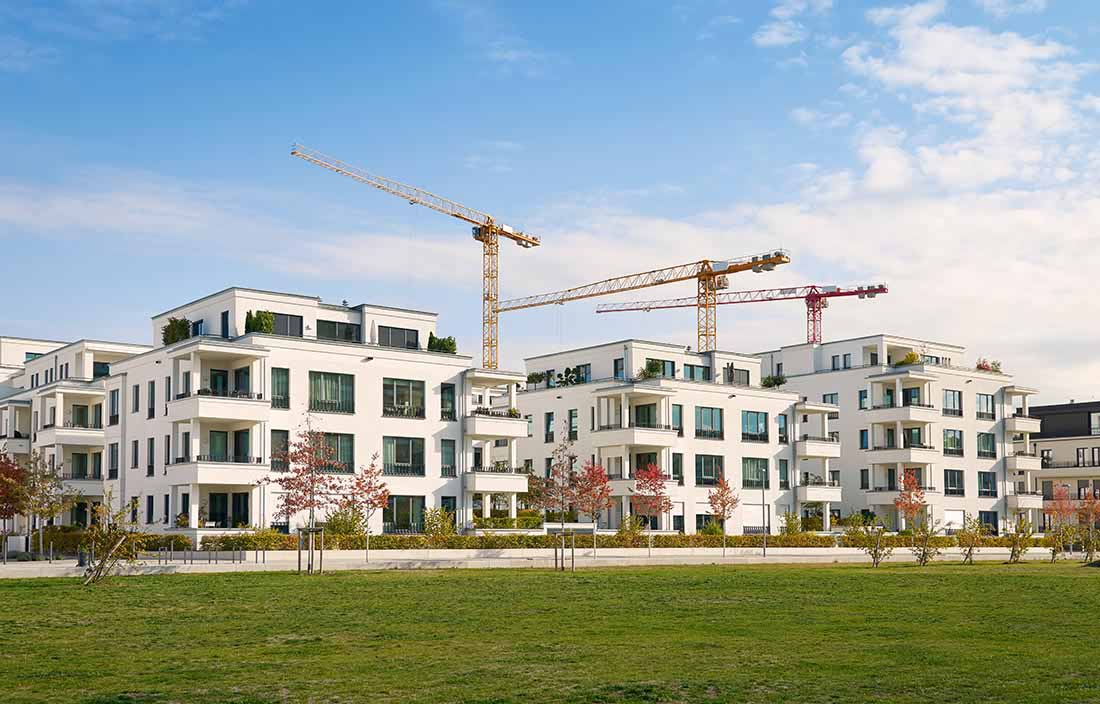 Throughout the pandemic, senior living communities had to quickly adapt to protect residents and staff. Our national COVID-19 Senior Living Sentiment Survey showed that the majority of residents felt their communities took every precaution to keep them safe. However, residents called for improvements in three main areas: social isolation, dining, and technology.
As organizations begin to look beyond the pandemic to a future where the population of seniors is growing, how will recent lessons learned impact new senior living construction and renovations? How can your organization improve the physical environment and building infrastructure to enhance socialization, modernize your technology, and raise the bar on dining experiences while keeping residents safe?
Raising the bar: Ways to improve the senior living experience
Over the course of the pandemic, many communities have implemented creative ways to address these important questions in the short term, with thoughts for how to leverage these lessons learned into the future as well. Through discussion with our senior living development team and experts across the industry, we've identified seven facility innovations you could consider applying to your community during your capital planning process:
#1 Address entrances and traffic flow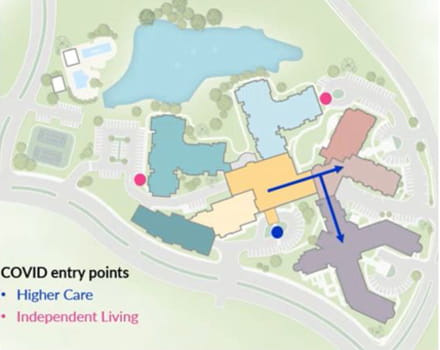 Points of entry and traffic flow throughout the facilities should be closely examined. Some communities have assigned or restricted access for staff, residents, vendors, and visitors. To minimize cross-contamination, paths of travel should be evaluated, by role, seasonally. Using a campus gatehouse can better ensure your policies are followed.
#2 Dining space variety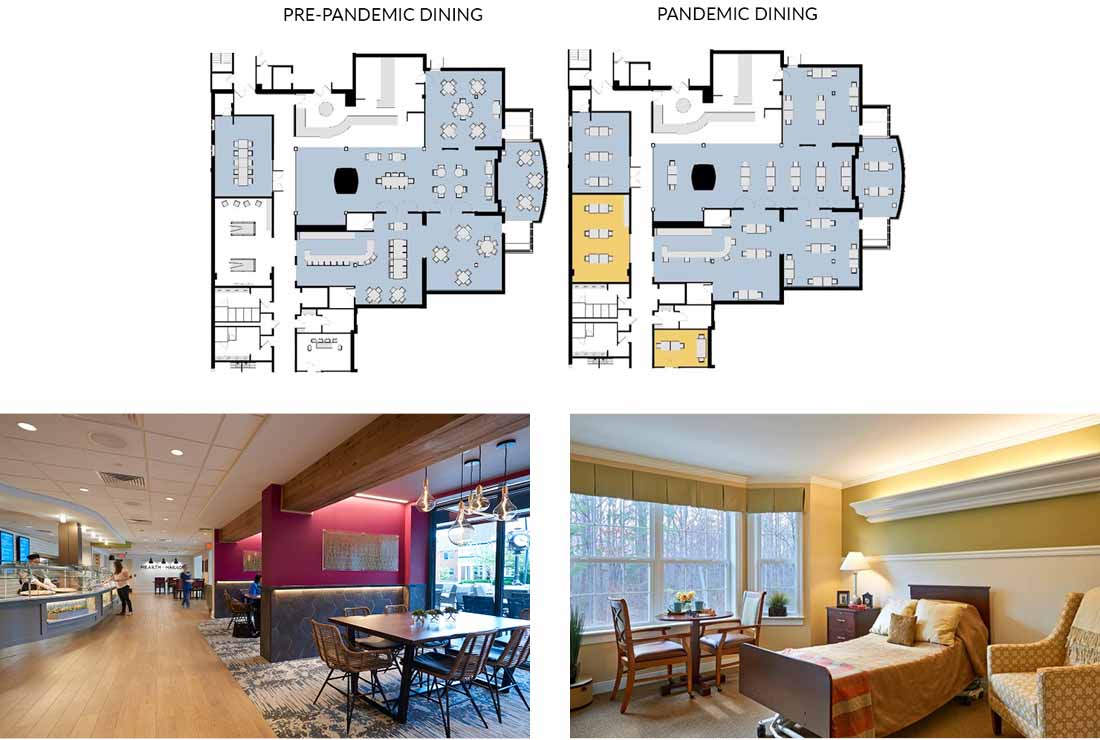 Reports throughout the pandemic indicate that large indoor dining areas can allow viruses to spread easily. However, residents are not happy with taking all their meals alone in their homes or sleeping rooms. Large dining areas could be modified with screening elements that blend into the décor and look more like art than unsightly barriers. Adding or modifying multipurpose space throughout your buildings (such as classrooms, activity rooms, and meeting rooms) to temporary dining spaces could offer a social environment while minimizing the number of people in one area. For times when it is essential to eat in sleeping rooms, consider adding a nook or bay window area to accommodate a small table and chairs. All these solutions could be supported by grab-and-go or carryout stations.
#3 Socialization through pods
Remember the classic TV show "Golden Girls"? The show portrayed a group of seniors who shared meals and activities together, providing support and a ready-made social group for daily life. In times of heightened safety bringing smaller, semi-permanent groups to together for meals and activities could repel feelings of isolation.
In times of heightened safety bringing smaller, semi-permanent groups to together for meals and activities could repel feelings of isolation.
#4 Let the outdoors in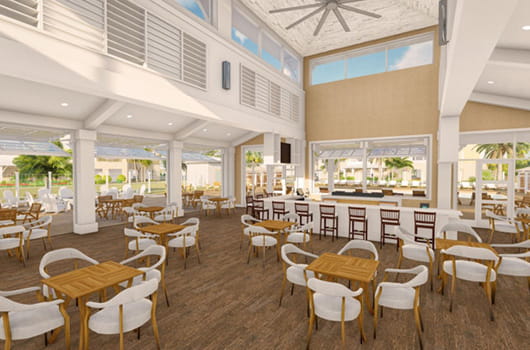 Modern restaurants have had great success with semi-outdoor spaces, using industrial garage doors that open to allow for fresh air or additional seating. Can dining and social areas be opened to outdoor air? Also consider large vaulted ceilings with skylights that open. There is no shortage of creative ideas to reimagine dining and social spaces.
#5 Incorporate social distancing markers into the design
Everywhere we look there are stickers on the floor telling us how far apart to stand. Consider adding design elements to hallways and other areas that more attractively mark off distances. Examples include spacing out art, plants, or decorative columns.
#6 Create meaningful outdoor space

Outdoor space addressed in most capital projects is usually beautiful, but the time spent programming it often pales in comparison to time spent on indoor spaces. We are advising our clients to spend a fair amount of time looking activating their outdoor space, which can promote social distancing yet bring a positive experience for residents. Adding shade can allow residents to spend more time outside. Visualize active amenities found at resorts such as branded outdoor restaurants, social lounge areas, and activities in addition to passive areas such as benches, fountains, and gardens.
#7 Invest in technology
Senior living has historically been woefully behind when it comes to sufficient technology infrastructure. Our COVID-19 Senior Living Sentiment Survey suggests residents are looking for improvements in this area. Residents want help learning to use technology and expect their caregivers to step up to teach them. Communities should evaluate their current technology needs and map out a strategy to improve your infrastructure. However, no matter what the investment, a comprehensive cyber security strategy is nonnegotiable to protect both your residents and your organization.
Communities should evaluate their current technology needs and map out a strategy to improve your infrastructure.
Raising the bar for senior living
While we sincerely hope that immunizations will put the coronavirus in the rearview mirror, the pandemic has inspired a rededicated interest in physical environment to enhance socialization, modernize technology infrastructure, and raise the bar on dining experiences while gracefully managing infection control, not just of the coronavirus but also other seasonal health issues such as the flu. Infection control will likely have a lasting impact on the physical environment and building infrastructure of every senior living community.
We offer the following options for consideration as you are looking at capital investments for your community:
Define a capital investment strategy
When was the last time your organization completed a facility assessment? If you are like many senior living providers, it's likely long overdue and this pandemic has shone a spotlight on the areas of your campus or buildings in which you should have been reinvesting.
Plan for asset repositioning
Have you known for a long time that your organization or community had too many long-term care beds? Do you have too many double-occupancy rooms with four residents to a bathroom? Have you wanted to convert a portion of your nursing home to assisted living or memory care for some time now? COVID-19 has likely convinced you that, now more than ever, diversifying your product offering is critically important. We are working with dozens of clients across the country to reposition their existing communities to products and services that the consumer of the future is going to want while at the same time diversifying their revenue mix and making them less dependent on government reimbursements and the need for a staff-intensive product.
Planning for the future in these times of uncertainty and change can be daunting. However, with the challenges of COVID-19 also comes a chance to reassess your community's vision and consider opportunities to adapt. As your trusted advisor, Plante Moran Living Forward is here to help you prepare for the future, help you define your value proposition, and help you develop a strategy for continued success post-pandemic. Reach out when you are ready to consider options for asset repositioning, capital improvements, strategic planning, or campus expansions.
To learn more residents' experiences and calls to action from living through the pandemic at their senior living communities, download our COVID-19 Senior Living Sentiment Survey.