In today's increasingly digital world, your customers, prospects, and even future staff expect your organization to have a protected digital presence. As your technologies continue to grow and expand, so does your exposure to cyberthreats. It's no longer enough to simply protect your data and systems, you also need to build a defense program for unforeseen cyberattacks.
Establishing a strong cybersecurity program centered around defense needs to be a top priority for your business. Cybersecurity threats don't always come from a sophisticated hacking effort — people with very little technical knowledge and know-how have the capability to pull off major breaches and threaten your organization. A proactive approach to threat detection and response is crucial to ensure your business is protected.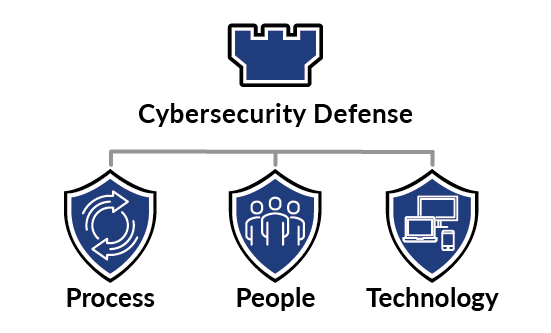 Our team of cybersecurity experts has established a cyber defense methodology based on decades of experience providing cybersecurity and technology audit services for clients. Our overall cybersecurity framework uses a risk-based approach to map controls covering the confidentiality, integrity, and availability of systems and data, while complying with customer expectations and the numerous security and privacy regulations imposed upon organizations today. By focusing on three major considerations for effective cybersecurity implementations – people, process, and technology – our services are designed to help organizations implement and maintain an effective cybersecurity program. Fortifying your cyber defenses is a rigorous, ongoing effort; our approach will help you structure, simplify, and standardize the process.