Five things enticing staff back into the office
Following the great resignation, business leaders are asking, "How important is the physical workplace for staff retention? And what can we do to create a work environment where staff flourish?" Our real estate experts explain.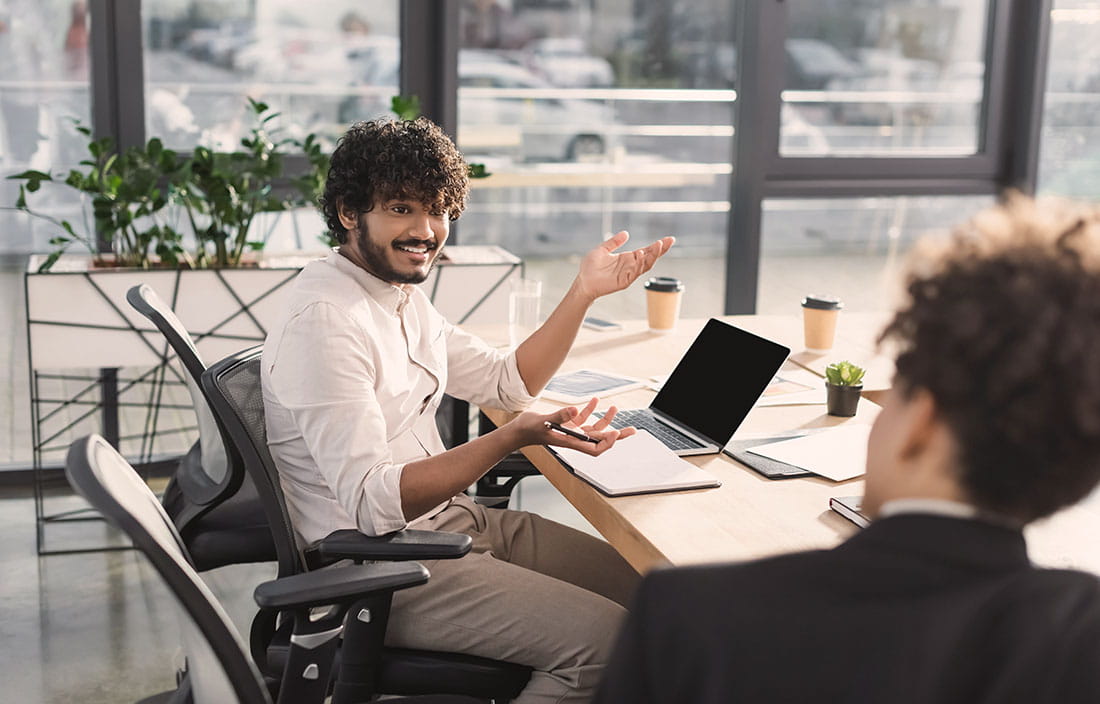 When organizations began their "return to work" initiatives, the United States saw nearly 57 million Americans quit their jobs in little over a year. As the nation witnessed "the great resignation," the driving question for business leaders became, "How do we retain staff?"
There is no one-size-fits-all approach for bringing staff back into the office. But the organizations that are successful have looked inward and put workers' physical, social, and mental health at the center of their office space. The result? Happy, healthy staff members who are empowered to do their best work and are more likely to return to the office.
Here are five factors enticing staff back into the office.
#1 The flight to quality
Improving the quality of the workspace is helping to attract and retain a new generation of mobile, tech-savvy workers. As a Harvard Business Review article noted, "When staff choose to go to the office, [they] will be attracted to offices where they can work more productively and focus on activities they cannot do from home. This will require less space but the location and quality of office locations will be critical."
Organizations today are investing more effort and money into designing sleek workplaces with smaller, more interesting spaces and an emphasis on open, flexible, and collaborative environments. This change is often characterized by a decrease in overall square footage, the savings from which is often reinvested into higher-end buildouts or relocation to a better building with more external amenities in urban, walkable locations.
The takeaway: Location, location, location! Smaller, collaborative space surrounded by external amenities can help attract and retain top talent. Creating a desirable and comfortable space requires more than a standing desk.
#2 On-site amenities and services
An office space with benefits and amenities can make it exciting to come to work. If your organization is looking to relocate, offices with an in-building café, restaurant, gym, or patio may make the space more attractive to staff. On-site amenities also have an impact on staff wellbeing. In a survey conducted by Clutch, 53% of those who have access to organization-led amenities say that it gives them a better quality of life. These amenities range from weekly food trucks, catered lunches, and in-office staff gatherings to a simple moment of downtime.
However, office spaces with plentiful amenities are not always available or affordably priced. If that's the case, focus on making the interior of your office space conducive to a positive work experience. This could include simple perks like better air quality, natural light, quiet rooms, or healthy snacks. In a survey of 1,600 staff members conducted by Harvard Business Review, air and light matter much more than tech-based health tools.
The takeaway: Organizations can make staff's physical, social, and mental health the focus of their office space through unique perks and amenities. Consider how you can invest in in-person perks that will have the most impact on wellness.
#3 The secret weapon: Collaborative space
Humans crave interaction. It's in our DNA. Research conducted by PWC shows that 87% of staff believe the office environment is vital to collaborating and building relationships, something that can only be imitated over a Teams call.
To encourage a sense of connection amongst staff, employers should consider offering versatile space that can be easily adapted to any kind of work environment, with an array of comfortable common areas. They should also provide resources — such as technology, quiet space, individual offices, or standing desks — staff may not have access to at home. It is key to implement multiple common areas for work and downtime to encourage cross-division collaboration.
The takeaway: A collaborative environment will inevitably draw staff into the office, since collaboration is what they're missing from remote work options. Give your staff the opportunity to work alongside their peers.
#4 Keeping the culture alive
Office space plays a substantial role on an organization's culture and sense of community. Users of office space have been modernizing by trading cubicles for open, contemporary spaces. From comfortable collaboration rooms to airy cafeterias, modern offices emphasize the mental and social wellbeing of staff, all while maintaining the aspects of a desirable work environment.
While great space is a large factor for positive company culture, in-office presence and company events are just as big of a component. In-office presence builds camaraderie among colleagues and offers informal collaboration opportunities — a key component in retaining staff. A Mural study noted that 26% of workers ranked "regular small-team connectivity events" as one of the top-five company policies they're most interested in. Company events, such as team lunches, post-work gatherings, or even the occasional team outing builds a cohesive environment in and out of the workplace. Events provide conversation for the next day and create a desire to come back into the office.
The takeaway: Office space plays an important role in your organization's culture. Modern gathering space provides a desirable environment for staff. The right space, paired with team bonding events, draws staff to the office.
#5 Merging corporate goals with staff's goals
To create a common goal of workspace, business leaders must merge their corporate goals with the goals of their staff. The Future Forum surveyed more than 10,000 workers globally in the summer of 2021. The group's findings uncovered a substantial "executive-employee disconnect." More than 44% of executives working remotely wanted to return to fully in-office work while only 17% of staff agreed. In a post-pandemic world, staff are looking for a controllable, comfortable environment that is easily adapted for the type of work they need to accomplish. Employers are looking for collaboration, productivity, and face-to-face communication amongst their staff. So, how do we find common ground?
One option many organizations are opting for is a three-day minimum in-person work week. This hybrid-model meets the needs of executives, who feel that visibility is a means for better operations, and meets the needs of staff, who have shown that they can thrive in a work-from-home environment. While other alternatives are still being discussed, this hybrid-model is becoming the "new normal."
The takeaway: Listening to your staff's needs and merging them with your own will create a desirable environment for all. Having both parties' goals met shows that your leaders value your staff, and vice versa.
Conclusions
The post-pandemic world has set a new standard for the workplace. For some, reducing office space to more desirable locations with external amenities or relocating to an office building with internal amenities is the answer. For others, it's implementing in-office amenities, adding collaborative space, and reinforcing your organization's culture through office perks. Return-to-work initiatives are taking multiple forms, and there's no one-size-fits-all approach.
Whatever your organization's real estate needs may be, great space can generate a smoother transition for you and your staff as you find your "new normal." For help finding or creating great space, contact our real estate consultants for a consultation today.
In the meantime, if you liked this article, consider signing up to get more commercial real estate insights delivered right to your inbox.