Money talks, do you? How to guide your children's perception of wealth
Talking about money can be uncomfortable, but it's the best way to create positive family dynamics around wealth. Follow our how-to guide, and start the conversation.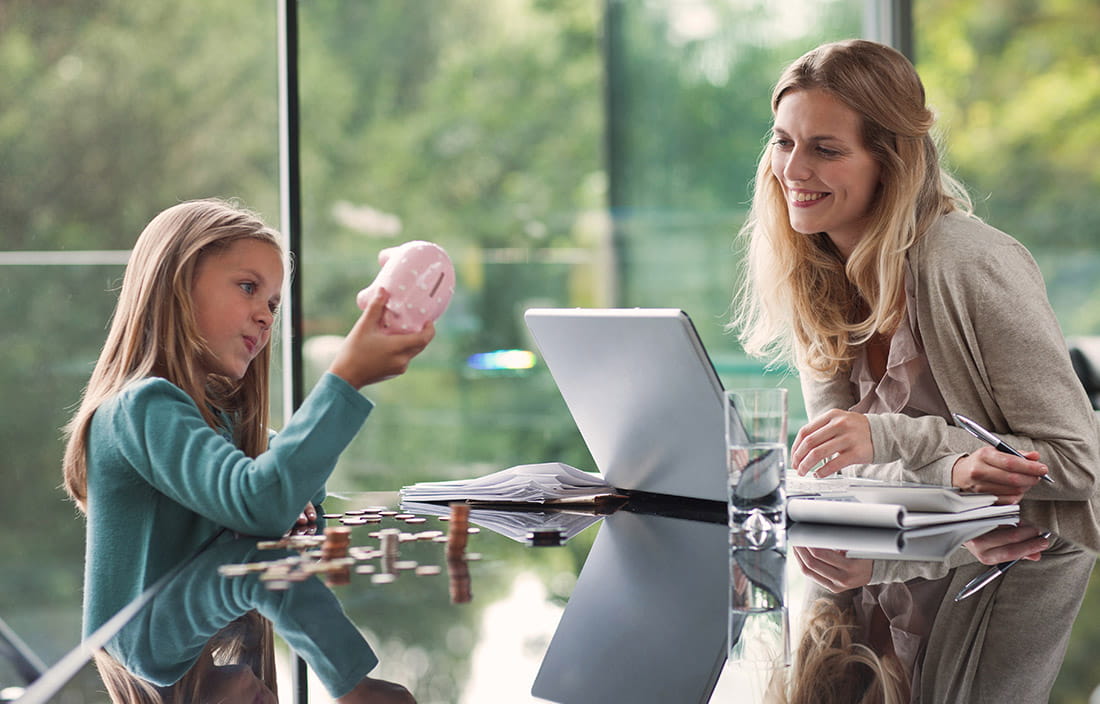 In Attorney Rebecca Grove's career serving high-net-worth families, only one of her hundreds of clients has ever said they're not concerned about their family's wealth having a negative impact on their child. Raising well-adjusted, motivated kids with a healthy relationship regarding money is an (almost) universal worry of privileged families. But if we're all worrying about it, why's it so hard to talk about it?
At Plante Moran's Wealth Management Summit, Honigman's Rebecca Grove joined Sara Montgomery and Moderator Dawn Jinsky, both of Plante Moran Wealth Management, to talk positive family dynamics around money — and how to create them. Their solution? Family meetings.
Why family meetings?
Does the idea of sitting your kids down to talk about your wealth make you uncomfortable? If so, you're not alone, but positive family dynamics around wealth don't create themselves. If you're not sharing your values and ideas about money with your children, who is? At the very least, your children are talking to each other, so why not guide the conversation?
If you're not sharing your values and ideas about money with your children, who is?
Family education around wealth is critical for families of means. We encourage family meetings because there's no better way to impart your values onto your children than to explicitly tell them what they are. Family meetings are an opportunity to explain the broad strokes of your family financial situation and what they can expect in their future to your children, from trust funds to inheritance to estate tax strategy. And since demotivating children is such a common worry of wealthy families, having clear, open communication about expectations should be a priority.
What should you talk about?
If you're new to hosting family meetings, or if your kids are very young, start small. Subjects that are appropriate for everybody include your family history and philanthropy. You can also try discussing personal finance, like why they should invest in a 401(k) plan — you don't have to jump right into telling your kids your own net worth.
As your family gets more comfortable in these meetings, bringing up more complex financial information is perfectly appropriate. If your children have money coming their way, it's important for them to know about it and understand the implications. It's also important for them to understand your expectations of them and what success means to your family. If, for example, they know their college will be paid for or that there's a job waiting for them at the family business once they graduate, you can still lay out your expectations so that they take college seriously and achieve good grades. If your children need to behave a certain way or take certain actions to participate in your family's success, family meetings are where this should be explained.
Another rule to establish as soon as possible is Rebecca's mantra of "voice, not vote."
Family meetings are also a time to establish precedents and ground rules. Setting clear expectations early prevents hurt feelings later. For example, Sara says the worst time to start laying down rules about in-laws is when somebody gets engaged. If you wait until the moment somebody tries to join your family to decide that everybody in the family needs a prenup or that in-laws don't participate in family meetings, it's going to come across as personal, so establish those rules ahead of time. Another rule to establish as soon as possible is Rebecca's mantra of "voice, not vote." Family meetings should give your children the opportunity to voice their opinion, but when it comes to how parents handle their finances, children don't get a vote.
How do we start hosting family meetings?
Getting started with family meetings can be as simple as a conversation over dinner together. It's easy to start when all children live under your roof, but it gets a bit trickier as families get older and the next generation starts families of their own or moves away. If that's the case, Sara and Rebecca suggest something fun like a family trip — incentivize the family with a great experience and time together.
If you're concerned that your family won't take the meeting seriously or that discussions might devolve into a shouting match (no shaming here — it's a family meeting, after all!), Sara suggests hosting it in a business-like setting. Many of her clients bring their families into the office and include Sara in the meeting as an impartial professional. Some even go as far as setting a dress code — whatever it takes to impart some professionalism into the situation.
When it comes to starting conversations, consider this — your child's age isn't as important as their maturity level. Think about what your children are ready to hear. If you're not sure, Sara's favorite place to start is philanthropy. Talk to your family about who you give to and why, and ask what they think about that.
What's next?
These solutions come from top-level professionals who've been guiding family meetings for years. Their advice is tried and true, but there's still room for interpretation. Make adjustments to cater these meetings to your family culture, and keep in mind that it may take a while to get the hang of it. This process is a marathon, not a sprint, so take it slow and just enjoy the time together — your meetings will evolve as your children grow up and your family expands. And, of course, remember that you don't have to do this alone. Family communication can be challenging, so leverage outside resources and advisors who specialize in matters of family wealth wherever possible.