The power of diversity, equity, and inclusion
Creating a culture of belonging
We strive to create a culture where each person feels accepted and valued. We believe that each person's ultimate potential begins with first acknowledging their inherent dignity. When we can recognize — and celebrate — our many human differences, we're able to create a workplace where all staff feel a sense of belonging and an opportunity to succeed. This allows us to attract and retain the best talent, serve clients through diverse thinking, and better represent and support the various communities in which we live and work.
What does diversity, equity, and inclusion mean at Plante Moran?
Diversity: We value the unique identities and experiences of our staff.
Equity: Everyone has an equitable and fair opportunity to succeed.
Inclusion: Each staff member can proudly say, "I know I belong here."
---
2023 DEI Annual Report
Our staff have shown us they have an appetite for more in the DEI space. More listening. More learning. More action. And it's our staff's commitment to increased growth that's powered our efforts over the last year. In this report, you'll discover:
The high points of our DEI journey
How our staff resource groups are increasing inclusion
How we're recruiting more diverse staff
The ways we're holding leaders accountable
Our efforts to create lasting change
---
---
Looking for a place where you belong?
---
Where all staff members can grow and succeed
From more inclusive onboarding experiences to more equitable advancement opportunities to critical work-life balance supports, these groups are dedicated to propelling our firm along its DEI journey and ensuring that everyone is empowered to have a rewarding career.
DEI Council
Formed in 2003, Plante Moran's DEI Council was established to guide the firm toward long-term success and growth in diversity practices. We recognize that when you increase your retention of diverse staff, you build a pipeline of diverse future leaders of the firm. The Council integrates our staff resource groups, Women in Leadership, and our WorkFlex Committee under one umbrella to ensure we're effectively leveraging staff and sharing best practices, tools, and resources across the firm.

"We've made tremendous strides in this space, and I'm proud of that. I'm equally excited to build on that momentum to move forward," said DEI Council Chair Lou Longo. "This is not a destination. It's a journey we're all on together with opportunities for continuous learning. I see this position as an honor and a responsibility, and I hope to do right by the firm."
Women in Leadership
Our Women in Leadership (WIL) initiative is aimed at increasing the visibility of women leaders internally and externally, providing targeted developmental career opportunities to retain and advance women leaders, and supporting partners in giving high-potential female staff growth and development opportunities.
And is this initiative making a difference? Absolutely. Women now make up 27.9% of all partners, compared to 17% when WIL was first formed. And our female mentoring program has seen a 300% increase in participation.
WorkFlex Committee
An essential component of the WorkFlex Committee is the idea that we all need to be flexible. What works one week for work-life balance might look different the following week or the following year. The key is to be adaptable and open to changing circumstances.
That's where WorkFlex comes in. Developed to support staff in their ongoing quest for work-life balance, the program has been the catalyst for a number of initiatives, from our business casual dress policy, to a host of alternative working arrangements, to a "buddy" program to support new parents — all in the name of helping staff find their balance.
---
Staff resource groups
Our staff resource groups (SRGs) are designed to help group members feel a sense of inclusion and belonging. We do this by helping them expand their networks, nurture their professional development, and provide career support. This grassroots effort is staff-driven, so groups are requested and led by staff versus firm leadership.
"Though autonomous, all of our SRGs have a similar vision: to help our diverse staff feel seen, heard, and supported," said DEI Leader Hawzien Gebremedhin." We currently have seven SRGs: Pride, African Americans, Veterans, Satellite (remote staff), Unidos (Latin/Hispanic staff), and Minds of All Kinds (staff with neurodiverse attributes). We understand that our SRGs are crucial to help our diverse staff members feel a deeper sense of community while building a more inclusive workspace for all."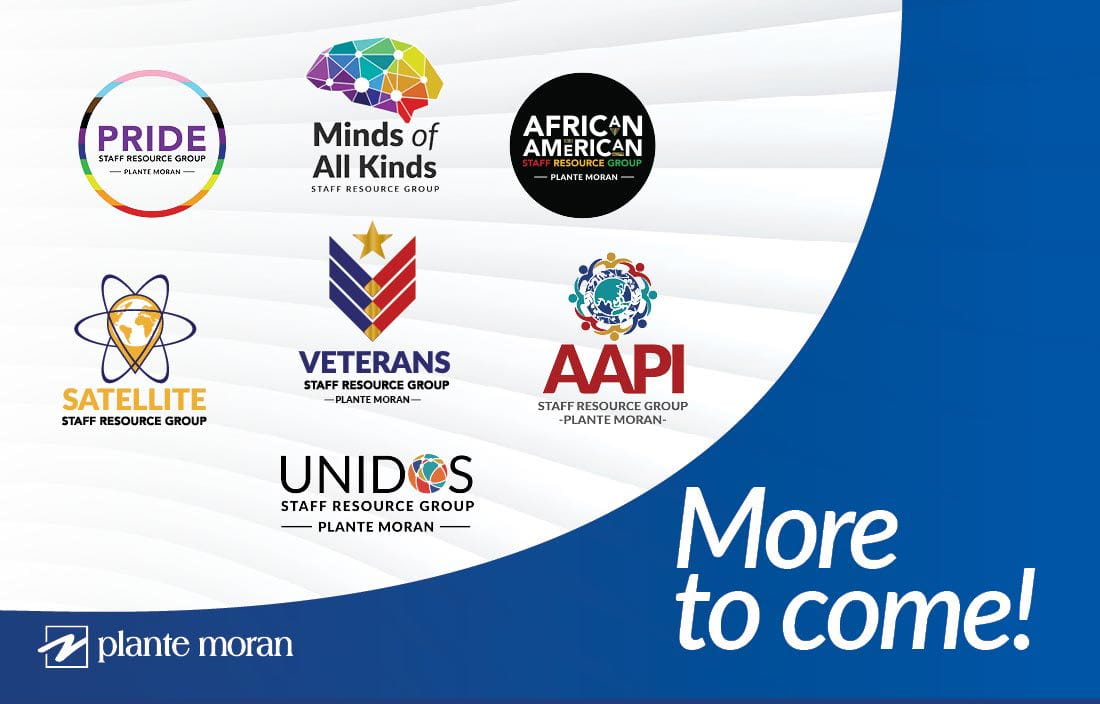 ---
---
Contact us