Growing franchises: Make your culture count
For the aspiring franchisor, the notion of establishing a corporate culture is often relegated — if considered at all — to those miscellaneous items that default to "intuition."
Indeed, payroll, marketing, customer service, and human resources rank much higher on the priority scale, as they are tangible, day-to-day activities that are critical for a company's survival.
But as that company grows, culture merits a far more deliberate focus, especially when cultivating a franchisee network. It helps guide decision-making while ensuring stakeholders are aligned and prepared to deliver a consistent brand experience.
Need help getting started?
Here are a few basic steps to develop and refine a strong culture as your
franchise network takes shape: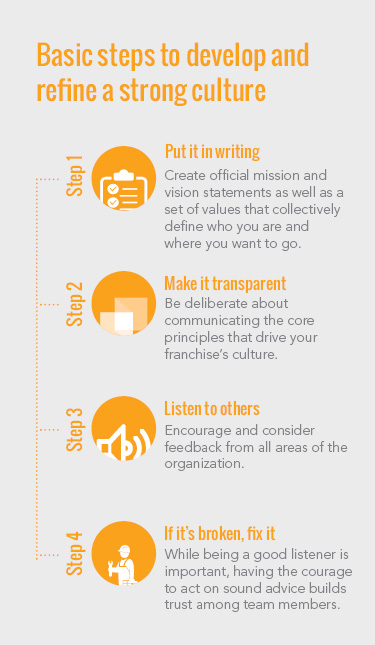 Put it in writing
Create official mission and vision statements as well as a set of values that collectively define who you are and where you want to go. The values should guide decision making throughout the system. This will ensure that the customer experience is a consistent one across your franchise network, which is essential for the long-term success of your brand.
Listen to others
Encourage and consider feedback from all areas of the organization. Listening draws connections between ideas that can positively impact a company's bottom line and long-term vision.
If it's broken, fix it
While being a good listener is important, having the courage to act on sound advice builds trust among team members. Franchises that can endure economic challenges continually adapt and enhance the customer experience.
Make it transparent
Be deliberate about communicating the core principles that drive your franchise's culture. Make sure all team members understand the capabilities, strengths, and limitations of the franchise. A sharp focus on what is important to the business empowers franchisors to be selective about opportunities without sacrificing their brands.
Don't be afraid to reject a prospective franchisee if they don't meet all of your criteria. While it's tempting to let a strong financial profile overshadow other considerations, doing so could compromise your network. It's easy to get off-track if you don't know who you are and you chase opportunities that might not be a good fit.
Commensurate with all of those elements that go into growing your franchise is the development of a strong corporate culture. It enhances loyalty across all segments of your system while positioning your brand for long-term success.