Carhartt President Linda Hubbard talks playing to the strengths of your team
Carhartt President and COO Linda Hubbard sounds off on risk-taking, removing roadblocks, building women leaders, and why fear of making a mistake can be far more dangerous than mistakes themselves.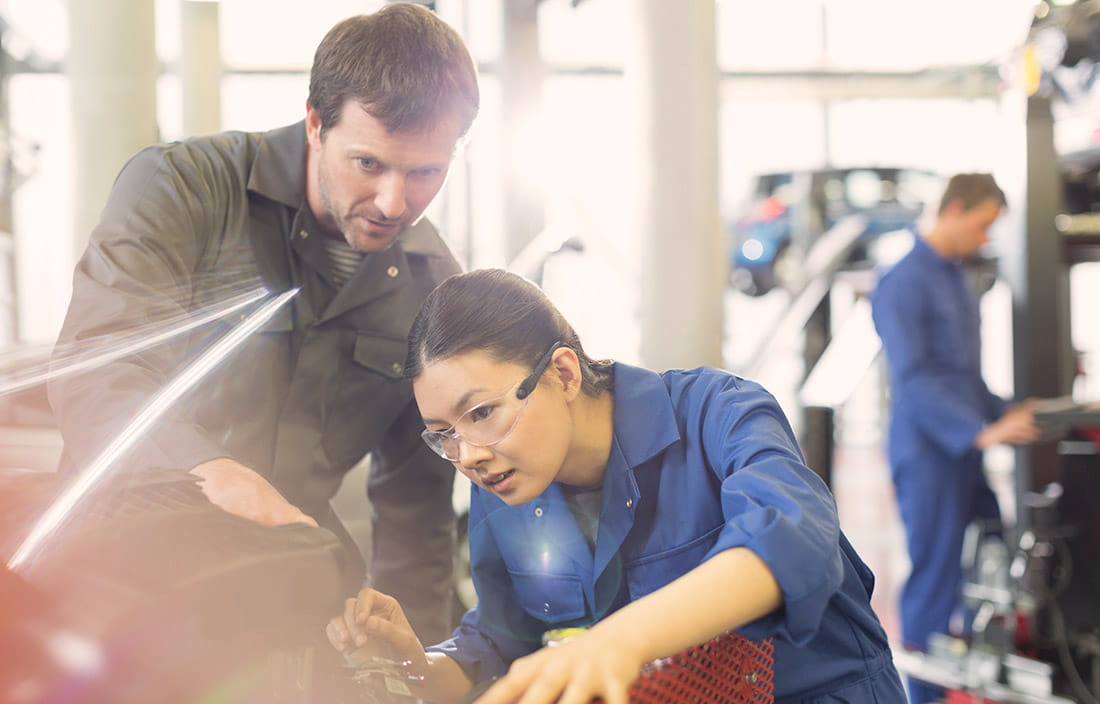 Founded in 1889, Carhartt is known for creating hard-working clothing for hard-working people. What started as a workwear company, run from a small Detroit loft, has become a global brand and American style icon managed exclusively by the Carhartt family — until 2013, that is, when Linda Hubbard became the first non-family member to be named president.
As Linda and I spoke, I noticed many similarities between her views on leadership and my own, although I can't say I'm surprised. After all, Linda is a former Plante Moran partner — we both "grew up" here. In fact, Plante Moran introduced Linda to Carhartt early in her career.
"I joined Plante Moran in 1982 — right about the time the firm had started its first informal women's initiative," explains Linda. "Leadership was encouraging men to address their unconscious biases and start taking chances on high potential candidates. As a result of this and my strong performance during my internship the previous summer, I was put on the Carhartt account — at the time, one of the firm's largest accounts. I was immediately intrigued and fascinated by the company, which is a big reason why, in 2002, I joined the Carhartt team to work alongside the company's CEO and fourth-generation family member, Mark Valade."
I won't lie; losing talent like Linda still stings a little — but it was a big win for Carhartt. Over the last several years, the Carhartt team has grown to more than 5,000 staff, expanded throughout the United States and Mexico, entered the e-commerce space, and opened their own retail stores.
As president, Linda says she leads from within her team of 10 senior-level men and women, meeting with them weekly to make sure they have the tools they need to succeed.
Just like people start to look like their dogs over time, the longer you work here, the more you start to become like the brand.
"I completely trust my team and try to position each person for success," says Linda. "I view my job as removing roadblocks, helping each member play to their strengths and move the business forward. The experience is so much richer when everybody's contributing and we're capitalizing on our combined strengths."
Linda explains that she also strives to uphold a culture where you can't really get in serious trouble for making mistakes. She says mistakes are inevitable regardless of where you're at in your career, and at Carhartt, the only two non-negotiables are acting with integrity and treating your people right.
"Fear of a mistake can be paralyzing," Linda says. "It can stop idea generation and halt progress — which can be far more dangerous than the potential mistake. Instead, I encourage people to take chances and try new things. And when someone does make a mistake, I work to help them accept it, take accountability, and move forward. Absorb the lesson, but let the rest go."
This reminds me of something one of our firm's founders, Frank Moran, used to say: "Mistakes are the tuition for experience — just be sure not to pay tuition twice." Sounds like Carhartt follows a similar philosophy.
Another thing that became clear throughout our conversation is that Linda's leadership style is to put people first and uphold the company's values. Put simply: she cares. She cares about her consumers, continuously striving to make it easier for hard-working people to find their products, and helping the retailers that buy wholesale from Carhartt optimize their businesses. She cares about her staff, helping them to recognize their potential and breaking down hurdles in their path to success. And she cares about the Carhartt brand — she firmly believes in the products, and knows that, as the premium workwear company, they're in a unique position to connect with the community and make a positive impact.
Carhartt's motto, "Outworking them all since 1889," says it all. With Linda's hardworking nature and dedication to putting her people first, it's clear the company remains poised for success.
More from Linda:
What else did Linda emphasize during our conversation? Here's a brief overview.
On Carhartt's culture
"When people ask me to describe the culture of Carhartt, it's the same attributes of the products: it's durable and long lasting — a lot of people stay here a long time. It's hardworking, humble, quietly confident…it's a very real and authentic culture, just like the brand. Just like people start to look like their dogs over time, the longer you work here, the more you start to become like the brand."
On being a leader
"When younger generations ask my business advice, I tell them to look for opportunities to lead change initiatives. Look for projects that are outside your scope of work and volunteer. While these tasks might feel daunting, that's how you expand your skills and improve your ability to lead people."
On communication
"I've started moving a lot of my internal communication messages, things I used to simply put into an email, into video. We can display these videos both in our corporate offices and around our production facilities. Not only does this help us reach a greater audience (keep in mind not all of our team members have access to email or spend their days behind a desk), but we're finding that, likely due to the impact of social media, younger generations absorb information better when there's a visual component."
On women in leadership
"If you want to create women leaders, address your biases, take a chance on strong performers, and encourage them to seek out leadership opportunities outside the company — like being on a board — to get practice and gain credibility."
Leadership personality profile:
Your leadership approach in one word: Team

The leadership quality you most admire in others: Being in service to others

Your best piece of business advice: It's OK to be roughly right. An idea doesn't have to be perfect. It can be refined over time. Don't let perfection paralyze decision making.

What you look for when you hire: Respect for others' ideas, collaborative spirit, and experience in leading change

To be an effective leader, you cannot… be isolated from the people you lead.