Judy Zehnder talks family business and Frankenmuth
Judy Zehnder's father, known as Mr. Frankenmuth, taught his children that hard work and passion is the key to creating a successful business that spans generations.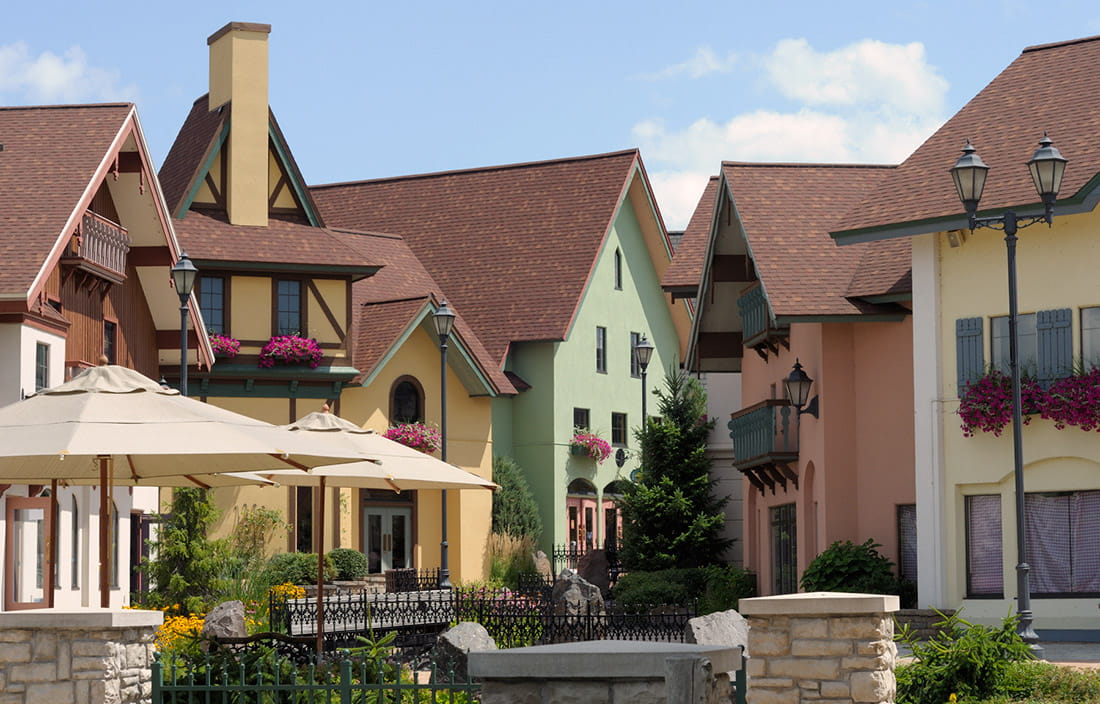 About an hour north of Detroit, you'll find the small, German-settled town of Frankenmuth. Often referred to as Michigan's "Little Bavaria," Frankenmuth is known for its unique shops, extensive selection of German beers, gigantic Christmas store and — above all else — their famous chicken dinners. Most will tell you that the Zehnder family put this quaint town on the map when they opened a restaurant in the 1920s. (Take a second to ponder the challenges of opening a restaurant in a German-settled town during prohibition.)
Recently, I had the opportunity to talk with Judy Zehnder Keller, the granddaughter of the restaurant's original owners. Judy has been a part of the Bavarian Inn Corporation since childhood. She says she collected her first paycheck at age 12 but can remember rolling silverware as early as five years old. Today, she's president and owner of Frankenmuth's Bavarian Inn Lodge, a seven-acre resort featuring 360 guest rooms, multiple pools and waterslides, a mini golf course, and a 150 video game arcade. She's also president of the Frankenmuth Gift Shops Inc., Frankenmuth Cheese Haus, and The Cheese Trap food truck.
"I've told my children, 'You need to be the hardest working people here.' They can't 'just get by.' On the contrary, I expect more."
Successfully leading a business into its fourth generation of management is no easy feat (most family businesses don't succeed past the second generation), but Judy says her father taught her some great lessons, starting with this one: your team members are family.
"There were no formal lessons on running the business," Judy said. "Like so many family businesses, it was mostly dinner conversation. One of the most memorable times around the dinner table was when my dad, through tears, shared news that one of the staff had been diagnosed with cancer. He was devastated. Why? He didn't look at his staff like employees; he saw and treated them as family. He laughed with them, he cried with them, and he treated everyone with respect."
Judy says she's tried to emulate this throughout her career. She believes in properly training and rewarding staff, regardless of their position within the company (both hourly and salary employees go through extensive training and are bonus eligible), but she also wants her team to recognize that they're valued. She does this by showing a genuine interest in their lives. She encourages staff to treat each other in this same manner — asking about someone's day or helping them with a task when time permits. She says conducting business like this not only makes work more enjoyable but has a positive impact on the guests' experience.
"When you visit the Bavarian Inn, we consider you a guest in our family home," Judy said. "Do you want to stay with people who are unhappy and not getting along? No. You want to feel welcomed by happy, cheerful people. It's my goal that my team — my family — embody these attitudes every day."
Judy says that another really great lesson she learned from both of her parents was the importance of a strong work ethic.
"My parents were never afraid of hard work and did whatever it took to get the job done. They'd tell us, if you don't feel good, put on your best outfit, do your hair — whatever you need to feel better and power through. Chances are you'll forget about what ails you."
Judy says she still follows this advice today and she's tried to instill that same work ethic in her children.
"I've told my children, 'You need to be the hardest working people here,'" Judy said. "They can't get by because they're the owners' kids. On the contrary, more is expected of them because of who they are. It's important to understand that from a young age."
"It's amazing to think that my mom has worked in the same building since she was a teenager — and at 96, she's still in our kitchen working six days a week."
Judy continues, "I've encouraged my kids to first get an education and then work outside the family business before committing to a career here. I want them to have other experiences. They can take those experiences and go their own way, or if they decide it's what they want, they can take what they've learned and bring it back to our family business. They know there will always be a place for them here, but they have to want it and enjoy it as much as I do."
As you can see, Judy has a real passion for her business — no doubt inspired by the generations that came before her. After all, Judy's dad was known as Mr. Frankenmuth — and we think he'd be pretty proud of the job Judy and her family have done in filling his shoes.
More on Judy:
Here are a few other interesting take-a-ways from my discussion with Judy:
On the success of the town:
Anyone who's visited Frankenmuth will tell you that there are actually two restaurants with almost identical menus, Zehnder's and the Bavarian Inn. While today the two are friendly competitors, (Zehnder's is now owned by Judy's cousins) until the 1980s, both restaurants were owned by Judy's parents and grandparents. Wondering why a family would operate restaurants a crosswalk away? Judy explains that it was strategic.
"As far back as the story goes, there were two buildings," Judy said. "My grandfather bought and transformed the building, now known as Zehnder's. Across the street, where Bavarian Inn now sits, was Fischer's Hotel, another well-known establishment where my mother was a waitress. When my family learned that Fischer's planned to sell, they didn't really want to own a second restaurant, but there was real concern that someone new would buy the place and they wouldn't uphold the standards the town had become known for. So, after my mother offered to run the kitchen, my family made the leap and bought the second restaurant — it was at that point that the business really started to take off."
The lesson in the overall success of Frankenmuth, not just the success of their business, is something that Judy and her family continue to focus on. They frequently meet with local businesses (including their competitor across the street) and look at what the town needs to succeed.
On her mom as a role model:
Judy says that the Frankenmuth story that's not told enough is her mom's role in its success.
"It was my mom that pushed for the family to buy the second restaurant — and that was a real turning point for us," Judy says. "It's amazing to think that my mom has worked in the same building since she was a teenager — and at 96, she's still in our kitchen working six days a week."
Leadership personality profile:
Your leadership approach: Lead by example.

The leadership quality you most admire in others: A positive "I can, I care" attitude

Your best piece of business advice: Learn from your mistakes and move on.

What you look for when you hire: A positive attitude and ethics

To be an effective leader, you cannot… be dishonest with your staff or customers.