Professional services playbook: Questions to consider in an evolving industry
Professional services firms are under immense pressure to innovate, accelerate digital transformation, and meet stakeholder demands. From transparent ESG reporting to investments in new technologies and cybersecurity, our playbook will help you ready your organization for an evolving industry.
Firms in the professional services industry are facing unprecedented pressure to accelerate transformational change from the top down. Outdated technologies, inefficient processes, lack of an exit strategy, exposure to evolving cyberthreats, and more put slow-to-move firms at significant risk. Not sure where to begin? Start by reading up on these megatrends and asking yourself the tough questions.
From important tax considerations to M&A advisory and environmental, social, and governance (ESG) strategy, our professional services playbook gives you a bird's-eye view of the trends you can't ignore based on the research and experiences of our expert consultants. We're here to help you transform your business, prepare for what's next, and get ahead of the competition.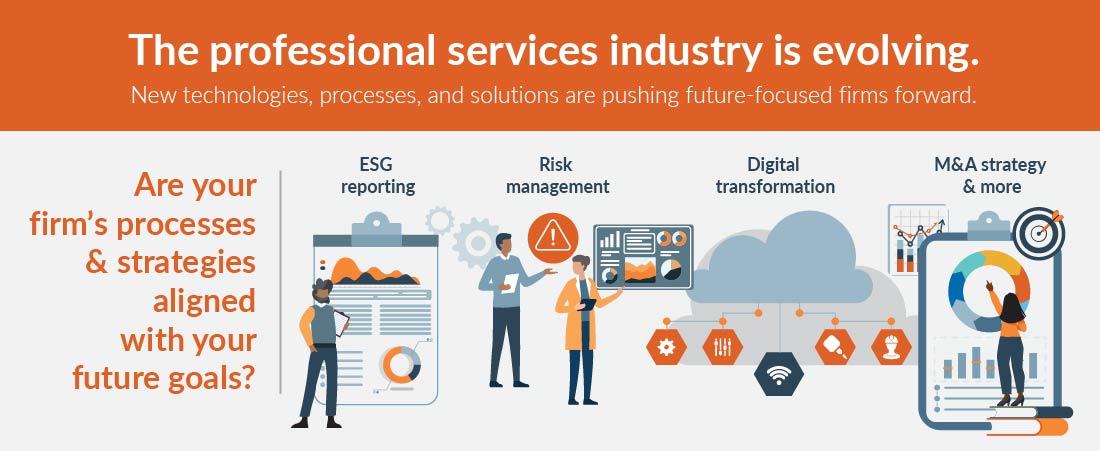 Download now